35+ Beautiful and Simple Rangoli Designs for Home Decor on Festivals
Looking for spectacular but Simple Rangoli Designs to decorate your home on festivals? Look no further! We've got 35+ most beautiful, detailed, and picture-perfect Easy Rangoli Designs that will bring harmony and blessing to your home.
Rangoli is a traditional Indian art form, created with various colors and patterns. Easy Rangoli designs adorn the home during festivals and celebrations. Centuries are gone but the art of these Simple Rangoli designs remains constant. It continues to captivate people with its intricate beauty and cultural significance. Our scriptures and ancient art are a reference that Rangoli was part of festivals in ancient Indian cultures.
Rangoli is the art of creating vibrant and eye-catching designs using colors, rice powder, flowers, and sand. It is organized into geometric, floral, or abstract patterns. In India, the best rangoli designs are popular with many other names. Like Kolam in Tamil Nadu, Mandala in Rajasthan, Muggulu in Andhra Pradesh, Muggitu in Karnataka, Rangvalli in Maharashtra, and so on.
Rangoli's name derives from the Sanskrit word" Rangvalli". Rangoli is a symbol of festivals and big functions in the house. These traditional Diwali Rangoli Designs signify the presence of the goddess of wealth – Laxmi Devi. Beautiful rangoli designs create a positive energy field around your house and reduced stress. This in fact also revealed by new science research. Let's explore 35+ awe-inspiring Simple Rangoli Designs for decorating your home. We have included designs for Diwali, Weddings, New Year, and other Celebrations.
Picture Perfect Easy Rangoli Designs for Diwali 2023
Easy Geometric Rangoli Design for Diwali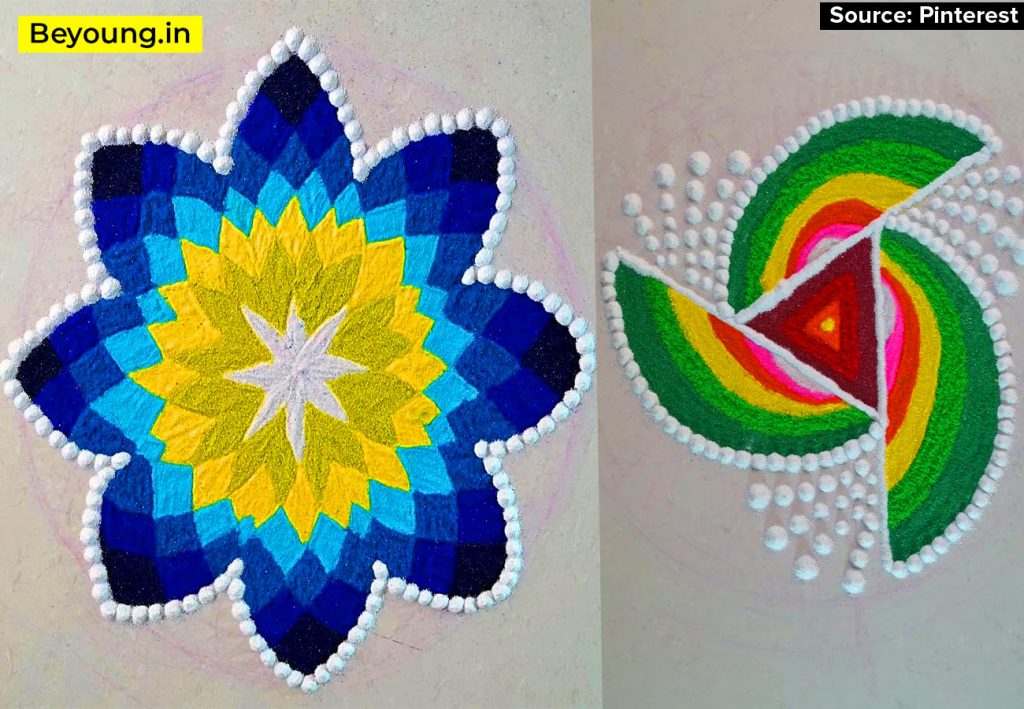 Creating a Geometric Rangoli Design can be an enjoyable. An Artistic way to decorate your home for festivals or wedding functions. There are many popular types of Geometric rangoli in India. It includes squares, triangles, diagonal lines, stars, Swastikas, and many other Easy Rangoli Designs.
You can add a creative touch and use trendy colors to make your Simple Rangoli Design more appealing. Try out different materials such as color powder, rice flour, flower petals, or chalk to create these Rangoli Designs.
Traditional Rangoli Designs for Festivals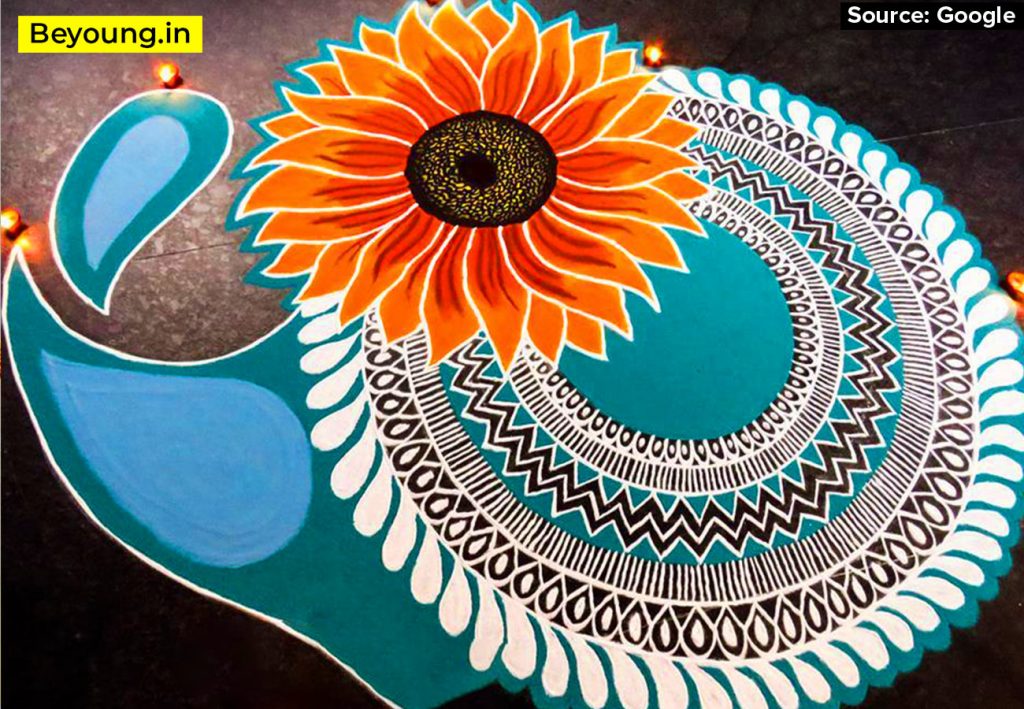 Rangoli is a vibrant and ancient art form to decorate homes during festivals and celebrations in India. Here we are including some Traditional Rangoli Designs Names with images. These designs are perfect examples of beauty and cultural significance. You can draw easy and small rangoli designs for Diwali and wedding functions. The Designs include diya rangoli, kolam rangoli, peacock rangoli, lotus, swastika, om rangoli, and flower rangolis.
Simple Diya Rangoli Designs for Diwali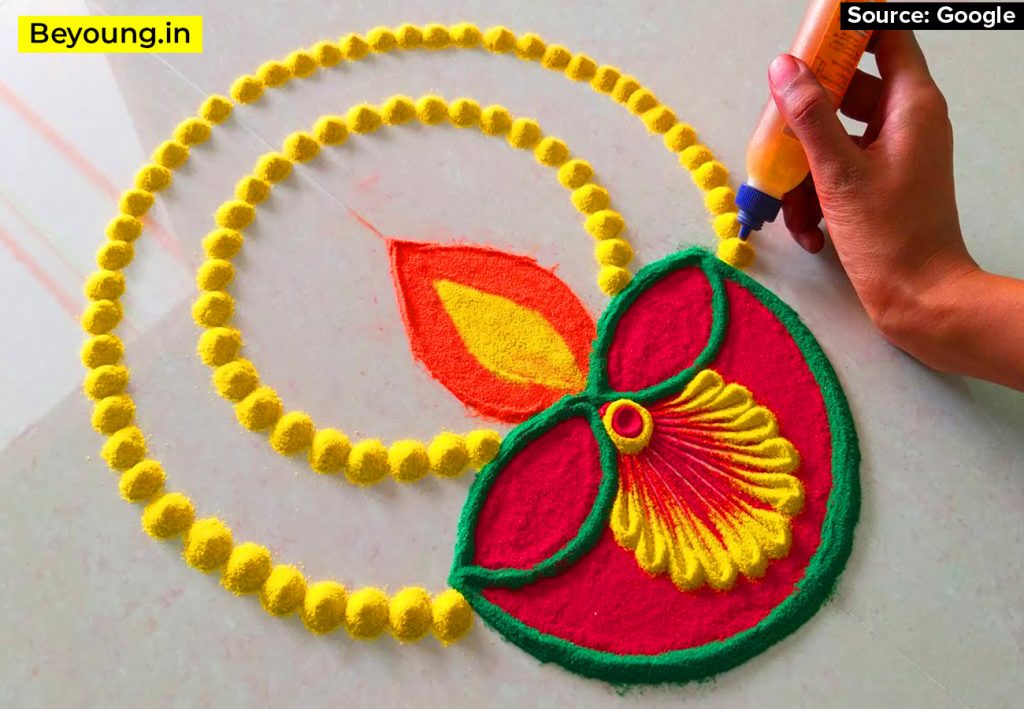 These Simple diya rangoli designs are usually created on religious festivals like Holi and Diwali. These Diwali rangolis designs look beautiful and elegant. It adds charm to your festival celebration and purity to the surrounding environment.
Simple New Year Rangoli Designs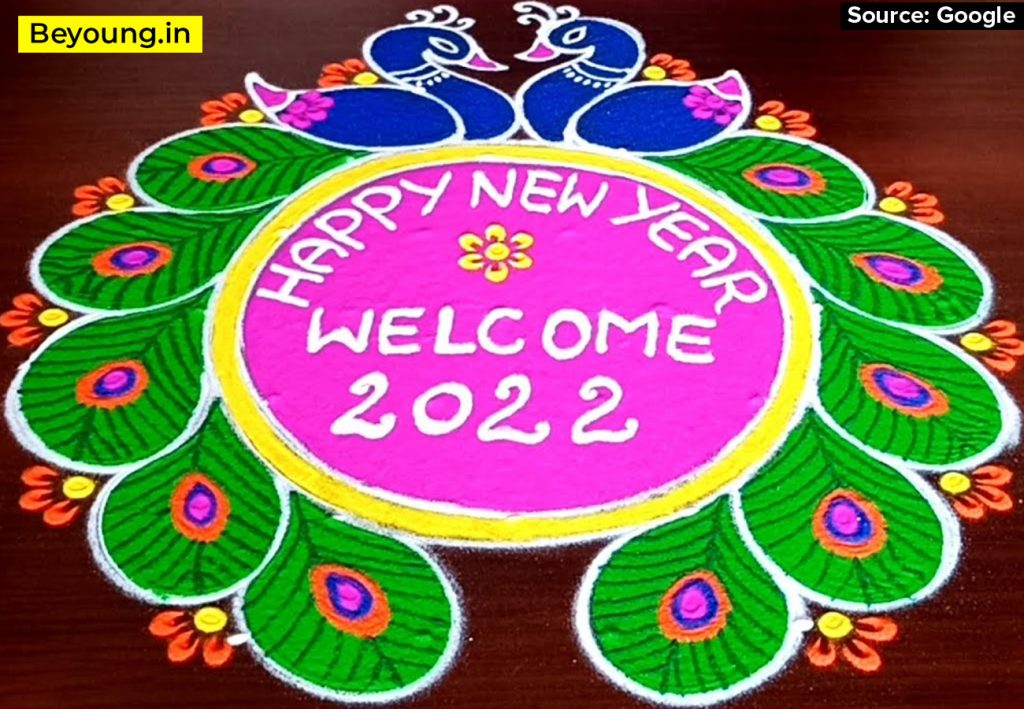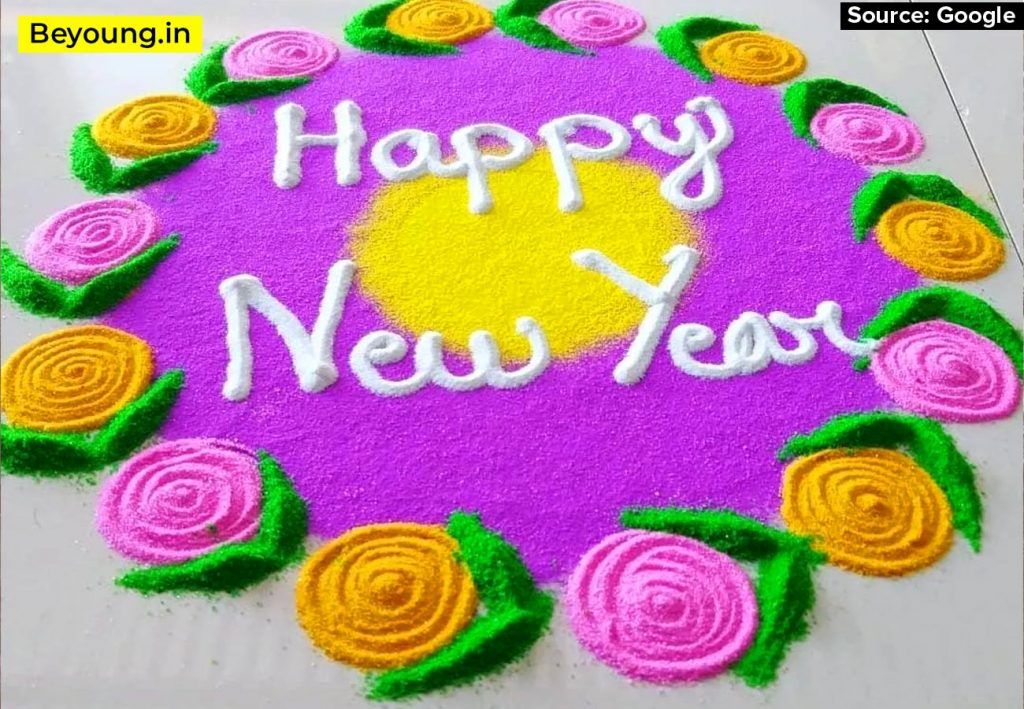 New Year rangoli designs are generally created near the entry of the house and in the praying room. You can make these free hand New Year Rangoli Designs with creative and vibrant patterns. These designs will bring joy and positivity to the New Year.
Border Rangoli Designs for Occasions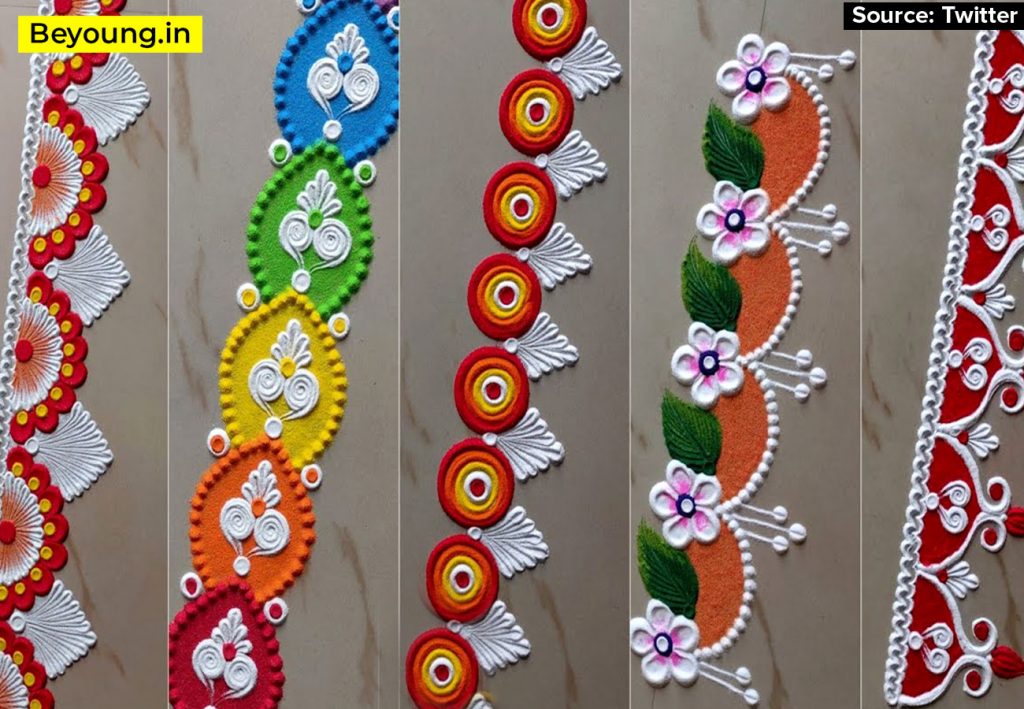 Border Rangoli Designs are traditional Indian art forms. These designs adorn house entrances and thresholds during festivals and special occasions. The border rangoli designs can be created with color powder, rice, or flower petals. Border rangolis can feature geometrical shapes, motifs, and other traditional Indian symbols. You can see these easy border rangoli designs at most of the south Indian houses.
Easy Corner Rangoli Designs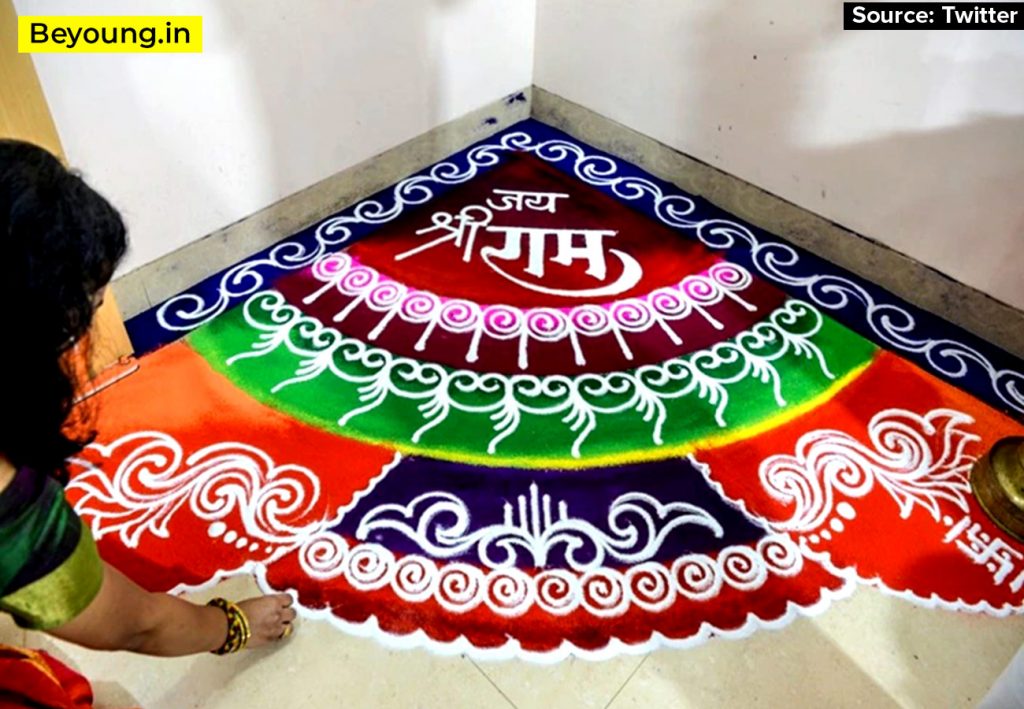 Corner Rangoli can be crafted inside the house and outer corners of the house. These Rangoli Designs are used in festivals and cultural events to decorate houses. But usually, this traditional rangolis is drawn at the room corner or entry. These designs beautifully frame room space and add aesthetic appeal to homes. Corner rangoli feature symmetrical patterns and incorporate flowers, lamps, and religious symbols. This design reflects our culture and brings positivity to our life.
Free Hand Simple Rangoli Designs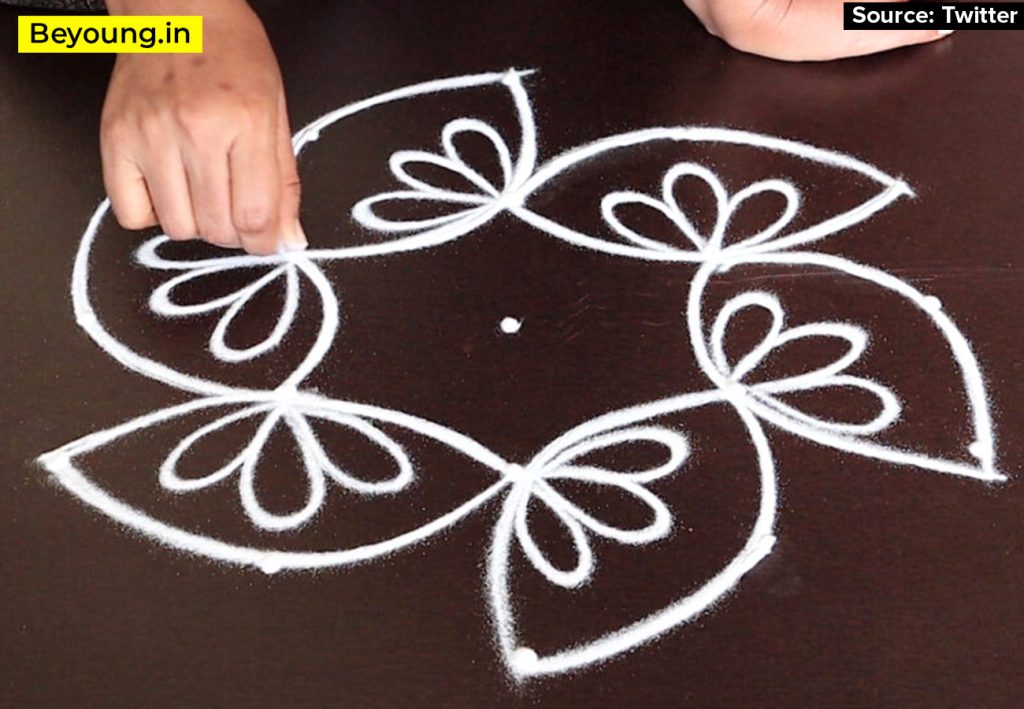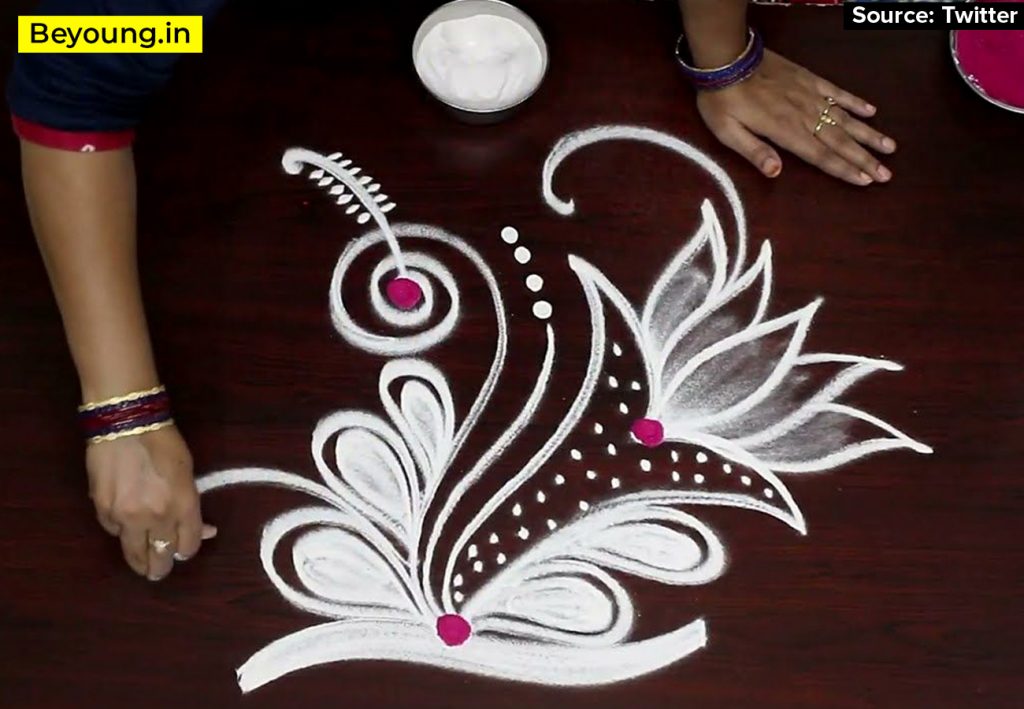 Crafting free hand rangoli designs is an artistic way to adorn house floors and entrances during celebrations such as marriage functions, Diwali, Dasara, and so on. These rangoli design doesn't require stencils or templates because it reflects your unique and spontaneous creative side. Free hand rangoli designs evoke a sense of spirituality, unity, and traditions of Indian culture.
Sanskarbharti Rangoli Designs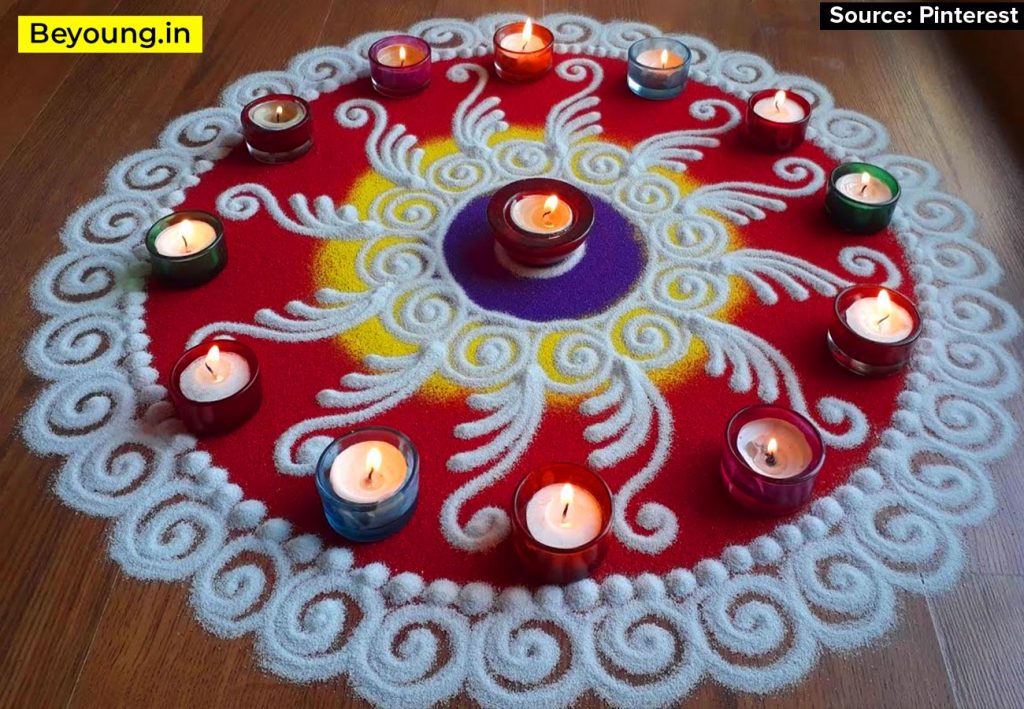 These Sanskar Bharti rangoli designs are distinct art from Maharastra State. It has intricate colorful geometrical patterns featuring concentric circles and squares. This art form is commonly seen at festivals, weddings, and other auspicious occasions. Sanskarbharti Rangoli needs precision and patience as they are free hand rangoli art.
Simple Lord Ganpati Rangoli Design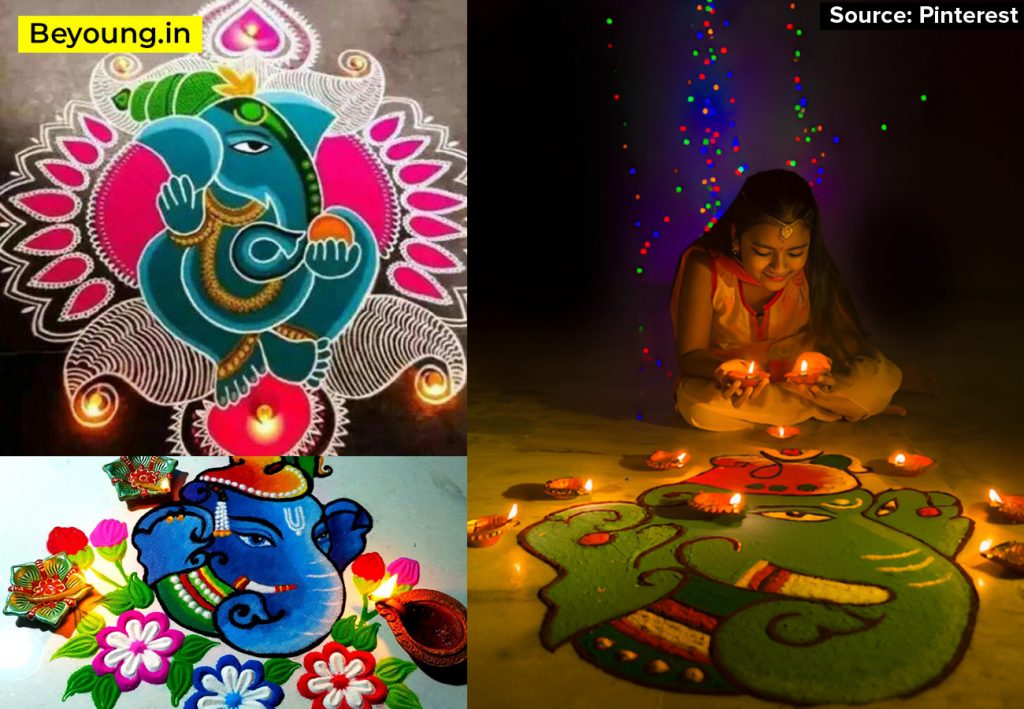 Lord Ganesh rangoli is one of the most popular but simple rangoli designs. You can see this simple rangoli art during various Hindu festivals such as Holi, Ganesh Chaturthi, Diwali, and so on. Ganesh – Elephant-headed lord revered as the remover of obstacles and symbol of wisdom in Hindu Scripture.
Peacock Rangoli Designs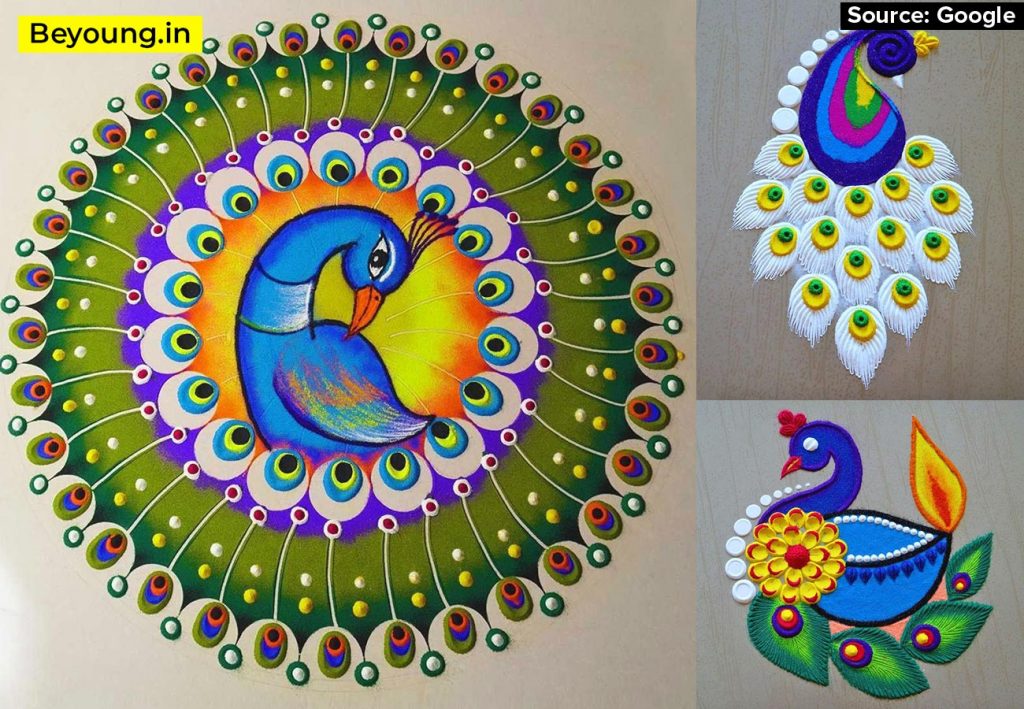 Peacock Rangoli Designs are seen in various ancient art forms such as sculptures, Scripture, and cave paintings. Although the peacock is a national bird and is known for its mesmerizing beauty. These best rangoli designs often showcase the majestic feather of peacock using various colors. With graceful curves and artistic flair, peacock rangoli designs symbolize beauty, harmony, and luck.
Simple Rangoli Designs With Chalk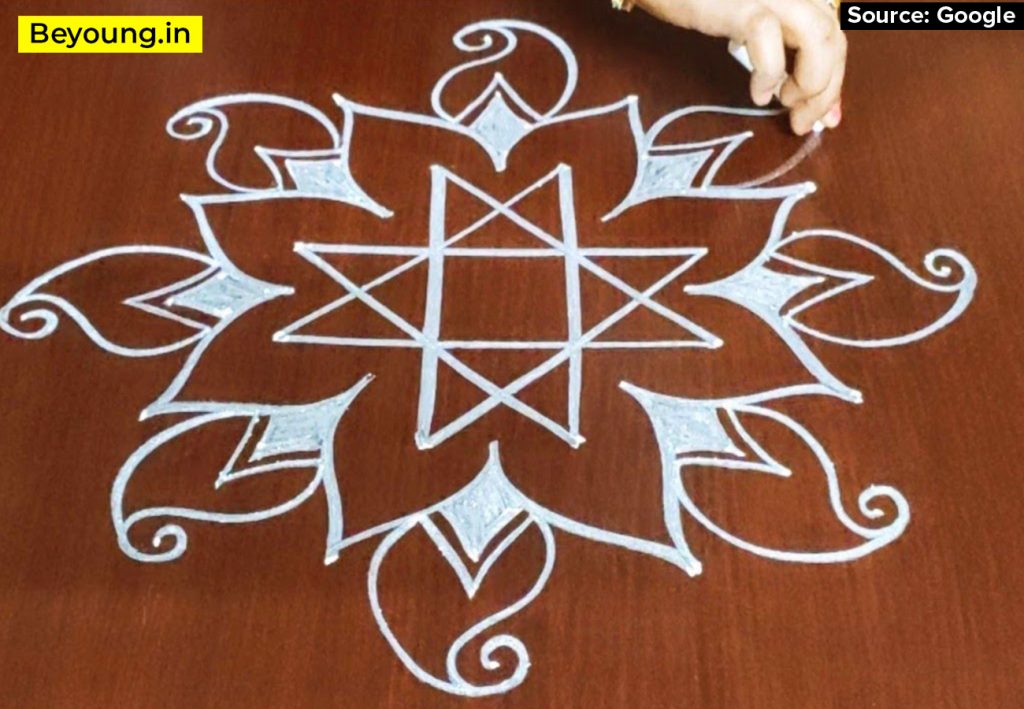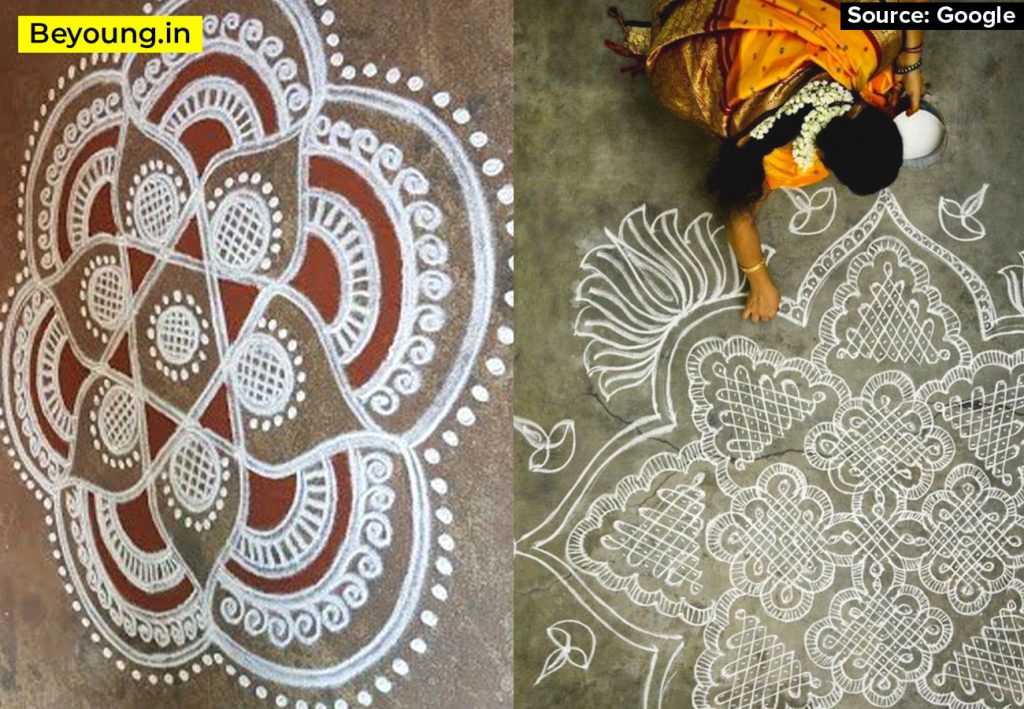 Rangoli designs using chalk are the first stage for some complex and difficult rangoli designs but many people use chalk for crafting temporary small rangoli designs on the welcome path, house floor, and entrance. Easy chalk rangoli designs are perfect for beginners, school kids, and temporary decorations on pavements and blackboards.
Simple Rangoli Designs with Flower Petals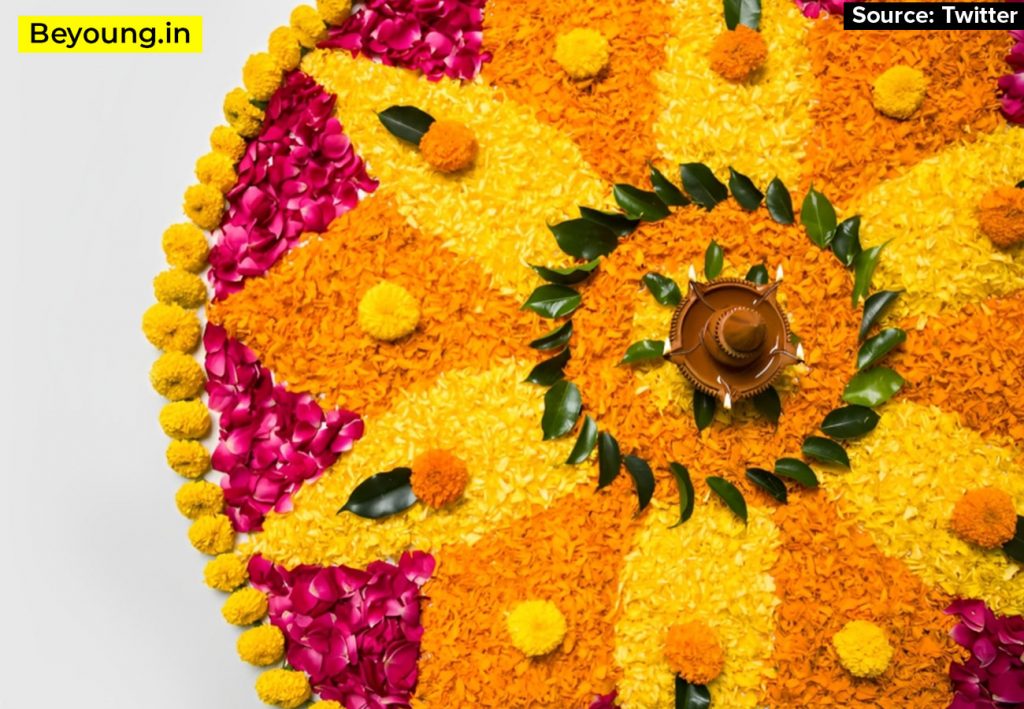 Flower petals are the best material for temporary but beautiful rangoli designs. That doesn't harm the environment and leaves a mark on the floor after removing petals. Simple rangoli designs with flower petals are preferred at festivals and special occasions like weddings due to their beautiful aesthetic appeal and fragrance. These small rangoli designs add a touch of nature elegance to festivals.
Easy Rangoli Designs With Stencils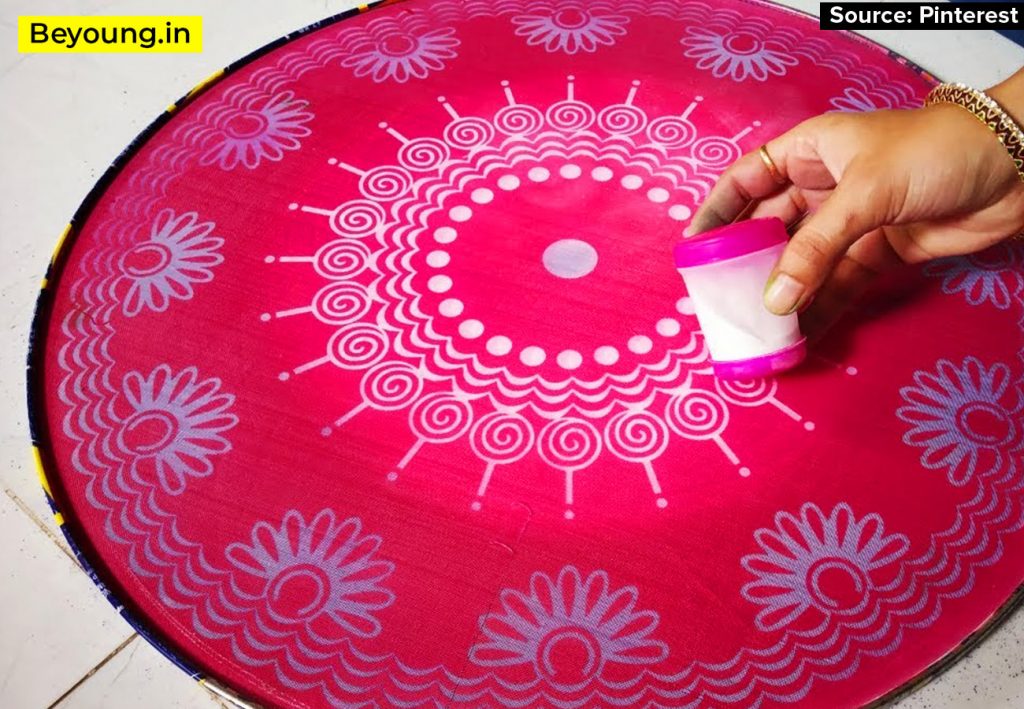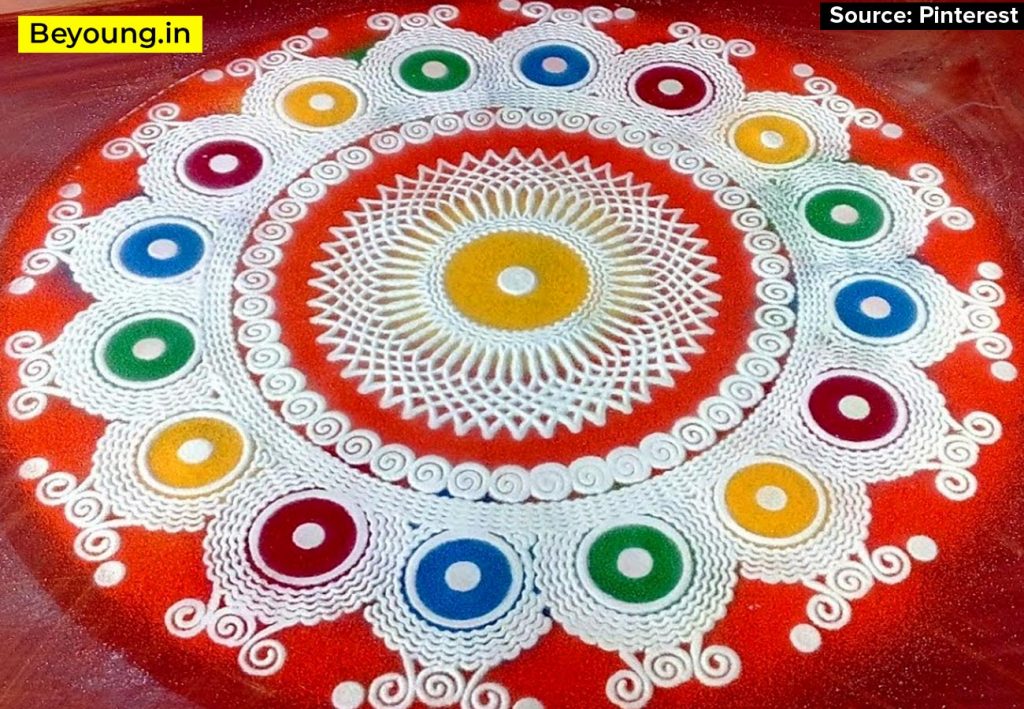 Stencils use for crafting complex and tough rangoli designs for convenient and precise rangoli designs. And, stencils allow easy replication of intricate rangoli designs during festivals and wedding functions.
Free Hand Simple Rangoli Designs on Sand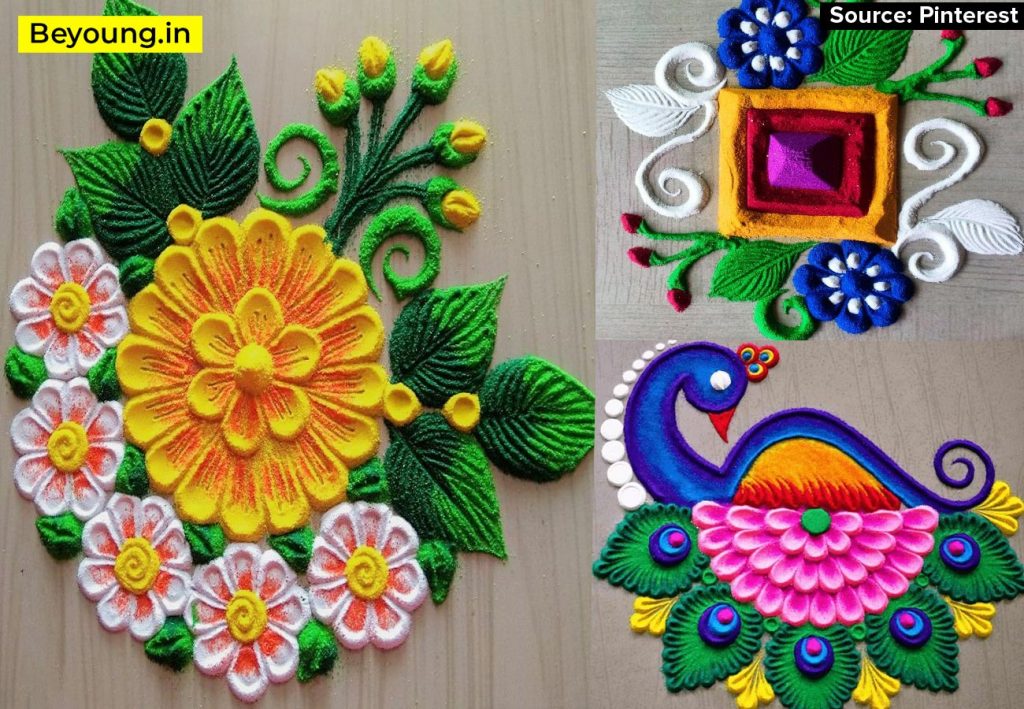 Sand rangoli designs are a form of creative and spontaneous art that is crafted for various festivals and special occasions. These free hand simple rangoli designs feature basic designs, motifs, and religious symbols. These simple Diwali rangoli designs are used to showcase art and celebrate joyful festivals with family and relatives at outdoor places.
Easy Rangoli Designs for Diwali With Pulses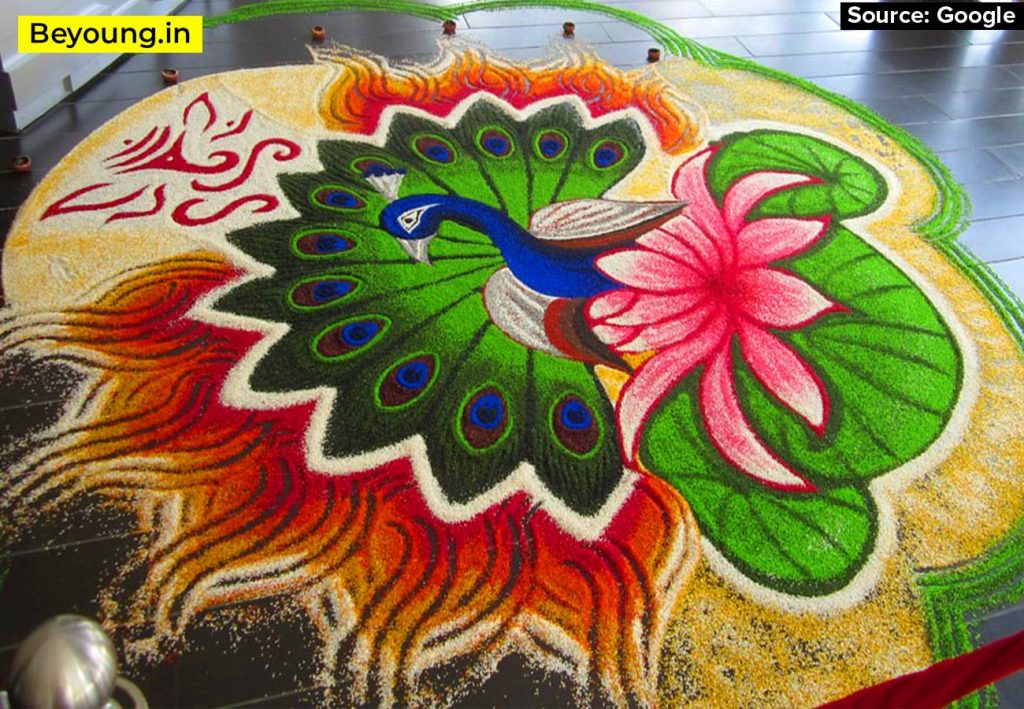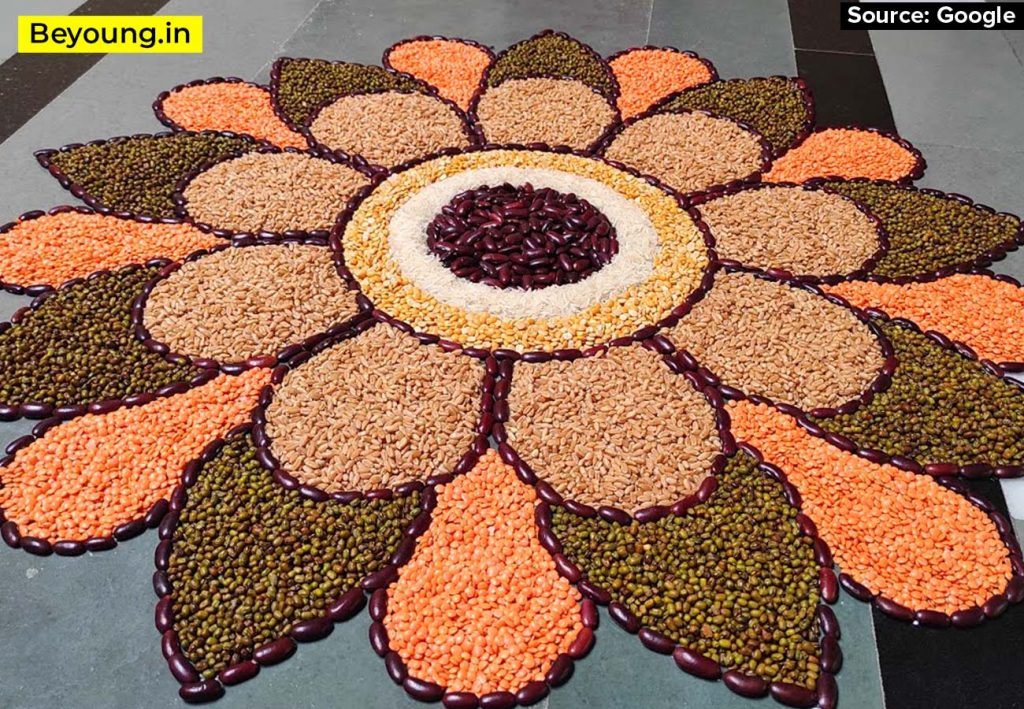 Easy Rangoli designs using pulses are made on Diwali, Onam, Pongal, Holi, and many other Hindu festivals to show gratitude and take blessing from the god of food. Artistic Pulse Rangoli designs create using pluses like lentils, chickpeas, rice, toor dal, rajma, oilseeds, and millets. These simple rangoli designs provide a unique and eco-friendly way to decorate pooja places during festivals.
Maa Durga Rangoli Designs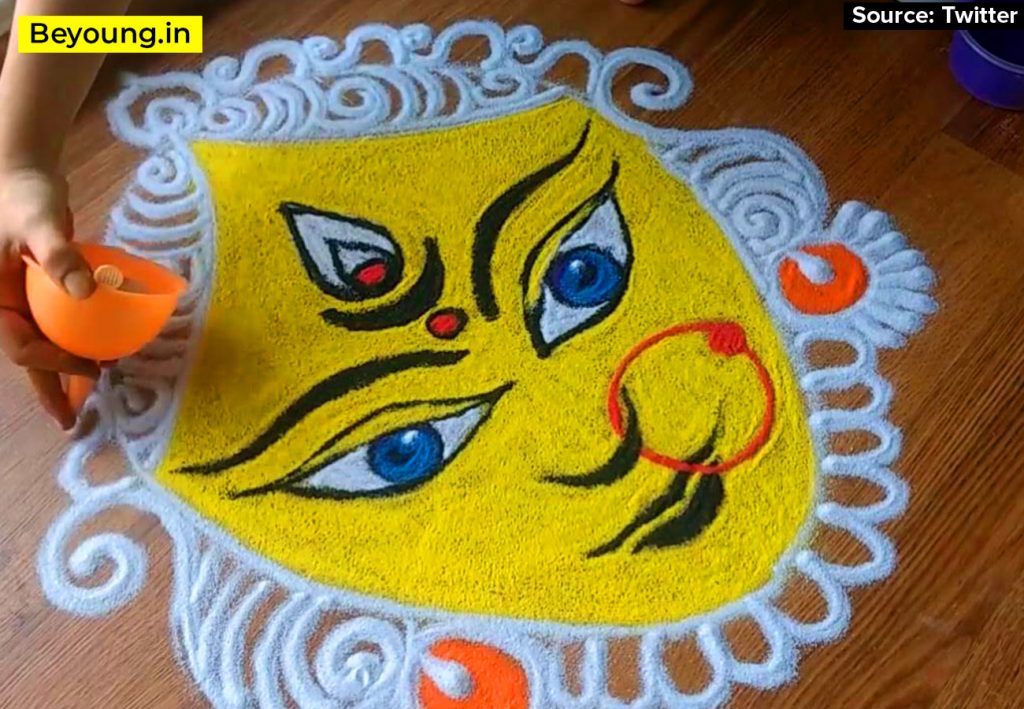 On festivals like Durga Navami and Navratra, we pray to Goddess Durga and establish a sculpture of Devi and do fast on these religious days to take blessing from her. We decorate our temple and home with rangolis and other floor designs. Maa Durga Rangoli designs symbolize deviation and invoke spirituality. And, give us grace, strength, and blessings.
Rangoli Designs with Mango Leaves and Marigold Flowers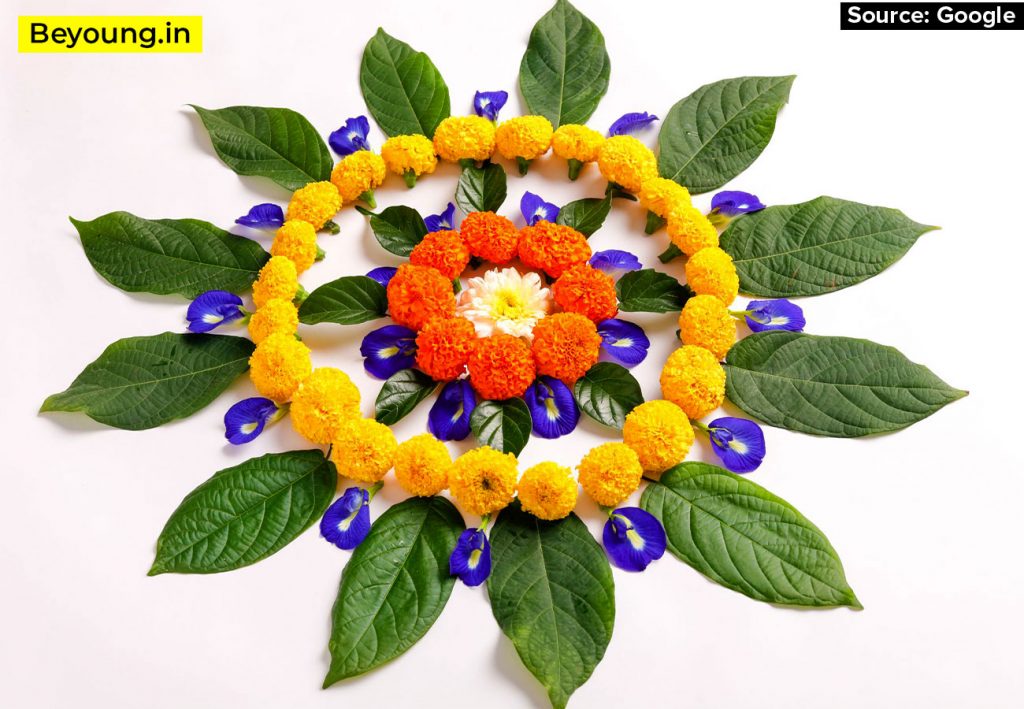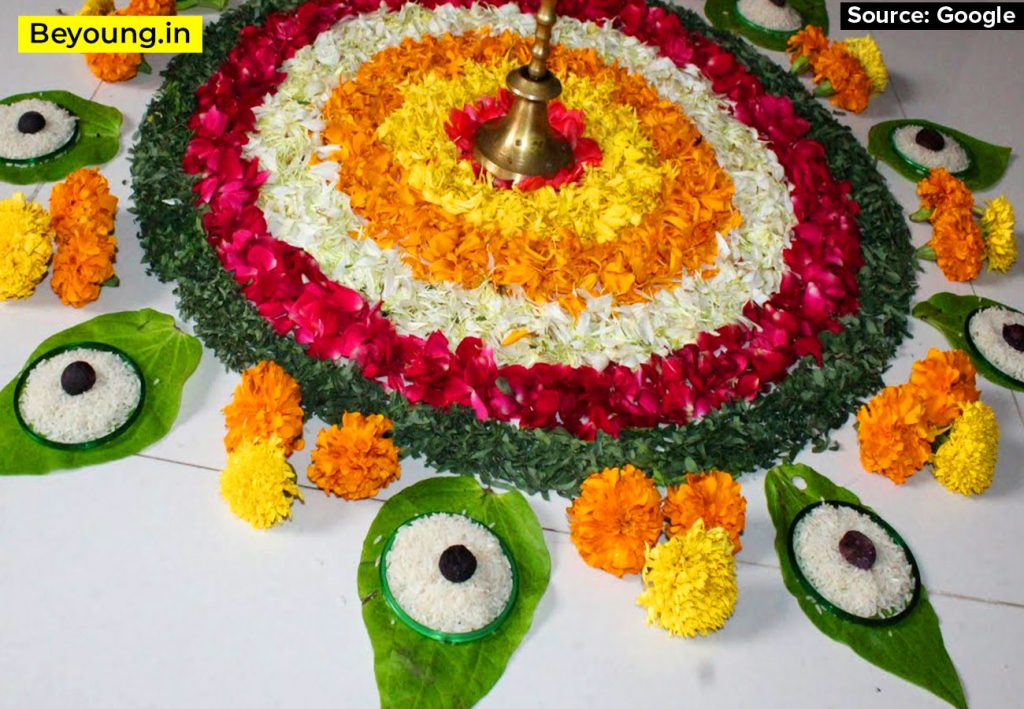 Rangoli Designs with leaves and flowers are traditional art to adorn the home and Pooja Place during the festivals. Those easy rangoli designs for Diwali create a colorful and auspicious ambiance in the festival and wedding functions with a vibrant combination of mango leaves and marigold flowers. These fresh and fragrant natural elements symbolize prosperity and happiness.
Lotus Rangoli Design with Colours and Diyas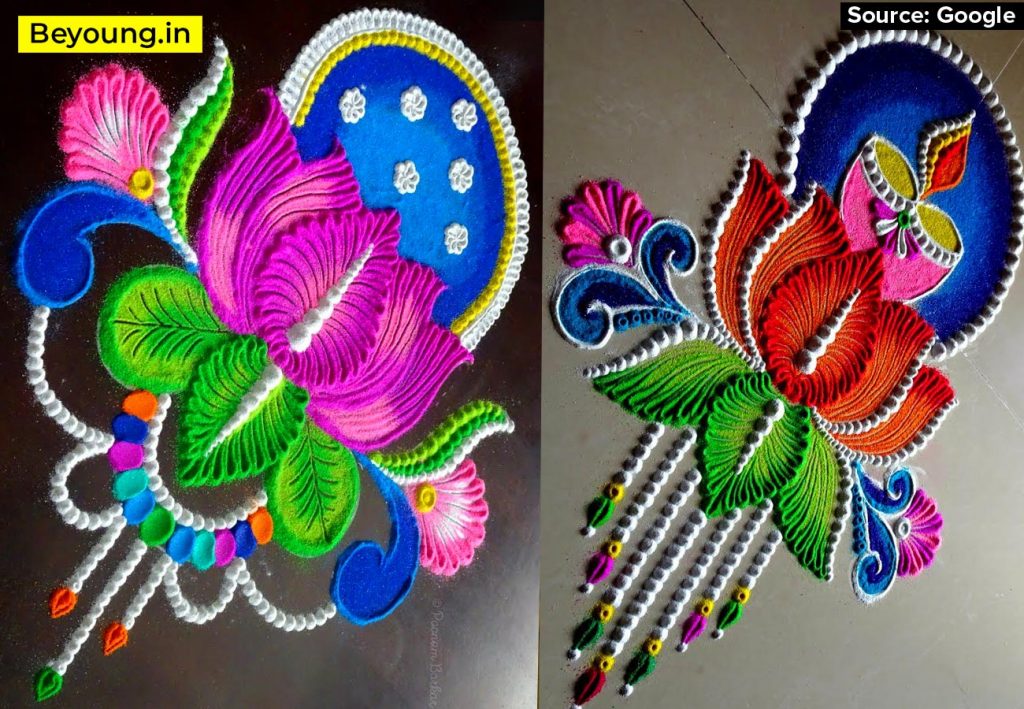 Lotus Rangoli designs with colors and Diyas are one of the most used rangoli during the Diwali festival by households. This stunning creation feature a lotus flower, motifs, diya, and vibrant colors. In this religious art lotus symbolizes purity and diya symbolizes enlightenment. This is one of the best and simplest Diwali rangoli design for beginners.
Easy Rose Rangoli Design Using Vibrant Colours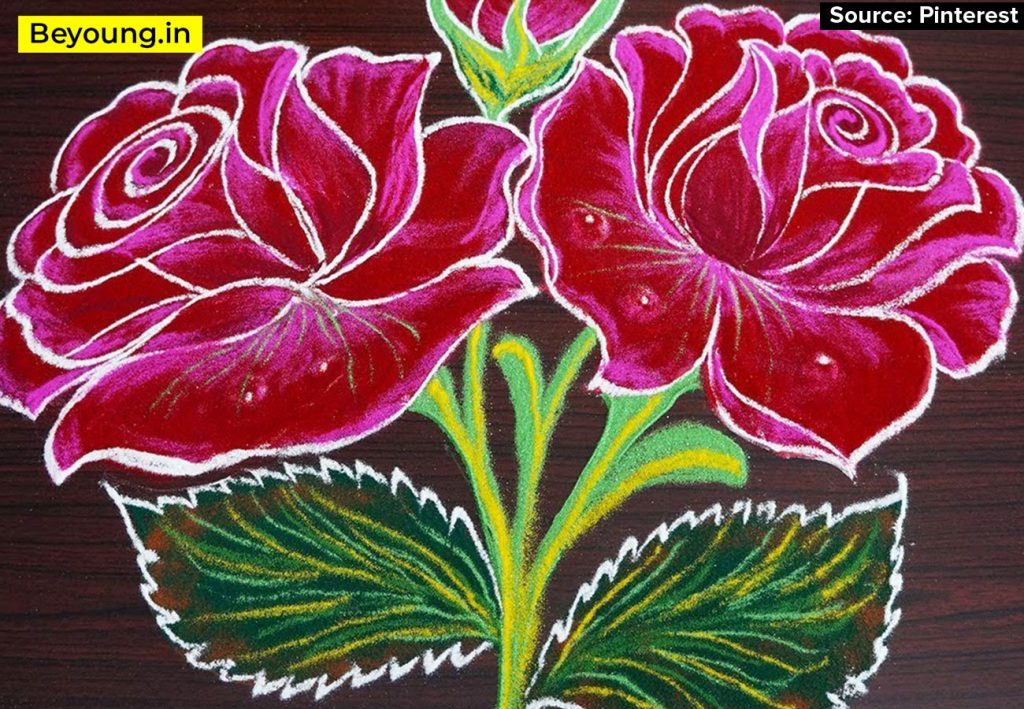 Rose Rangoli design is elegant artwork that adds a touch of romance and beauty to the celebration, which makes it a delightful choice for rangoli enthusiasts. This rangoli design showcases a simple yet charming beautiful rose pattern and a combination of vibrant colors. You can try an easy rangoli design in a rose pattern for your home decoration that needs less effort and preciousness.
Round Colourful Kolam Rangoli Design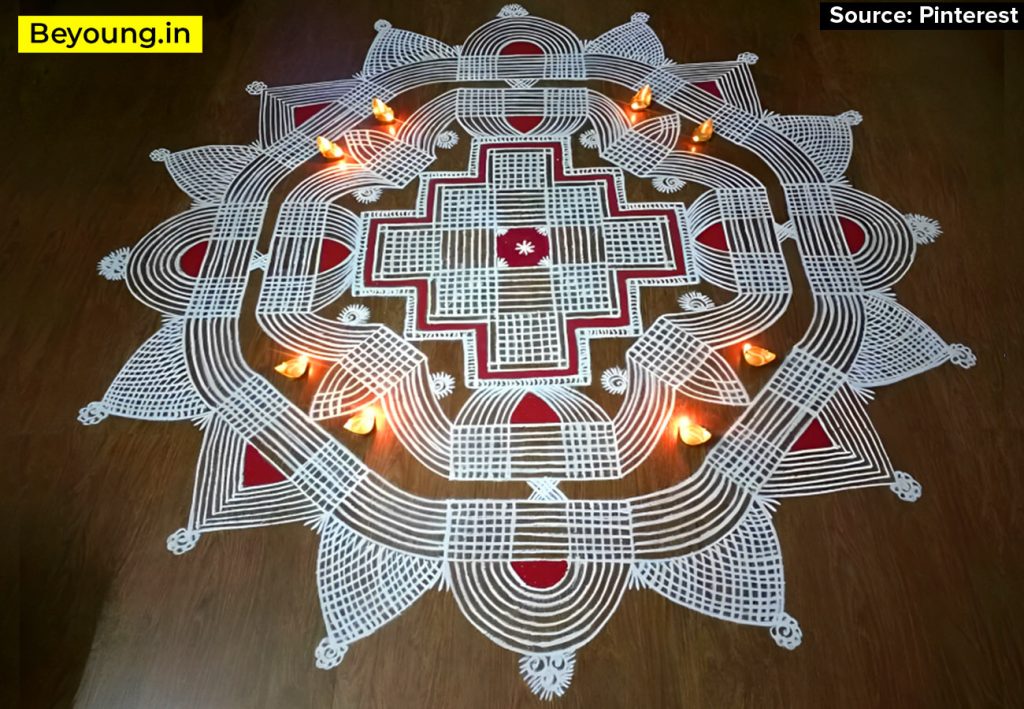 Kolam Rangoli designs are circular in shape and feature complex intricate geometric designs. These types of Rangoli artwork are usually made at the entrance of homes to welcome guests during festivals and weddings. These rangoli designs initially make by chalk and then you fill lines and shapes with white color powder. Round Kolam Designs add a sense of unity and happiness, making it appealing and spiritually significant.
Rangoli Designs for Diwali with Floral Patterns
Creating beautiful Diwali Rangoli Designs using natural flowers in floral patterns is a tradition for centuries in India. You can craft these stunning rangoli patterns using flowers like marigolds, roses, blossoms, sunflowers, jasmine, lotus, and many more. There are some popular floral patterns in Diwali rangoli designs like flower rangolis, floral mandalas, floral pathways, floating flower rangoli, and so on. These simple rangoli designs spread floral scant, positivity, and happiness around you. Add Diyas for enlightenment to these easy rangoli designs. Happy Diwali!
Orange Blossom Rangoli Design


The Sunflower Magic Rangoli Idea

Lines and Petals Small Rangoli Designs

Ring of Flowers Rangoli

Simple Floral Pattern Rangoli Designs
Simple Rangoli for Diwali with Mandala
Creating simple Diwali rangoli designs with mandala is a very popular and ancient rangoli technique. For the mandala rangoli design first draw a concentric circle and then add floral or geometric patterns to it. You can use flower powder, color powders, rice flour, and chalk for the base. Use diyas at the border or center circle in symmetrical patterns for a picture-perfect Diwali rangoli design. Happy Diwali!
Blooms and Petals Rangoli with Mandala

Swirls on the Floor Go Round and Round Rangoli

Mandala Motifs Rangoli Designs for Diwali

Simple Welcome Rangoli Design


Kundan Rangoli Designs for Home Decoration
Kundan Rangoli Designs are captivating Indian traditional art crafts for various Hindu festivals and weddings. This rangoli designs uses kundan stones to create amazing patterns and motifs. Kundan rangolis are crafted for decoration to bring joy and add an elegant touch to the home.
Swastik Sign Rangoli Design for Hindu Festivals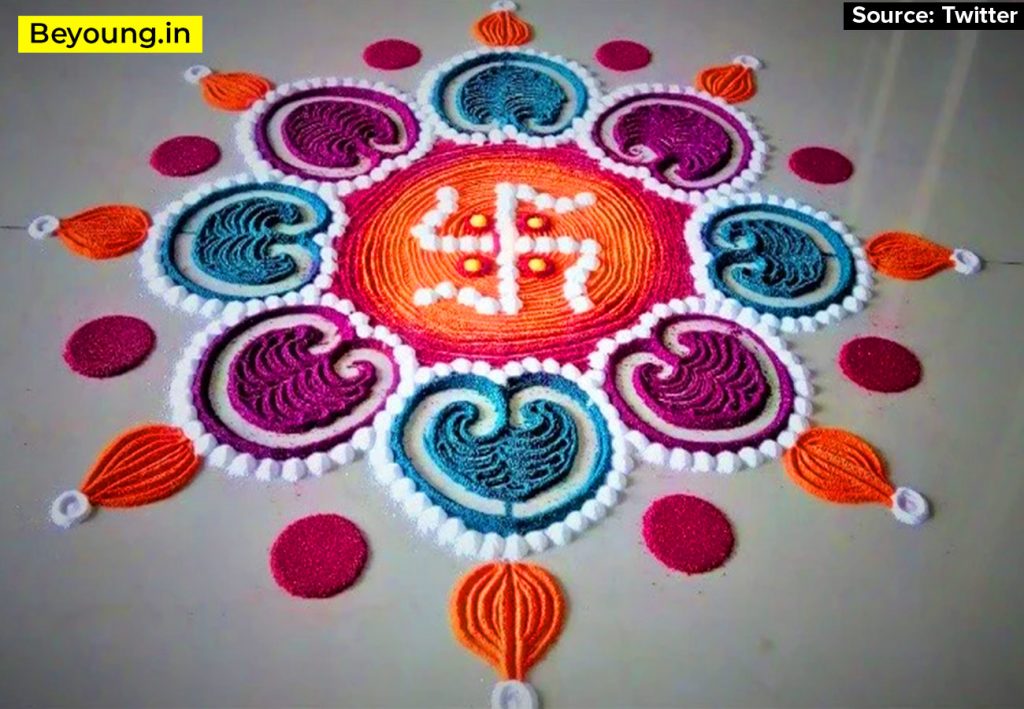 Swastik is an ancient symbol with deep cultural significance that brings harmony and happiness to our life. This symbol draws on various occasions such as weddings, Homam, Diwali, and many other rituals. The vibrant and intricate Swastik Rangoli Designs adorn the home, invoke blessings, and create a joyous atmosphere during festivals and rituals.
Semi-Circle Easy Rangoli Designs for Decoration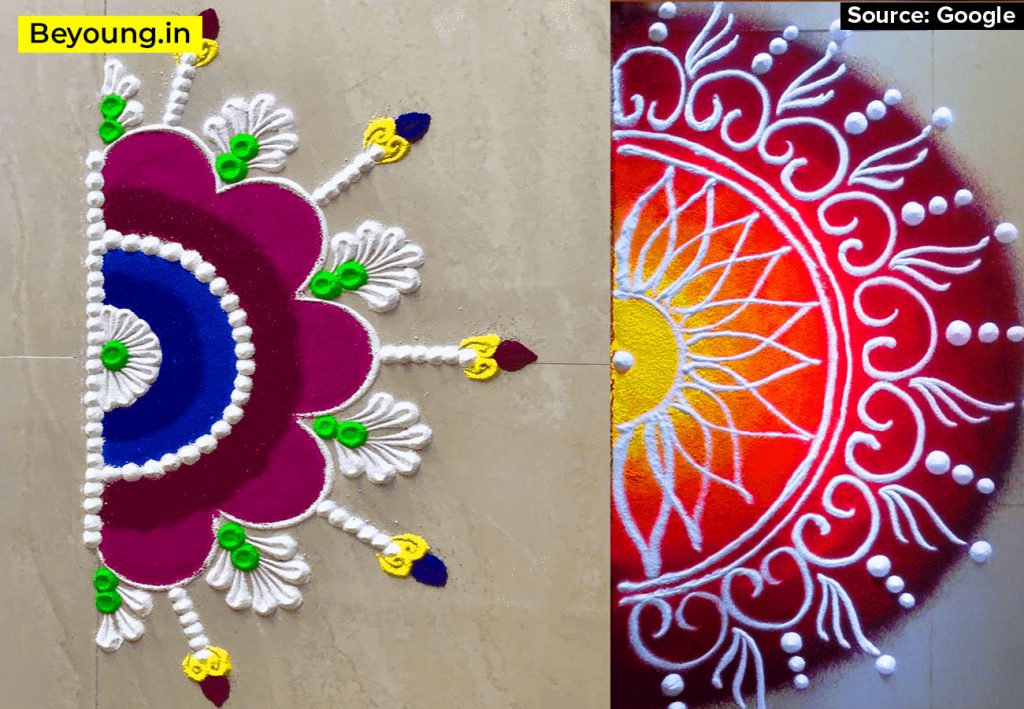 Easy Rangoli Designs in half circle is the perfect choice for simple and quick decoration. Create a base for these simple rangoli designs using rice flour and color powder. Draw a semi-circle then add floral patterns, geometrical shapes, or religious symbols. These eye-catching small rangoli designs at the entrance bring charm and elegance to your home.
Swirl Rangoli Design on Diwali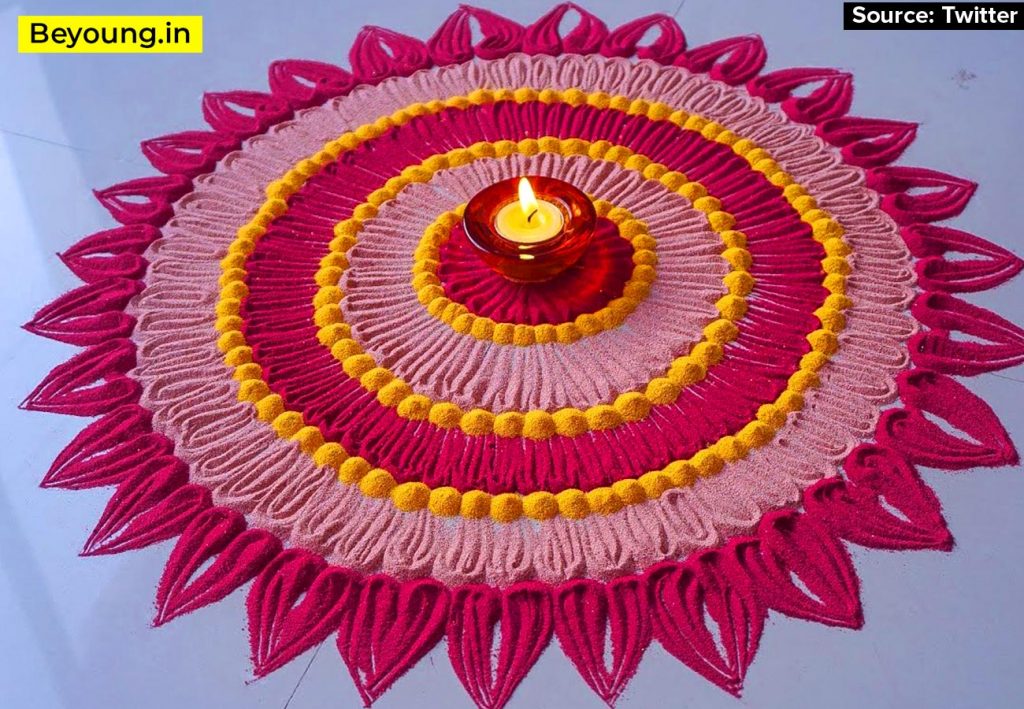 Swirl rangoli designs are a perfect choice for Diwali and Onam. In this design, use multi-circular shapes to craft rangoli and create these bases using powder or rice flour. Then you start creating your swirling pattern radiating from the rangoli center, resembling beautiful flowers or cosmic traditional motifs.
Bangle Rangoli Designs on Diwali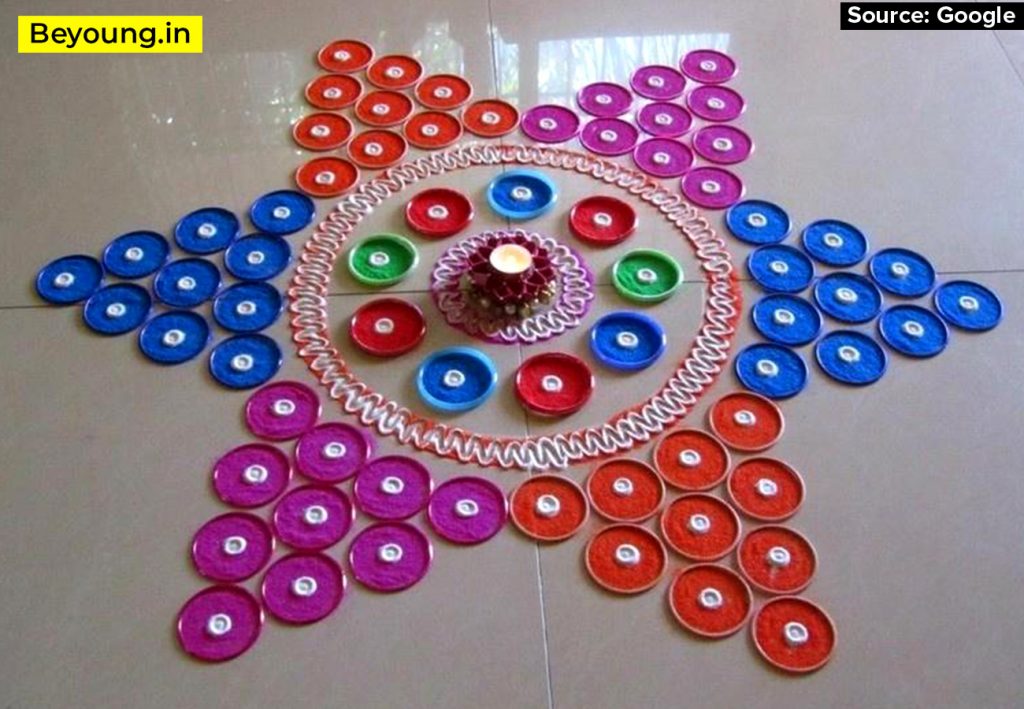 Bangle Rangoli Designs for Diwali is a unique and creative way to celebrate festivals with family and relatives. For creating these rangoli designs use different sizes of Bangles to form a unique and creative pattern on the floor using chalk and colors. By creating these symmetrical easy rangoli designs you can make your home more appealing and beautiful. On Diwali festival, you can add Diyas or Candles for a dazzling effect.
When you step into an Indian Hindu household, you'll undoubtedly receive a warm welcome adorned by a free-hand simple rangoli design, delicately crafted on the floor with chalk powder or vibrant colors. In the past, rice flour was the preferred medium for creating Diwali rangoli designs, as it could serve as a source of food for tiny insects and birds. These intricate and easy rangoli designs find their place in various Hindu religious celebrations, festivals, weddings, and other auspicious occasions. It is a cherished belief that these traditional rangolis have the power to protect homes from malevolent spirits. So why not try crafting one of these enchanting simple rangoli designs for home today and experience their beauty firsthand?
Material Required to Create Best Rangoli Designs
Colors and flower powder
Chalk or coarse for design rangoli
Flowers if required
Decorative material or Items like Diya, stencil if needed
Simple Rangoli Design Tips to Create Amazing Artwork
Rangoli should always be painted on a level surface.
Before drawing the rangoli design ensure that the surface is dry and clean.
Use a stencil if you are unsure about your free hand art or rangoli is complex to craft.
Wrapping a piece of paper into a cone and using it to construct your design might result in some interesting designs.
If your rangoli design is not dotted, use other items such as CDs, bottle caps, ice cream sticks, and more to create elaborate designs.
You can use extra Muggu powder to conceal any mistakes you make during molding.
Use a translucent sheet if you creating a rangoli on a white surface such as marble tiles or granite floor. It will allow you to quickly remove the rangoli without leaving any stains on the surface.
Remove the Rangoli paint from the tiles with petroleum jelly and a towel.
Check out other blogs for more movies, dialogues, memes, and entertainment. Blogs like Best Bollywood Comedy Movies, Beautiful Hollywood Actress, Popular Telugu Actors, Dumb Charades Movies, Shahrukh Khan Upcoming Movies, Beautiful Tamil Actress, Top Bollywood Actors, Talented Bollywood Actress, Allu Arjun Movies List, Top Beautiful South Indian Actresses, Best Hollywood Comedy Movies, Top 10 Shahrukh Khan Movies List, Super Hit Bollywood Old Songs and Best Suspense Thriller Movies