The Mandana Art – Worth to give a throwback
From the artistic culture and a faith in welcoming god through art, Mandana came into existence in
Rajasthan and Madhya Pradesh. The paintings were made on the walls and the floor of the home. (greenroom-oc)
Basically, the word was derived from the Sanskrit word "Mandan" which means invent. The beautiful art
was done on the ground and walls of the mud homes which resemble the beginning of something like
winter season, harvesting etc. The women's are best in carving the designs with perfection and
symmetry. The basic agenda behind this art was that Mandan brings good luck and remove evil spirits
which will lead to a happy and prosperous life.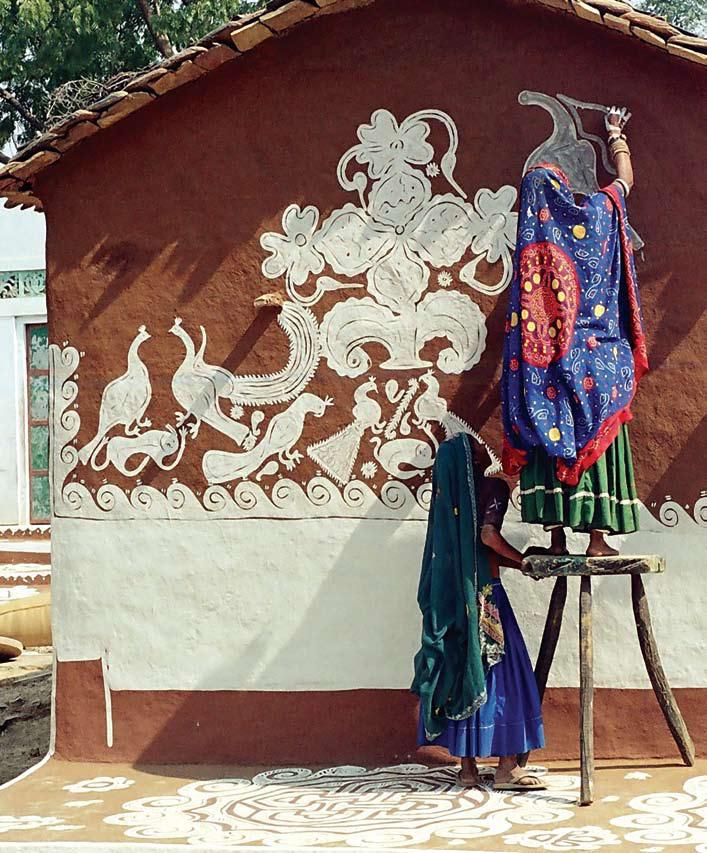 Source – Indian By Design
Firstly the floor is prepared with the cow dung mixed with the Rati aka red clay, normal clay, and red
ochre. On the primary base of brick red or brown color, the motif was made with the lime or chalk
powder. Tools used in the drawing are a piece of cotton, a tuft of hair, a rudimentary brush made out of
a date stick. The traditional form of the art, which was executed on the mud walls and floors, is very
close to getting extinct with the abundant use of concrete houses which are being constructed even in
villages and the art doesn't go well with the concrete walls. However, it is conserved in a modern form
and being propagated to the ample via various means. The traditional artists claim of architectural and
scientific significance being associated with the Mandana art forms and that it needs to be studied.
With its gradual evolution and sooner extinct version, we the art lovers have made sure that in one or the other way we will bring back that art in the contemporary style. Be young has a wide collection of artistic t-shirts and mobile covers based on the Mandana art. The art lovers who are seeking to have a collection of the same; this is the perfect platform for it. The designs are beautifully carved considering the importance and style of the respective art. Moreover, there are Warli art and other popular styles
which are good to showcase your creative approach in this 21st century.
Try to depict your art and fashion sense apart from the generic one and give a flaunting look. Where
everyone is busy in showcasing the trending style, you can give a throwback and nurture the feeling of an
ancient art.