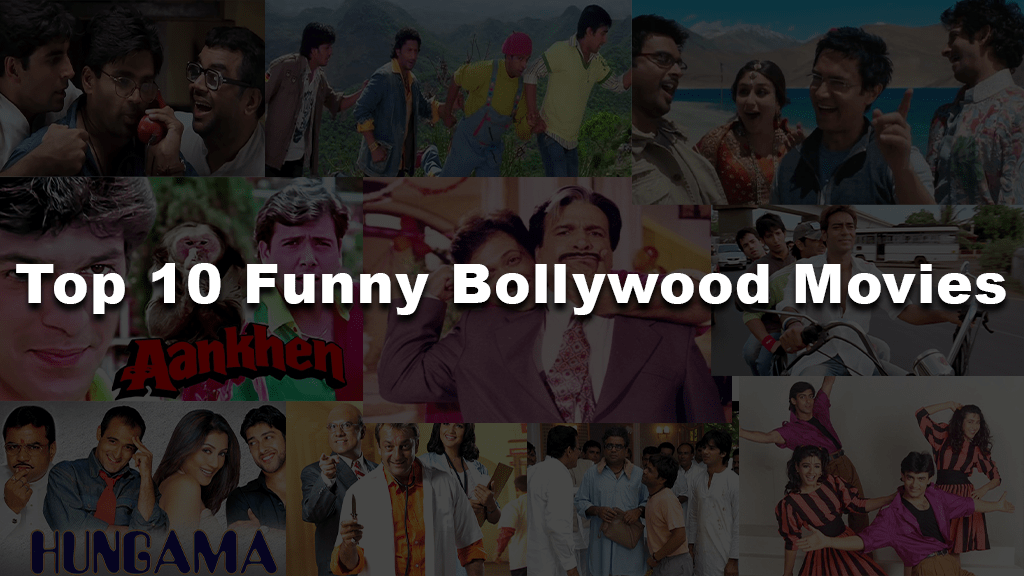 Funny Movies Bollywood: For a Heavy Dose of Humor, Here Are 10 of the Funniest Bollywood Movies of All-Time
Laughter is usually regarded as the greatest therapy. This small fact has been scientifically and psychologically proving. Laughter has a variety of health advantages, ranging from lowering stress levels to strengthening our immune systems.
However, unless you want to spend a lot of money on a circus or a stand-up comedy performance, you don't have a lot of alternatives for getting a daily dosage of laughing. But, with the aid of some of the finest Indian comedy films, we have created the best methods for boosting your health with a hearty dose of laughter. We've compiled a list of funny Hindi movies that will have you rolling on the floor laughing like a lunatic.
Life is too short to be depressing and stressful all of the times, so if you're looking for a good laugh, go no further! This list of the finest funny movies Bollywood of all time will bring you the most joy:
Aankhen (1993)

Aankhen, a classic comedy film directed by David Dhawan and released in 1993, is another perfect picture from the decade. It focuses on two jerkish brothers who keep telling unrealistic jokes, one of which turns hazardous when it gets out of hand. As a consequence, one of them goes missing, and the other is accused of murdering him. Famous Bollywood actors such as Govinda, Chunky Pandey, Rita Shivpuri, and Kader Khan appear in the film. For its audience, this film provides fits of laughter as well as unending drama.
Andaz Apna Apna (1994)

You've come to the right place if you're seeking hilarious Bollywood movies. Andaz Apna Apna is a renowned and greatest Hindi comedy film about Amar and Prem, two buddies who become love rivals who want to marry Raveena, a wealthy heiress. What the men don't realize is that the woman they're seeking isn't Raveena, but someone else and that Raveena's wealthy father also has a criminal twin brother. It's difficult to keep track of all the amazing characters in this cult classic, but it's even harder to stay from giggling.
Dulhe Raja (1998)

Govinda has a gift for humor that appeals to the masses rather than the upper crust. He plays the title character in Dulhe Raja, a smooth-talking roadside Dhaba owner. The clever ruffian who falls for the rich man's daughter is a classic Govinda character. The wealthy man (Kadar Khan) lives in a house with huge stairs and circular sofas the size of a football stadium. When Govinda is at his best, it's as if he was born to play that part. The famous Akhiyon se goli maare show off the star's free-style dance skills, while the qawwali Suno sasurji is best funny movies of bollywood for the same reasons.
Hera Pheri (2000)

Akshay Kumar brings the role to life in this Priyadarshan classic. His character interacts with a serious and decent Shyam (Sunil Shetty) and a nice and amusing garage owner (Paresh Rawal). When they received a mistaken call from an underworld mob, the movie became even more fascinating. This comedic relief is one of those games that you can play over and over again and never grow tired of.
Munna Bhai M.B.B.S. (2003)


Munna Bhai M.B.B.S is one of the greatest Hindi comedy movies, and it's one of those movies that you can watch over and over again and never grow tired of. Munna and Circuit became one of the most renowned duos in Indian pop culture because of this timeless classic. Murli Prasad Sharma, called Munna Bhai, is a Mumbai criminal who poses as a doctor in front of his parents. Sanjay Dutt plays him. Munna wants to become a genuine doctor once his father discovers his true identity. The rest of the narrative is woven around his funny and wild activities within a medical institution. In addition, the film was nominated for a National Award for Best Popular Film.
Hungama (2003)

The Strange Gentleman, a drama by Charles Dickens, is partly based on this Priyadarshan classic. A rural girl (Rimi Sen) travels to Mumbai in quest of work to help her family pay off their debts. She quickly discovers that to obtain housing, she must have a husband. When she uses a man (Aftab Shivdasani) as a false spouse to get through, the comedy follows. Rajpal Yadav, like so many others, has consistently raised the bar for comedy. You'll observe a gentle romantic love blossoming between the primary lead cast in addition to humor. A fantastic comedy that should be on everyone's funny watch list!
Golmaal: Fun Unlimited (2006)

Lucky, Gopal, Madhav, and Laxman are best buddies and companions in mayhem in Golmaal — Fun Unlimited. They play practical jokes on people for money, but they frequently end up in trouble. And we can't stop laughing at the shambles they make! Because of Tushar Kapoor's humorous acting skills, this is one of Bollywood's most popular films.
Chup Chupke (2006)

A fisherman saves Jeetu from committing suicide. As a person with a hearing and speech disability, the fisherman sells him to a moneylender. As a result, Jeetu takes on the role of a deaf and speech-impaired character. Is it, however, simple for Jeetu? Watch the movie to find out what happens to Jeetu. After Jab We Met, this is Kareena's and Shahid's second greatest film. This film is as funny as a Priyadarshan film can be!
Dhamaal (2007)

This crazy humor is ideal for days when you simply want to sit back and relax while laughing your heart out. When four pals discover the location of a treasure worth crores hidden someplace in Goa, they believe they've struck gold. However, amusing mishaps, dishonest cop, and their own greed make getting to the prize more difficult. Sanjay Dutt, Arshad Warsi, Aashish Chaudhary, Riteish Deshmukh, Javed Jaffrey, Vijay Raaz, and Sanjay Mishra star in the film, which is directed by Indra Kumar and is the first installment in the Dhamaal franchise.
3 Idiots(2009)

This coming-of-age comedy film is still relevant and has iconic status in Bollywood despite being a decade old. The plot revolves around three buddies, Raju, Rancho, and Farhan, who lost contact after graduating from engineering school. When Raju and Farhan hear about Rancho years later, they set out to locate him and reminisce about their college days, the great lessons he gave them, and the wild experiences that cemented their friendship along the way. Rajkumar Hirani directed the film, which stars Aamir Khan, R. Madhavan, Sharman Joshi, Kareena Kapoor Khan, and Boman Irani.