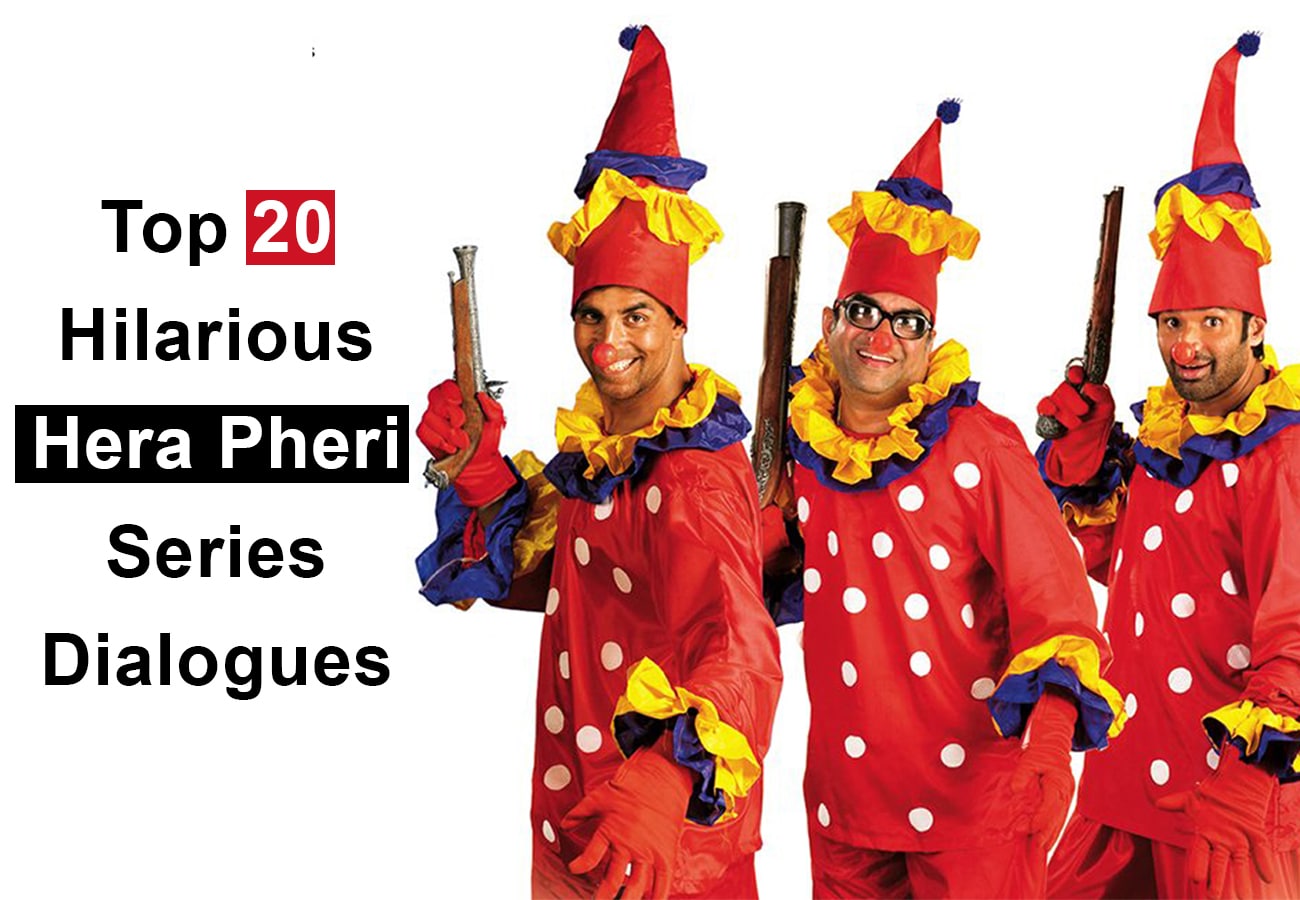 Top 20 Hera Pheri Series Dialogues That Will Make You LOL
Hera Pheri franchise has defined childhood for both 90s kids and 20s kids. This comedic drama series, directed by Priyadarshan, stars Akshay Kumar, Sunil Shetty, and Paresh Rawal is one of the best funny movies. Let us present you the top 20 dialogues of Hera Pheri series.
Hera Pheri, one of the most famous Bollywood comedy and cult favorites of all time, was released precisely 20 years ago. This film follows Baburao Ganpatrao Apte, also known as Babu Bhaiya (Paresh Rawal), and his tenants Raju (Akshay Kumar) and Shyam (Sunil Shetty) as they try to make some quick cash. Hera Pheri's performances, narrative, huge comedy sequences, and funny Hera Pheri dialogues all combine to produce a film that fans adore and want to see again and again. This movie still wins the hearts of every Indian by making them smile each time they watch this movie.
Every youngster from the 1990s will agree with me that this film was fantastic. Is it possible to imagine your existence without a meme? This film has inspired some amazing memes and a series of WhatsApp jokes. We never grow tired of seeing the Hera Pheri series since it was so well created. There were a lot of humorous conversations in this film.
Today, the series has progressed to the point where no other film in the series is as amusing as this one. So, without further ado, here are some of the finest Hera Pheri dialogues that will make you nostalgic for the past.
Kutriya Saala, Dekh Ke Number Dial Kar!

Dene Wala Jab Bhi Deta, Deta Chappar Phaad Ke.

Golmaal Hain Bhai Sab Golmaal Hain.

Chamaila Babu Bhaiya Se Direct Babu? Lagta Hain Tera Bhaada Double Karna Padega.

Chai Se Zyada Saala Ketli Garam Hai.

Meri Kundli Me Khoon Likha Hai… Malum Hai Na?

Agar Subah Subah Sandaas Jana Hai Toh Singer Banna Padega.

Kaun Ishwar? Wo Ration Wale Dukan Ka Halkat Baniya…

Hello, Wo Meri Machli Ka Kya Hua?

Jaan pehchaan nahi kaise uthaunga… Kam se kam 40-50 kilo ka wazan hoga

Phir Hera Pheri is a Bollywood comedy film released in 2006. It is a follow-up to the film Hera Pheri. Raju, Shyam, and Baburao became wealthy at the end of the film Hera Pheri. However, the sequel, Phir Hera Pheri, contains a plot twist. Now that the wealthy three have lost all of their money in fraud, they have found a new method to get wealthy. The hilarious Phir Hera Pheri dialogues and outstanding performances contributed to a high degree of humor.
The film is suitable for the entire family to watch. You can't stop giggling throughout the entire movie, no matter how many times you see it. In this post, you can find all of the hilarious dialogues from Phir Hera Pheri. Have fun with it!
Ye Babu Rao ka Style Hai…

Utha re le Baba…Utha le… Mere ko nahi re…In dono ko utha le…

Iske Mooh Mein Paidaishi Supari Hai… Yeh Totla Hai.

Ek Jamana Tha Jab Hum Bhi Gareeb Hua Karte The.

Jor Jor Se Bolke Scheme Sabko Bata De.

Dedh Sau Rupiya Dega.

Abhi Maja Aaega Na Bhidu.

Mere Paas Ek Mast Plan Hai.

Merko To Aisa Dhak Dhak Horela Hai.

Idhar Zeher Khane Ka Paisa Nahi Hai, Tu Jaare.

Also Read About: Top 10 Desh Bhakti Songs