Quirky Bomber Jacket Outfit Ideas For Men To Try In This Winter 2023
Winter season means stunning bomber jacket men style. Indeed, winter is incomplete without frosty evenings and this jacket. The weather is full of breezes and bombers, a muffler, and a stylish look mark the moment of the day. For this, here are some of the stylish bomber jackets and styling ideas with them to look the hot and happening one in the crowd.
Best Ways To Style Bomber Jackets In 2023
Bomber Jacket Men Style would not be a bigger task if you have bought the right color of jacket for you. The stylish bomber jackets come in countless quirky colors, out of which you can pick your kind of fashion. Scroll below to know.
Black Bomber Jacket
Leather Bomber Jacket
White Bomber Jacket
Bomber Jacket with hoodie
Red Bomber Jacket
Olive Bomber Jacket
Blue Bomber Jacket
Bomber Jacket with Shirt
Suede Bomber Jacket
1. Black Bomber Jacket: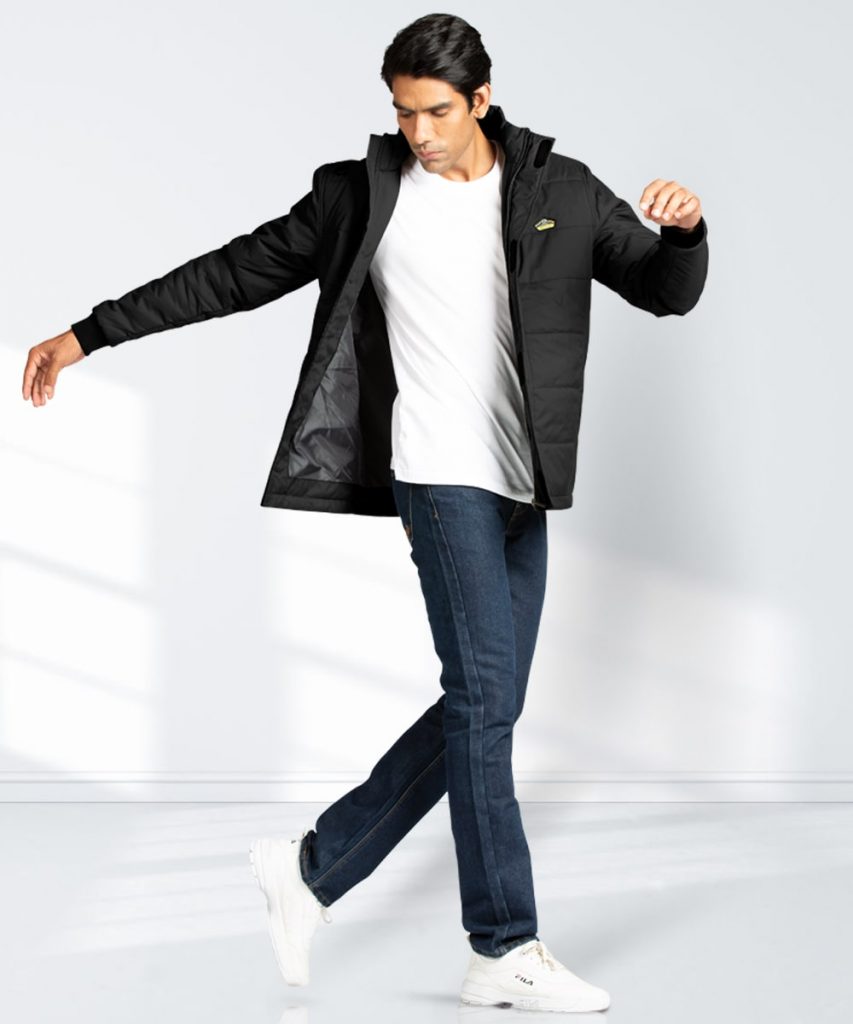 When it comes to a sleek look and classic ootd then a black bomber jacket is exactly the thing to go for. Black is by far one of the most contemporary color options that can match all your fashion ideas. For a classic aesthetic, you can try out a bomber jacket men style with a high neck t shirt/sweatshirt and bomber jacket. You nail it when you know how to do it right.
2. Leather Bomber Jacket: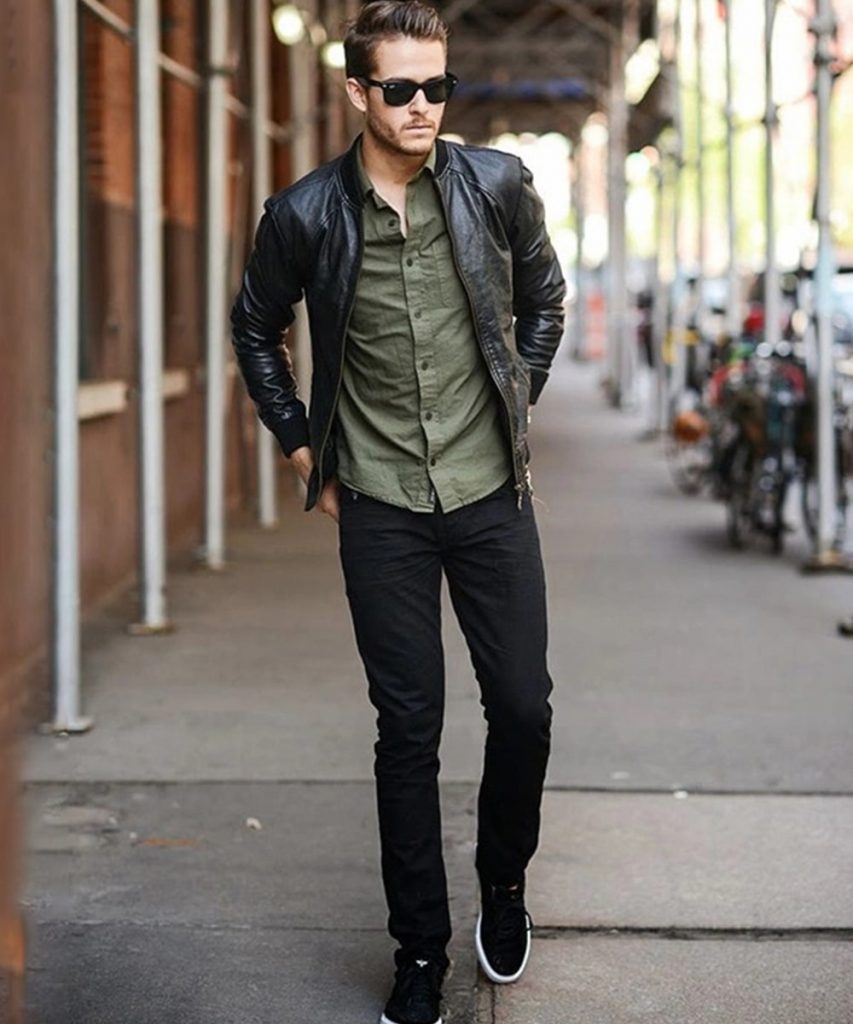 A leather bomber jacket is known more for its timeless beauty. For nailing the staple bomber jacket men style winter look, put on a black t shirt or hoodie with a leather bomber jacket on it. This all-black look will never fail you, no matter what. If you are looking for a rather softer look then pairing colors with black leather-like dessert brown, mustard yellow, etc. can balance the look. This is one of the most stylish bomber jackets for a manly look.
3. White Bomber Jacket:
The freshness of white is unbeatable, be it in the form of white high neck sweatshirts or in the form of the white bomber jacket. You may neutralize your bomber jacket men style winter look by pairing white bomber jackets with bright-colored hoodies. Along with it, light jeans and chinos would pair wonderfully as well. Try pairing colorful sneakers too for balancing your bomber jacket outfit perfectly.
4. Bomber Jacket With Hoodie: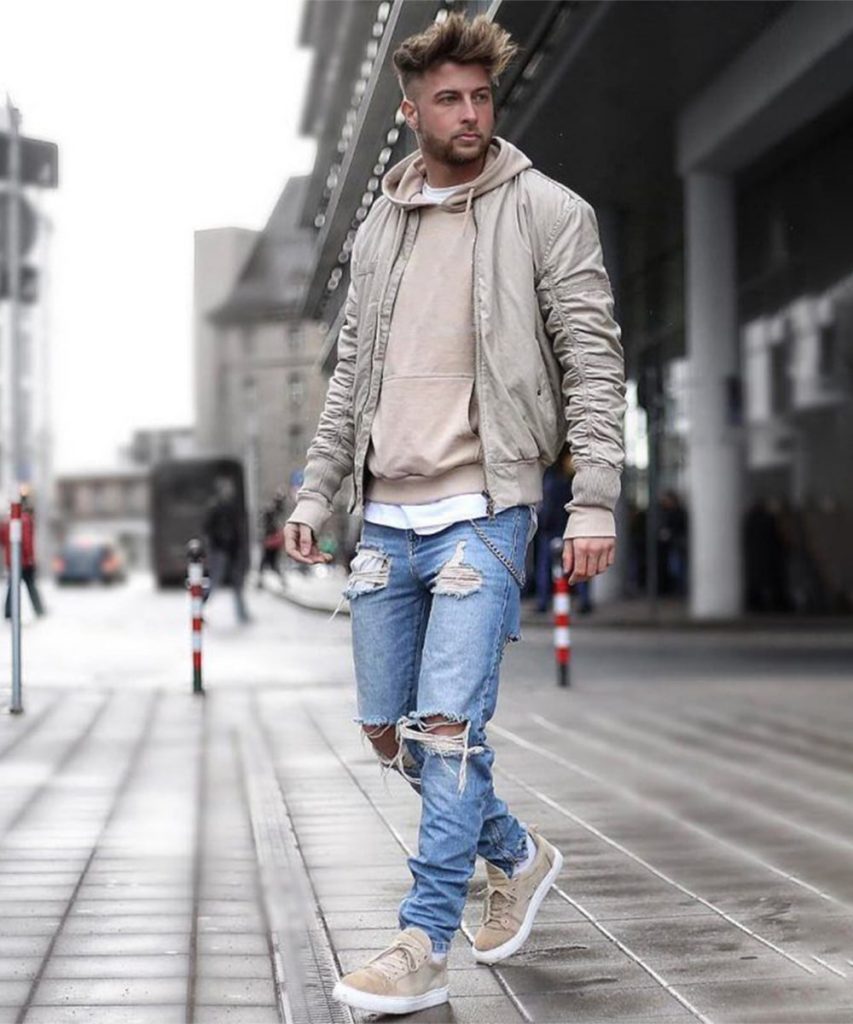 Here comes a look at the season which will take your winter appearance a step forward. Put on a stylish bomber jacket with hoodie. This also gives you the option of wearing printed and colorful hoodies with a white bomber jacket. Go ahead with official merchandise to flaunt the hoodie and make a stellar bomber jacket men style with pairing a jacket on it.
5. Red Bomber Jacket: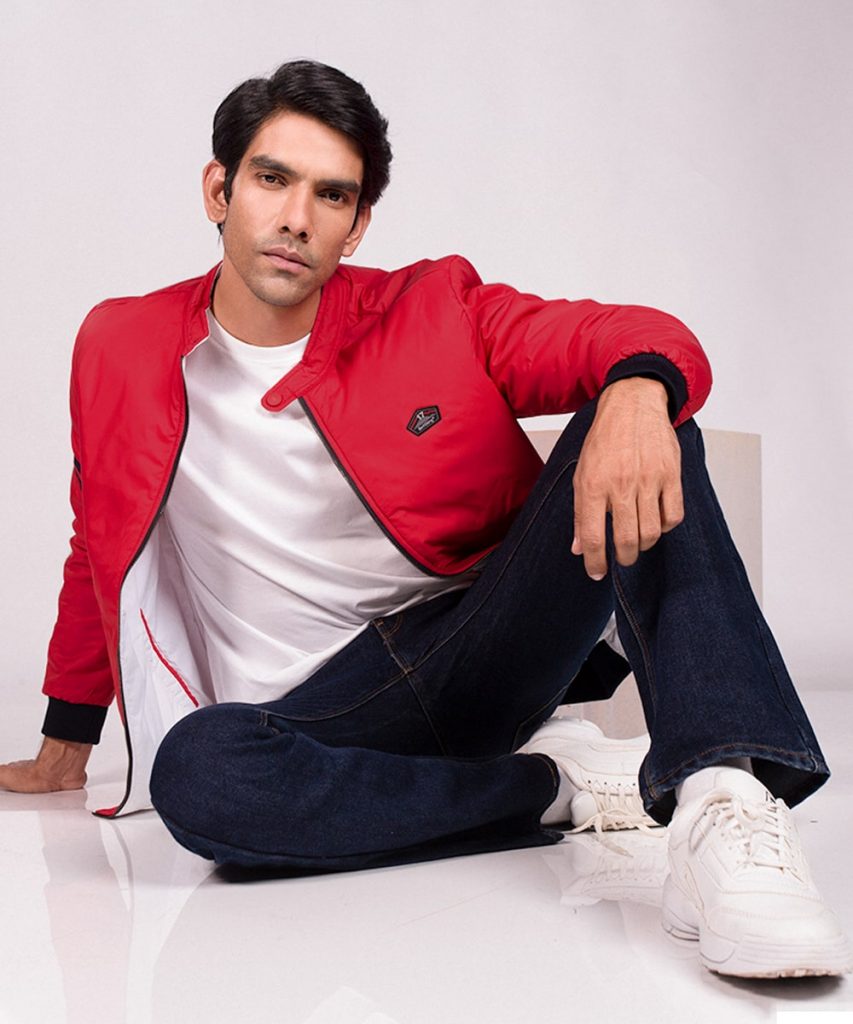 A red bomber jacket can make a statement piece with being an excellent addition to the other clothing. But on monochromatic colors like black or white with this bomber jacket color. It will pair more with the bomber jacket men style making red perfectly outshining with the inner apparel and lower you choose.
6. Olive Bomber Jacket:
Looking forward to a stylish appeal with bomber jacket men style, then go ahead with an olive bomber jacket paired with an inner t shirt or shirt in green shade itself. Jade green, bottle green, etc. are some such aesthetically beautiful combinations to add light to the look you choose with this bomber jacket color. With it, pair blue jeans and make an outstanding look.
7. Blue Bomber Jacket: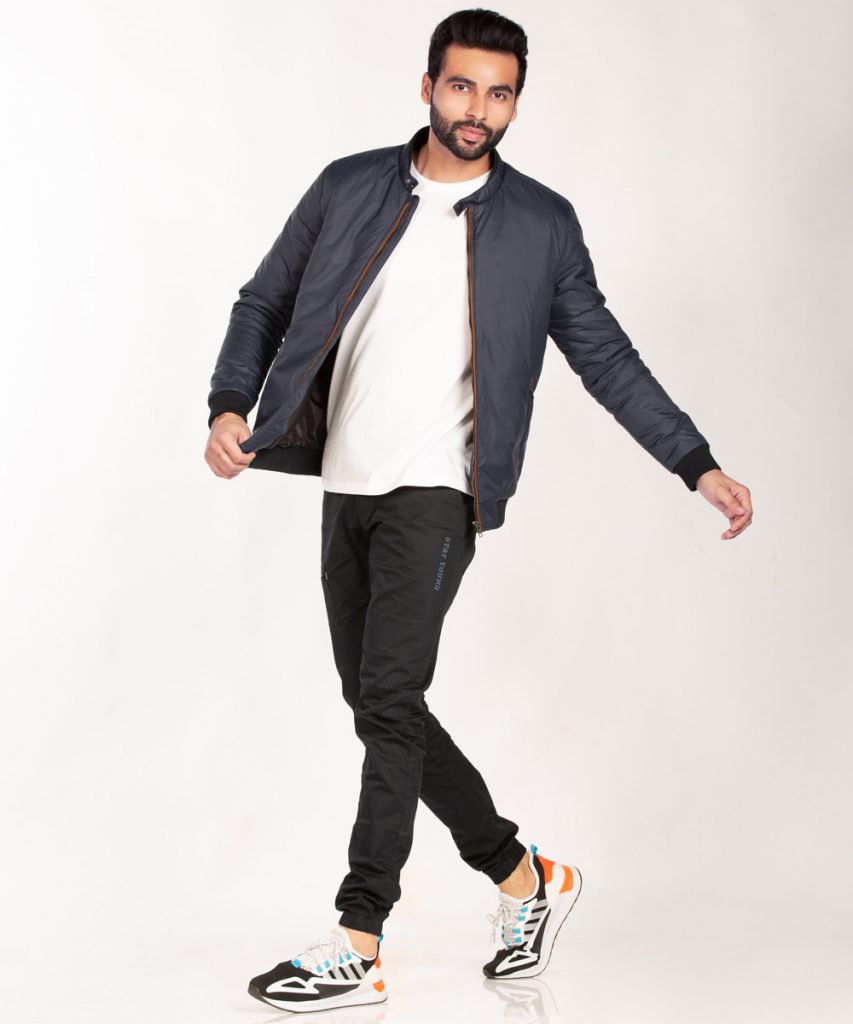 A bomber jacket men style in blue is something that all men would love to have because blue is something liked by all. Men prominently like this color of the bomber jacket with shirts and pants in blue combinations as well. This is one such blue synchronization that will not go wrong in any mood. Wear a blue bomber jacket for the movie rides or for the bike rides, it works at all times.
8. Bomber Jacket With Shirt: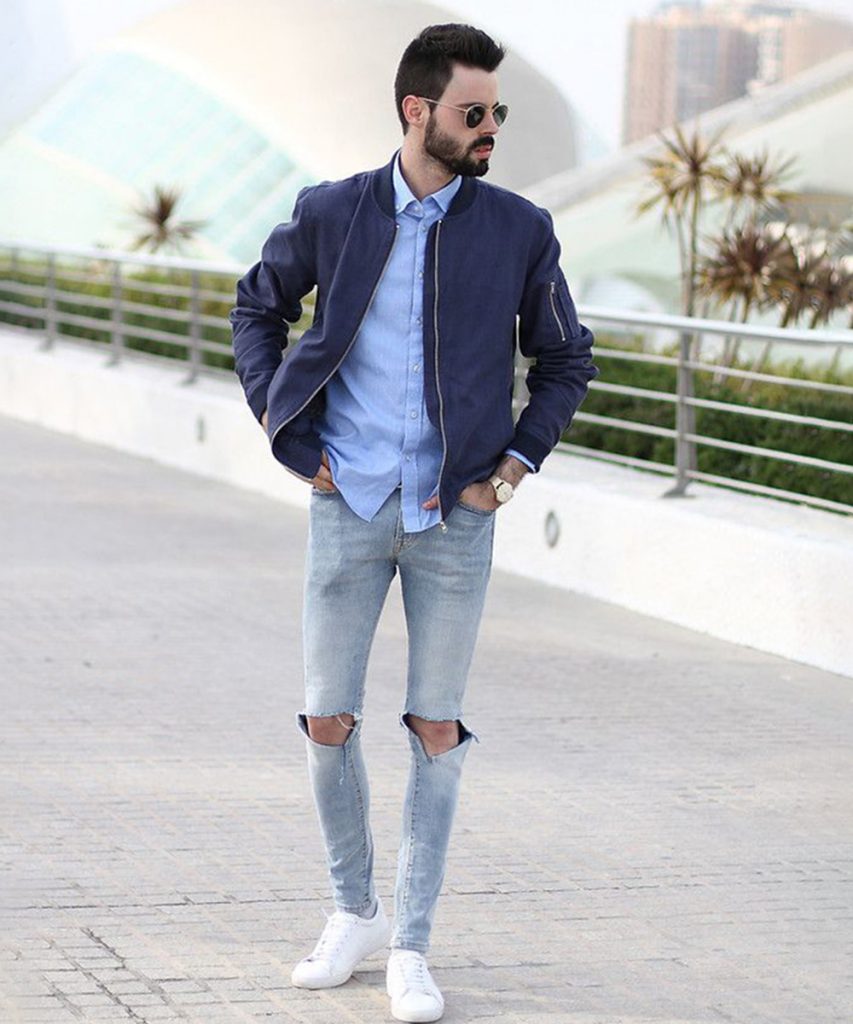 Create a formal yet informal look on yourself by pairing a bomber jacket with shirt. It is one such contemporary fix to a look of a jacket with a shirt. Checks shirt would suit the most at this point. With it, colorful pants are exactly the funky and casual appeal that you get. Put on chinos in camel brown with all the colors on the torso and flaunt an exclusive bomber jacket men style.
9. Suede Bomber Jacket: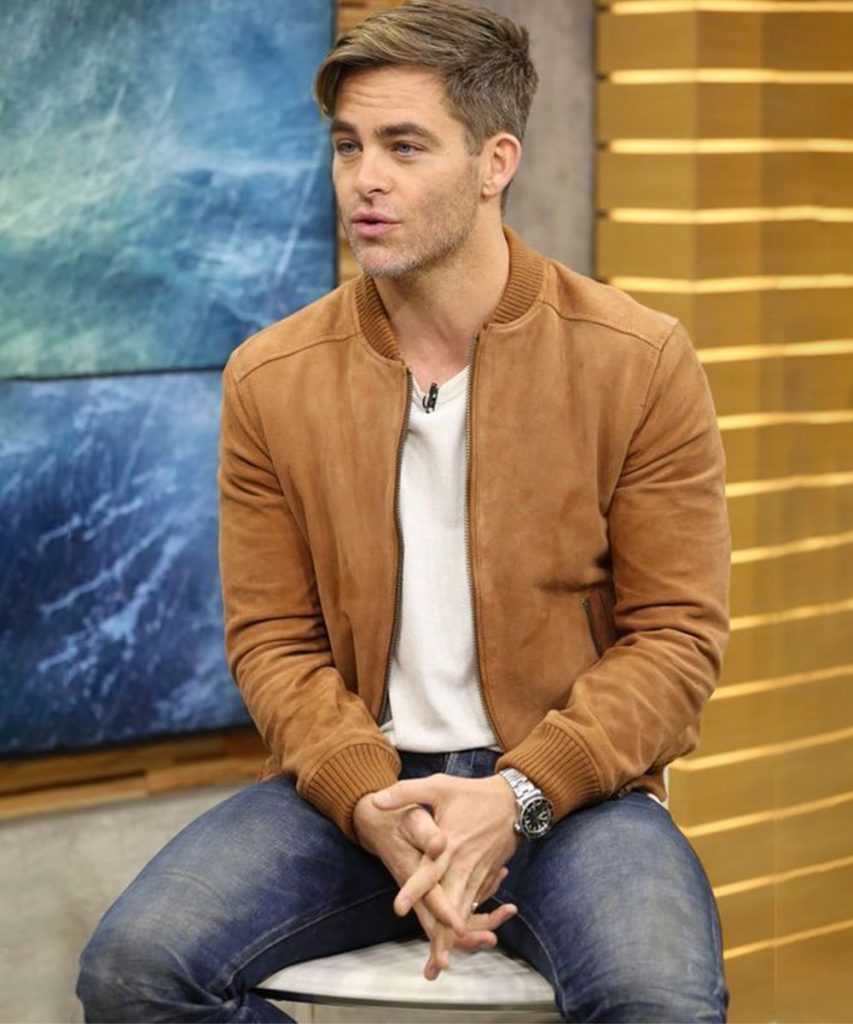 The Suede bomber jacket is your go-to for the light and casual look you can have. Bombers are light in weight but suede is even lighter. This is why people love to wear it more often. While wearing a suede, colors like beige and brown give a wonderful appeal. However, black, white and grey colors still rule. It may not be good enough for rainy days but works wonderfully as a stylish bomber jacket otherwise.
These are some of the bomber jacket men style that will give you a stunning look at all times. Pick the prominent colors and rule your winter fashion marvelously.
FAQ
What is a bomber jacket?
The bomber jacket is a waist-line jacket with a gathered and ribbed waistband and cuffs. It has a zipper in front. Side pockets and inside pockets are some of the iconic features of this jacket.
Why are bomber jackets called bomber jackets?
Bomber jackets were initiated during WW1. Having the high insulating capacity and being efficient to fight cold and open-air cockpits during the war, these jackets came in place. Its features are the reasons to name it as bomber jackets.
Which color bomber jacket matches everything I wear?
If you want a color to match most of the attires then black, olive green, and dark blue bomber jackets can help.
Read More Latest Blogs