7 Ideas For Black Shirt Combinations Pants 2022
Black shirt combination for men. This topic is being the talk of the town for the men. The core reasons being how black has always been a part of everlasting fashion and class. Considering this, men should never settle for less when it comes to black. So, here are some of the combinations of black shirts and pants that you must definitely know.
Best Way To Wear Black Shirt Combination Pants:
| | |
| --- | --- |
| 1 | Black Shirts With Black Pants |
| 2 | Black Shirt With Grey Pant |
| 3 | Black Shirt And White Pant |
| 4 | Black Shirt And Blue Jeans |
| 5 | Black Shirt And Jeans |
| 6 | Black Shirts And Patterned Trousers |
| 7 | Black Shirts And Rugged Jeans |
Men In Black Shirts And Black Pants: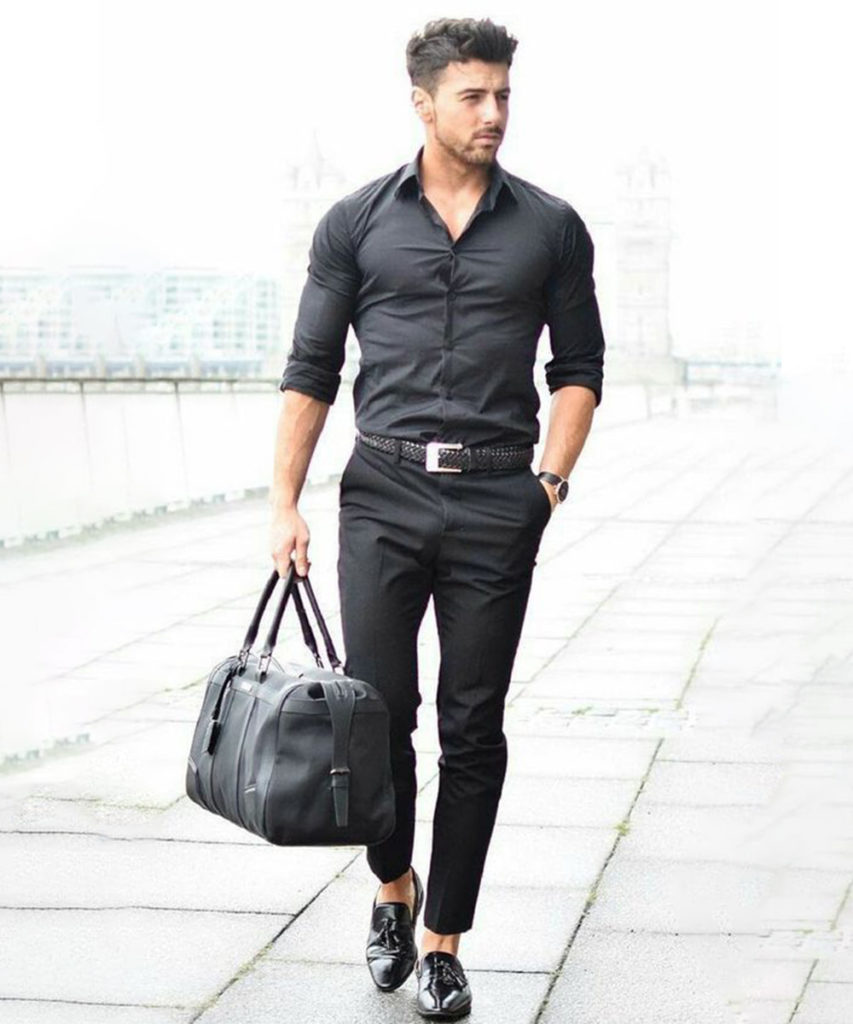 Are you confused over which black shirt combination pant can settle on you? Well, there is one such combination for which you never have to give another thought. It is the black shirts and black pants we are talking about. Oh yes! This combination is the finest escape for a classy getup that you can never miss on. This black shirt matching pant is an evergreen combination in which you can head on to your formal parties, weddings and even meetings.
With this, pair up the perfect footwear according to the occasion. Put on the sneakers in case of comfort and boots when you want to head out like a stud. Your black combination would effortlessly get all eyes on you.
Ultimate Black Shirt Grey Pant Combination: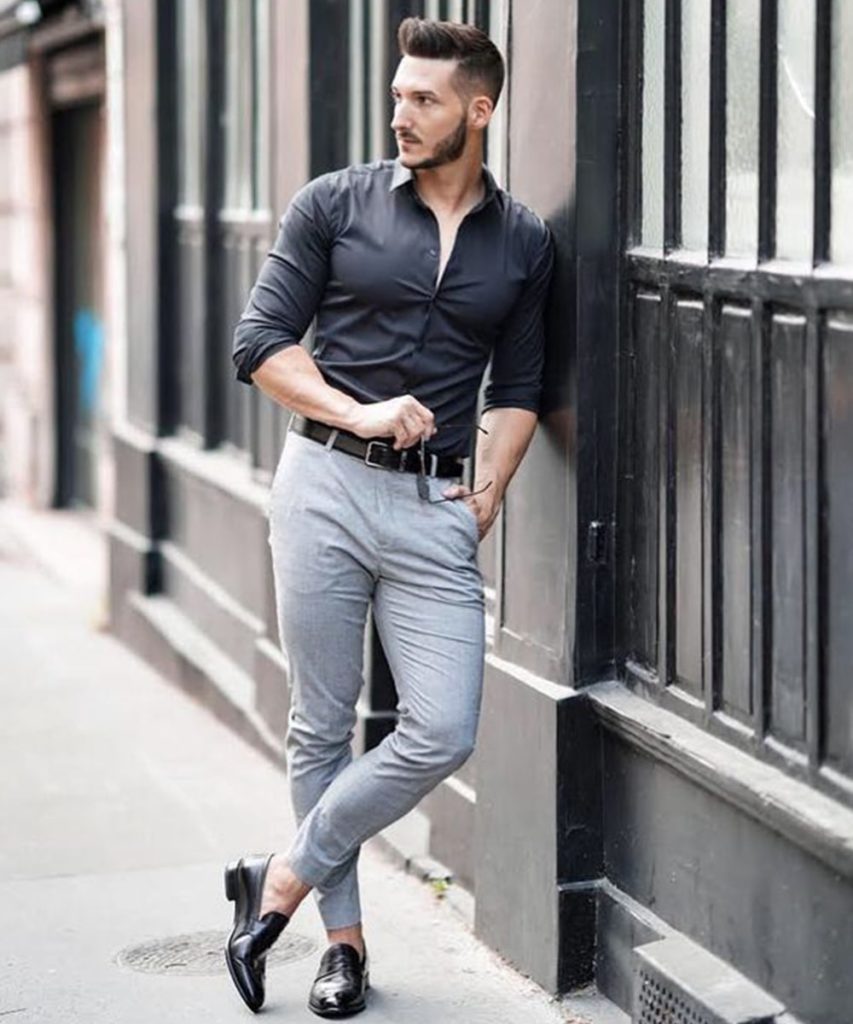 As they say, light and dark combinations can highlight each other accordingly. Understanding this, what can be better than black and its own pastels? This is where a combination of black shirt grey pant will allow you to be dressed just how it is supposed to be. Indulge into a combination of plain black shirts with dark grey pants or even light grey ones. This combo will give a handsome look, and folded sleeves on it will add to the stars. Be all set to rock at night with this!
Monotony With Black Shirt And White Pant: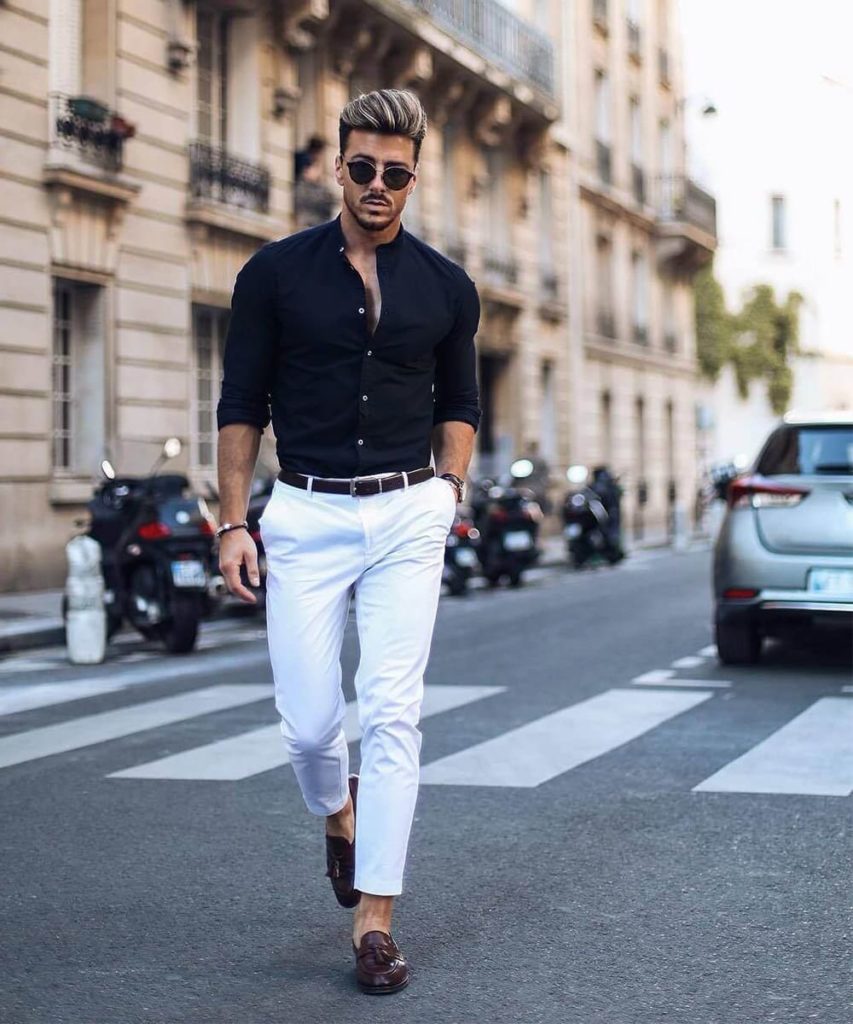 The Formal Pant Shirt Combination of black and white has been popular since generations. So why not try out this combo on your clothing too? For this, a black shirt white pant combination is what you need. Either go for a plain shirt or involve checked black shirt pattern, the manly touch can live up to both.
Are you heading for a retro party or trying to be out of the box? Then have a unique approach too with prints and patterns like polka dots or florals. Sometimes being Ranveer Singh can get you your Deepika. (You never know!)
Black Shirt And Blue Jeans Combination- Forever Young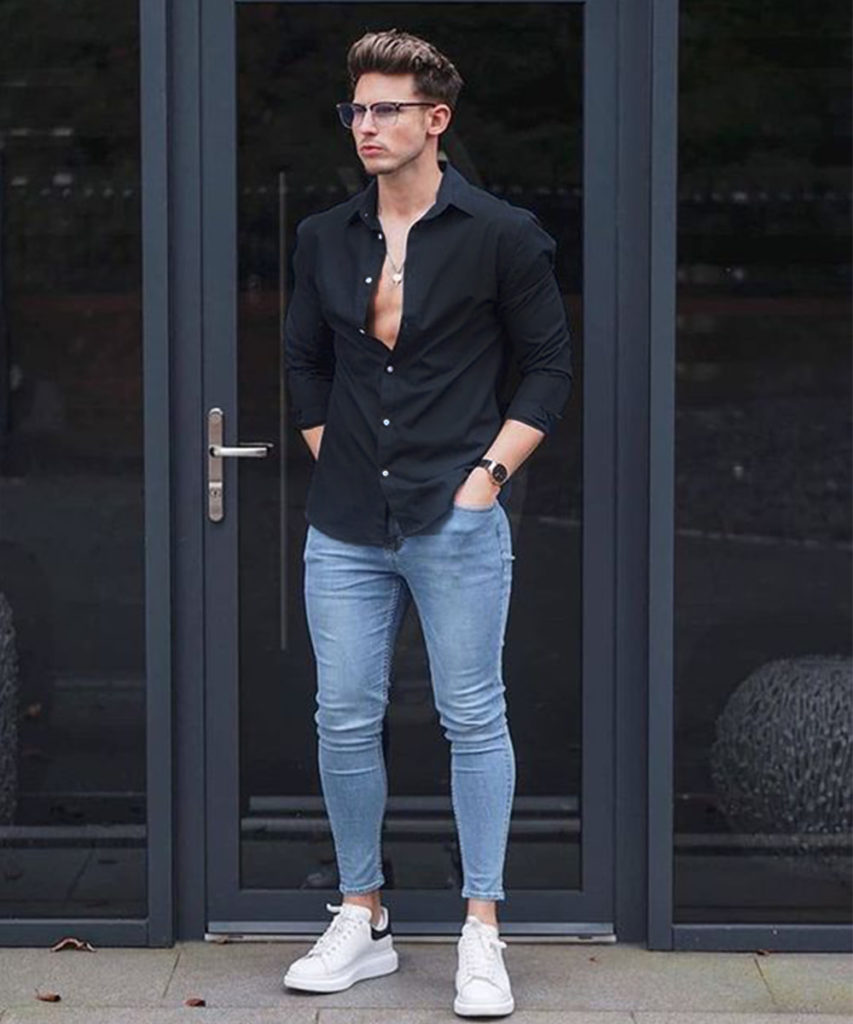 Whether you want to agree on blue, or you want to agree on black, but you can always agree on the combination of blue and black. This is why a black shirt and blue jeans combination is where you can nail your look on heading out.
To be the man of the hour, it is never wrong to accessories yourself. Dark shades and a wrist watch on your folded sleeves of the formal shirt will give you the perfectly complimenting look you desire.
Black Shirt And Jeans Combination – Twists Of Formals And Westerns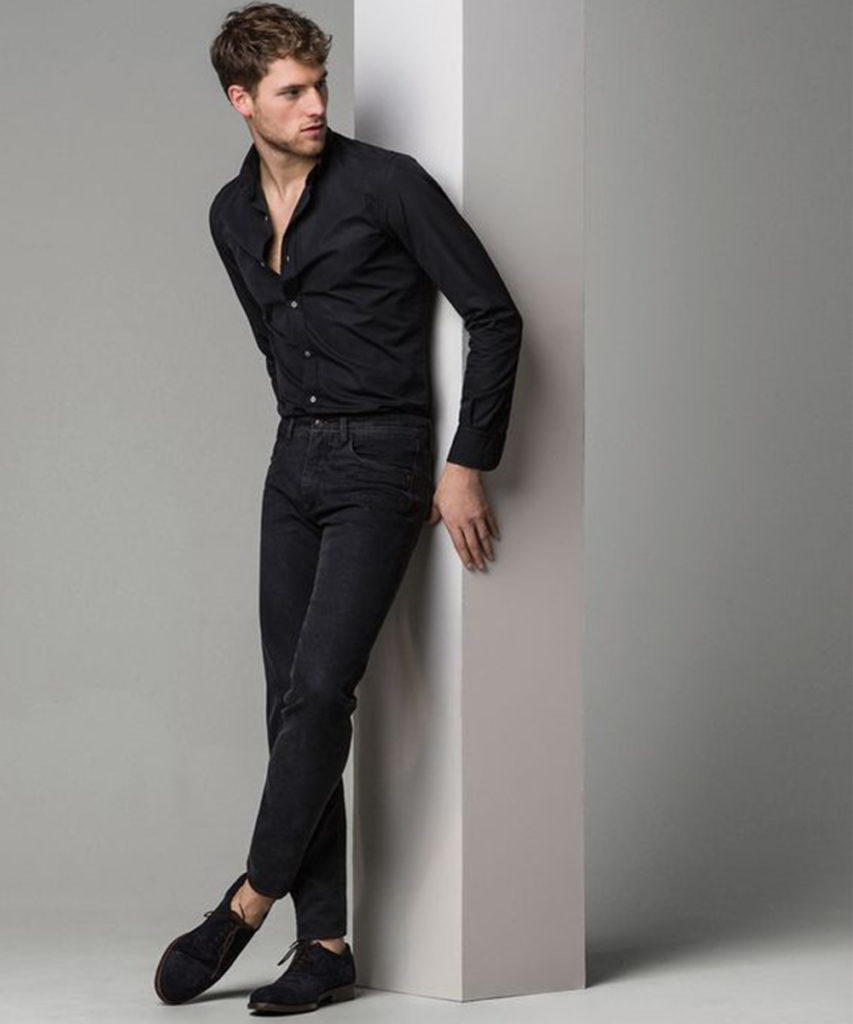 For an adorable black shirt combination pant, you have to find a good material for pant all the way. But why only that? Instead, how about trying out jeans instead of pants. A jeans and a Shirts for Men can be a phenomenal combo for your day out. It is a cool and comfortable attire in which you can begin with office, proceed with your friends and get for the family dinner.
Nevertheless, a shirt and jeans combo can never go wrong.
Black Shirts And Patterned Trousers Combination: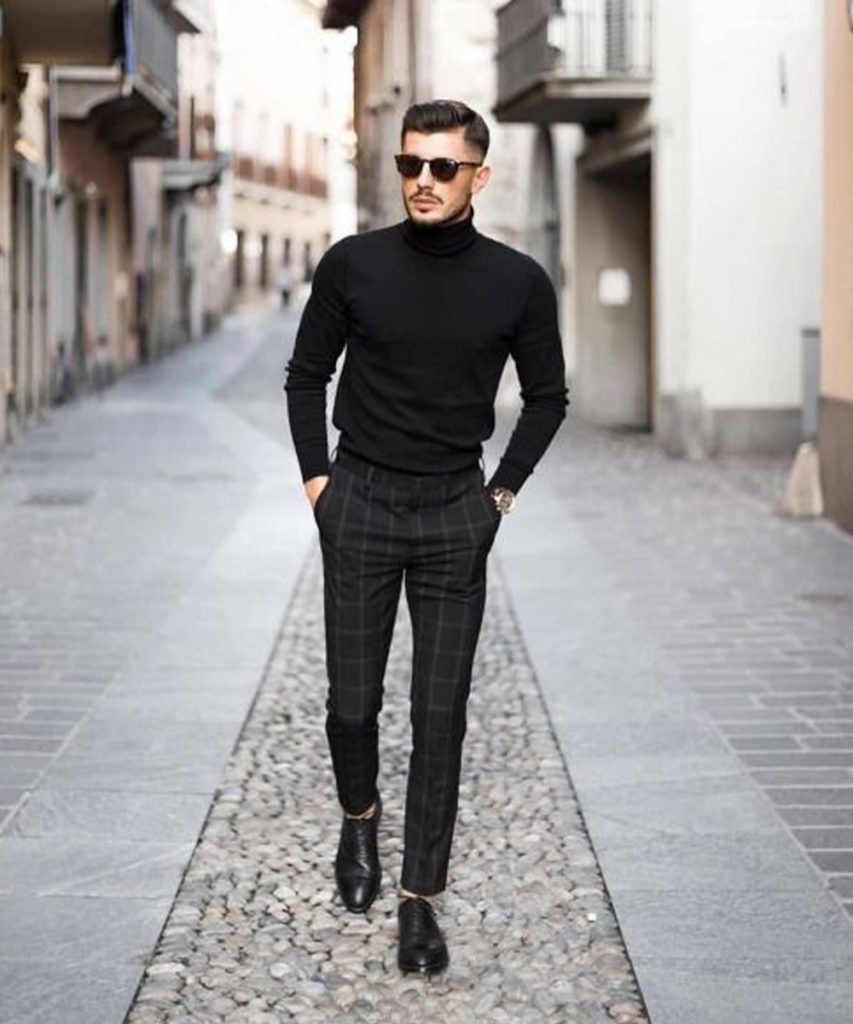 Black shirt matching pant, this is the combo we had always been hearing about since years. But how about being a bit away from the league this time?
People have always been wearing patterned shirts with plain pants. You can simply swirl this norm. For instance, wear checked jeans or pants with a plain black shirt. This is one such prominent combination that has been breaking the fashion ramps today. Men out there can surely opt for this new trend when you have to get all eyes on you.
Patterned Black Shirts And Rugged Jeans Combination: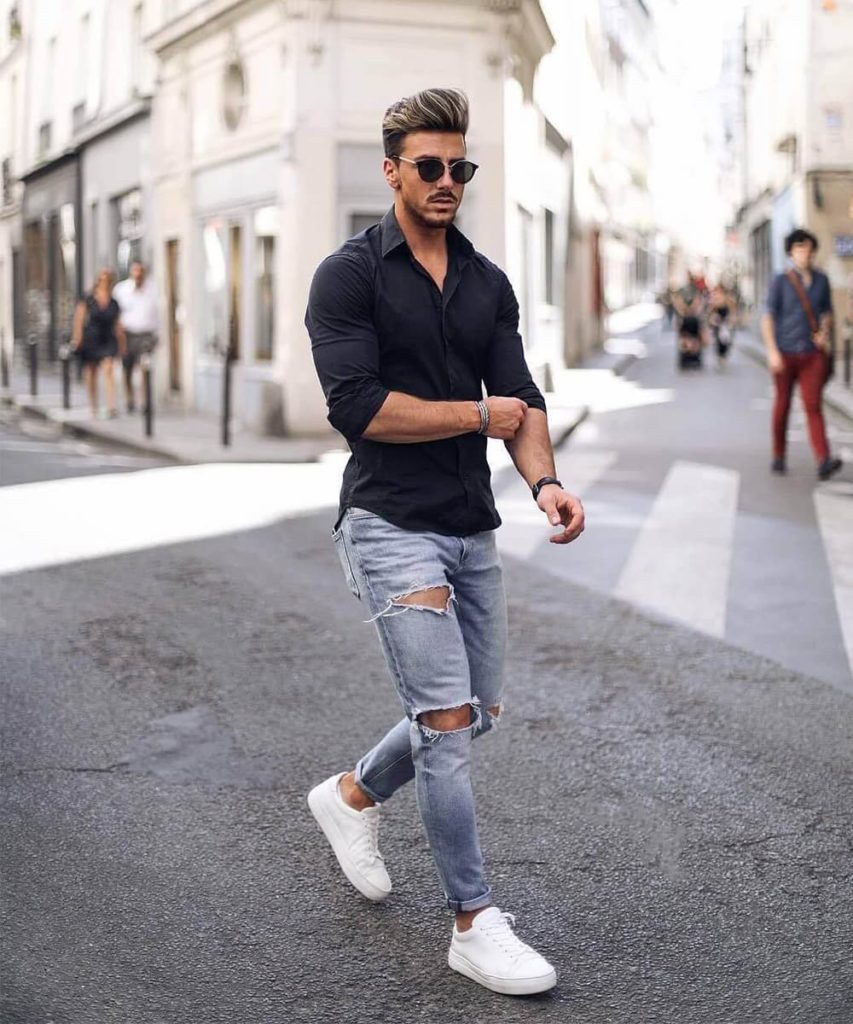 Be a bit quirky and a bit funky with a combination like this. All it takes is playing with the black pant shirt combination. Opt for patterned black shirt or a nicely accessorized one with buttons and pockets. With it, rugged jeans is being the trailblazer today.
You can try the same with choosing for a wise color combo. For this, either opt for white jeans, or light grey jeans. Such rugged jeans with black shirt will create a combo of everlasting fashion. It is perfect for the boys.
These are some of the classic ideas for black shirt pant combinations that will never fail you. Try yourself!
What Color Pants To Wear With Black Shirt?
Black is one such versatile color with which you can make as many combinations as you want. Some of the best colors you can choose for black shirt combination pants is black shirts grey pants, black shirt with blue jeans, or something as bright as white. One of the evergreen combination is black pant and black shirt to consider as well. There are numerous kinds of black shirts in prints or bold colors. You can easily make your choice of formal pant and shirt combination.
Check out other fashion blogs for more styling, grooming and to be trendy. Blogs like: latest bridal lehenga designs, Easy Arabic Mehendi Designs, types of shoes for men, Grey Blazer Combination, Grey Pant Matching Shirt, Types of bags for women, Black Blazer Combination, Bomber jacket men style, Plain T shirts Colors, Best Travel Accessories, College Outfit Ideas, Famous Bollywood Dialogues, Beard styles for men, t shirt style, how to wear chinos, types of sunglasses, fashion for skinny tall guys, how to wear suspenders, new haircut cutting style, best hairstyles for men, party wear dress for mens in summer, types of shorts, smart casual for men, pre wedding shoot locations, types of jeans, what to wear at home, work from home tips, Valentine Day Dress Code, etc.