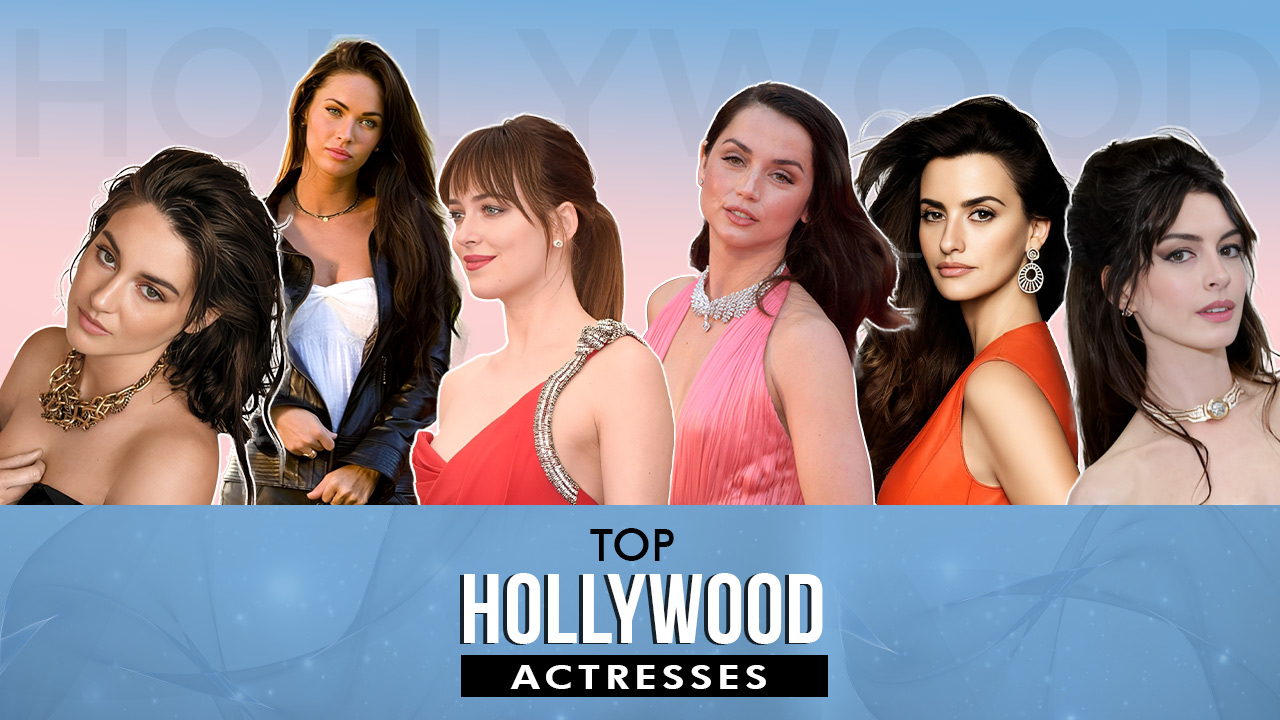 Most Beautiful Hollywood Actress Name Photos: Magnetic Persona & Enchanting Beauty
The Hollywood actress has established themselves as an enduring symbol of influence and inspiration in the global entertainment industry, captivating millions worldwide. These beautiful Hollywood actresses have captivated audiences with their performances, beauty, and dynamic personality. These female Hollywood stars not only significantly contribute to the film industry but have also become the symbol of empowerment, breaking barriers, and breaking social norms to achieve their goals. Scroll down for the Beautiful Hollywood Actress names and photos.
Through their exceptional onscreen performances, Hollywood actress brought several fictional characters to life, and create iconic and forever memorable portrayals. These Hollywood Heroines have showcased their versatility by portraying a range of roles, from emotionally dramatic performances to comedic and action-packed female roles. The allure and glamour carried by Hollywood Heroines make them stylish and fashion icons, setting trends and influencing people around the world. The impeccable style and beauty of top Hollywood actress left an indelible mark on the hearts and minds of audiences worldwide. Let's explore the best Hollywood female actress live with their notable performances who won millions of hearts with acting, beauty, and unwavering passion for their dreams.
Top 50 Hollywood Actress Who Won Millions of Hearts Across the Globe
Jennifer Lawrence – Queen of Hunger Games

Jennifer Lawrence is one of the most talented, beautiful, and highest-paid actress in Hollywood. She is the second youngest Oscar-nominated actress in history. She won several awards for outstanding performances and acting skills including Oscar, BAFTA, and 3 Golden Globe awards. Jennifer has been nominated 4 times for Oscar for best actress awards and 5 times for Golden Globe.

Best Movies of Jennifer Lawrence: Hunger Games, X-Men, Monk, Don't Look Up, Joy, American Hustle, Red Sparrow, Silver Linings Playbook

Penelope Cruz – Spanish Beauty

Penelope is a born performer and delivered outstanding roles in a number of Hollywood movies. She is one of the hottest Hollywood actresses and worked in more than 35+ movies.

Top Penelope Cruz Movies: Pirates of the Caribbean, Blow, Volver, Parallel Mothers, Broken Embraces, Bandidas, Elegy, Vicky Cristina Barcelona, Official Competition

Emma Watson

Smart, Strongly Willed, and Hard-working – perfectly define the Harry Potter Star Emma Watson. She is one of the most beautiful women in the world and ambassador to the UN. She is popular for portraying the Hermione character in Harry Potter, glossy face and humble nature. She is among the youngest and most talented hollywood heroines who earn millions of fans at this young age.

Famous movies of Emma: Harry Potter, Noah, Beauty and the Beast, The Perks of Being a Wallflower

Dakota Johnson

If you search for the hottest actress in Hollywood, we will find Dakota Johnson at the top of the list. The Hollywood actress active since 1999 and worked in many movies but "Fifty Shades of Grey" made her famous all around the world. She is known for her charming face, hot figure, and giving bold scenes.

Known for: Fifty Shades of Gray, Need for Speed, The Social Network, 21 Jump Street, The Social Network, The Lost Daughter

Emma Stone

Emma Stone is a popular Hollywood actress known for his natural acting, blue eyes, and powerful dialogue delivery. She won several awards including Oscar, BAFTA, and Golden Globe Awards. She was the highest-paid heroine in 2017 and was listed by Time Magazine among the top 100 most influential people in the world.

Best movies of Emma Stone: The Spider-Man, La La Land, Zombieland, Friends with Benefits, Easy A, Battle of Sexes, Birdman, Gangster Squad

Alexandra Daddario

The hottest actress in Hollywood, Alexandra Daddario started his acting career at the age of sixteen and the web series Percy Jackson & the Lightning Thief changed her life and career. She is known for his hot figure, bold style, attractive blue eyes, and glowing face.

Best of Alexandra: Percy Jackson & the Lightning Thief, Baywatch, True Detective, San Andreas, The Layover, When We First Met, Texas Chainsaw

Ana de Armas

She got famous after working in various Spanish dramas and knows for her versatile acting and beauty. Currently, she is one of the best Hollywood actresses and worked with many top actors.

Blade Runner, Knives Out, Exposed, Sergio, The Informer, The Gray Man, The Night Clerk, Deep Water, and Knock Knock are the best movies of Ana de Armas's career.

Jennifer Connelly

One of the finest beauty and model of the 90s in the Hollywood Industry, she appeared in more than 50+ movies and won millions of hearts across the globe. She started his career as a child artist and got famous from "Once Upon a Time in America" and since then she is active in Hollywood. This Hollywood actress worked with almost every top Hollywood actor and director.

Best of Jennifer Connelly: Maverick- Top Gun, A Beautiful Mind, Blood Diamond, Hulk, Noah, Labyrinth, Dark Water, Shelter, Americal Pastrol, Walking the Dead, Spider-Man, The Heart of Justice, Winter's Tale, and many more.

Monica Bellucci

Monica Bellucci is an Italian model and heroine known for her Beauty and acting skills. She is one of the top Hollywood actresses and worked for many international fashion and cosmetic brands for years.

The Apartment, Spectre, Malena, Irreversible, Memory, Tears of the Sun, The Matrix, Shoot'Em Up, Under Suspicion, and Secret Agents are her best movies.

Kate Winslet

Titanic Beauty Kate Winslet is a timeless beauty and a leading Hollywood actress for the last 3 decades. She is known for her popular role in Mega Blockbuster Titanic and independent drama movies. Titanic, Avatar, The Reader, Divergent, The Holiday, Revolutionary Road, The Dressmaker, and Finding Neverland are the most popular movies of her career. She is counted as one of the best Hollywood female actor of all time.

Kiera Knightley

She is among the few Beautiful Hollywood actress who delivers blockbuster in both franchise and independent movies. She is known for her outstanding beauty, screen presence, and natural acting skills. Pride & Prejudice, The Imitation Game, Pirates of the Caribbean, Star Wars, Official Secrets, Silk, Everest, The Hole, and Last Night are movies to watch her range of acting.

Jennifer Anniston

One of the most loved Hollywood actresses ever and Jennifer Anniston appeared in several popular TV Shows and famous movies. Watch Friends, Murder Mystery, Bruce Almighty, The Bounty Hunter, Wanderlust, and "Just Go With It" to enjoy her comic timing and funny characters on screen.

Angelina Jolie

Angelina Jolie is a top actress, model, director, producer, and humanitarian. She is also known as the most beautiful woman in the world. She won several awards including Oscar, BAFTA, and Golden Globe awards.

Top Movies – Mr & Mrs. Smith, Salt, Wanted, Gia, Girl Interrupted, The Tourist, Eternals, The Bone Collector, Lara Croft, Alexandar, Beyond Borders, Kung Fu Panda.

Anne Hathaway

Anne Hathaway is Hollywood Actress who became a popular figure after appeared in The Princess Dairies. She won two Oscar awards, Golden Globe, and PrimeTime Emmy Awards. She also appeared in the world's Forbes 100 Celebrity list in the year 2019.

Best Movies – The Princess Dairies, Passengers, Ocean's 8, The Last Thing He Wanted, The Dark Knight Rises, The Intern, The Hustle, Rachel Getting Married

Blake Lively

She is a wonderful actress and the wife of the famous Hollywood actor Ryan Reynolds. She also appeared in many super hit popular English movies.

Scarlett Johansson

Black Widow aka Scarlett Johansson is one of the richest and highest-paid Hollywood actresses for the years 2020-2023. She appeared in Marvel franchise movies and many other blockbusters films.

Cameron Diaz

Cameron Daiz is a tall, natural blonde and has captivating blue eyes. She is one of highest grosser Hollywood Heriones at the domestic box office.

Gal Gadot

Wonder Woman or Gal Gadot is one of the most popular Hollywood actresses. She is a retired military officer from Isreal forces and famous herione all around the world.

Natalie Portman

Natalie Portman is a beautiful Hollywood actress who worked in famous movies such as Thor, Black Swan, Star Wars, and Closer.

Emily Blunt

Stunning Emily Blunt is a top Hollywood Herione who worked in some popular Hollywood movies like Jungle Cruise, The Quiet Place, Edge of Tomorrow, and Sicario. She is popular for her gracious beauty, unique style and on-screen persona.

Maggie Grace


Maggie Grace is the leading actress in the famous Action movie series "Taken" along with Liam Neeson.

Amber Heard


Amber Heard was recently in the news for many reasons such as Ex-wife of Jonny Depp, Ex GF of Elon Musk, and many more. She is also listed as beautiful women in the world.

Elizabeth Olsen


Elizabeth Olsen is a leading Hollywood Actress and appeared in many MCU movies in the lead roles.

Jessica Alba


She is an American actress, businesswoman, and model. She is the CEO of her company name Honest and also works in movies. She is favorite Hollywood heroine of millions of people across the globe.

Kate Upton


Kate Upton is a young dynamic model and Hollywood actress who appeared on the top page of various magazines.

Shailene Woodley


You may know her from the famous love story "The Fault in Our Stars" movies. You can recognize Shailene Woodley by her innocent face, natural beauty, and realistic acting performances.

Charlize Theron


The Lady King Charlize Theron delivered many standing ovations performances in movies like Mad Max- Fury Road, The Devil's Advocate, Monster, Hancock, Prometheus, Bombshell, The Snow White and Huntsman, Sweet November, and Fast & Furious movie series.

Megan Fox


Megan Fox is titled as the Hottest Hollywood actress. She worked in the famous Science fiction movie series Transformers.

Rachel Mcadams


Racheal is a Canadian actress and theater artist and now she also working in Hollywood. "The Notebook" is one of the greatest love stories ever made in English cinema led by her.

Mila Kunis


She is a beautiful Hollywood actress born in New York. Black Swan, Friends with Benefits, and Bad Moms are some of her notable works in recent years.

Brie Larson

Lea Seydoux

Chloe Grace Moretz

Julianne Moore

Olga Kostyantynivna Kurylenko

Eva Green

Cobie Smulders

Gemma Arterton

Rachel Weisz

Salma Hayek

Odette Annable

Kate Beckinsale

Elisha Cuthbert

Anna Kendrick

Marion Cotillard

Amy Adams

Sophie Turner

Rosamund Pike – Hollywood's Thorny Rose

Elle Fanning

Emilia Clarke
In the realm of Hollywood, beauty knows no bounds. The list showcases the most beautiful and hottest actresses in Hollywood who have stunning beauty, hot figures, stylish personalities, and outstanding acting skills. These Hollywood actresses are exceptionally talented and eye-catching beauties who captivate audiences with their grace and acting prowess. These female actors belong to various countries, most of these are from the USA, UK, Canada, Australia, and other European countries, and prominently work in Hollywood and English movies and web series. With their immense talent, dedication, and striking beauty, Hollywood Heriones continue to enthrall fans across the globe, cementing their status as one of the most beautiful and hot Hollywood Actress.
Check out other blogs for more movies, dialogues, memes, and entertainment. Blogs like Telugu Actors, Shahrukh Khan Upcoming Movies, Best Bollywood Comedy Movies, Tamil Actress, Top Hindi Actors, Best Bollywood Actress, Allu Arjun Movies, South Indian Actress, Best Hollywood Comedy Movies, Shahrukh Khan Movies List Best South Indian Movies, Old Hindi Songs, Simple Rangoli Designs, and Dumb Charades Movies