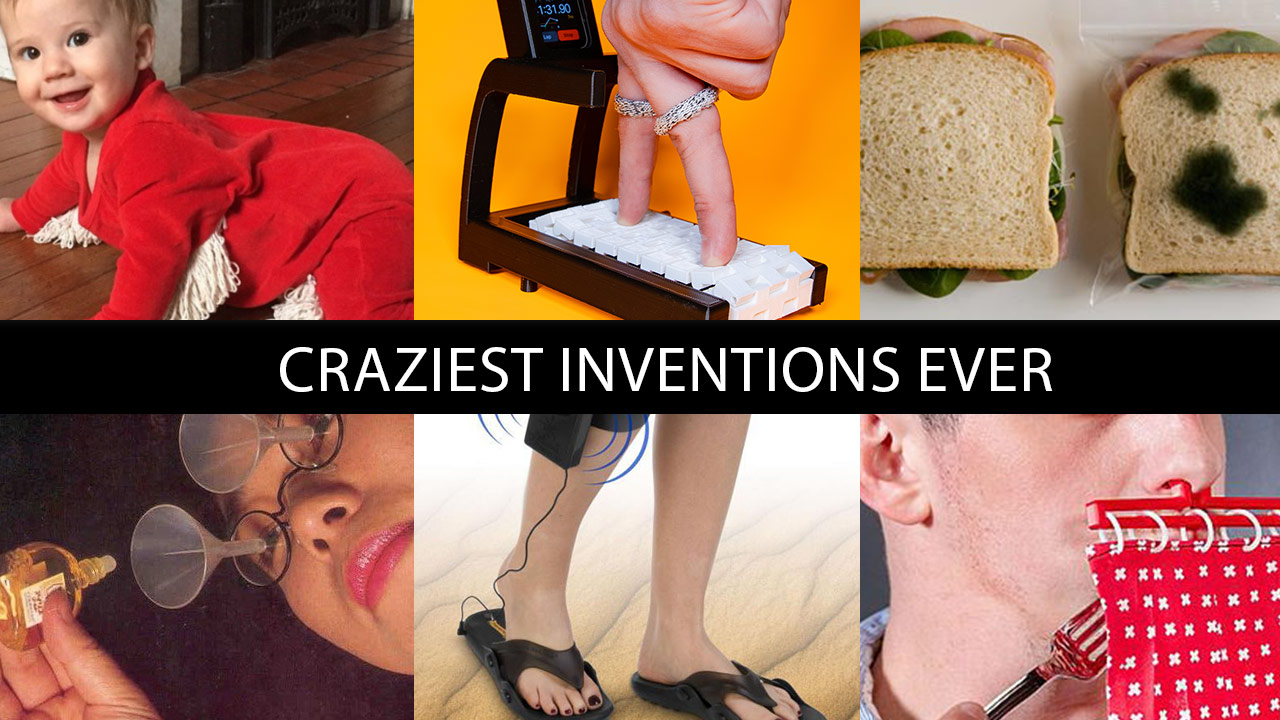 Crazy Inventions That Nobody Should Ever Know: Fun Ideas for Invention Around the World
When it comes to new invention ideas then we can say that not all inventions change the world, some simply exist to make you wonder, WHY? Why or how can someone come up with such a crazy invention? Well we can safely say that maybe it could serve its purpose or it can make a humorous show. Anyhow we believe it can make a nice selling point. And if you don't believe us just have a scroll and you'll know. Given below are just a few crazy inventions to tickle your brain or your funny bone.

10 New Invention Ideas That Will Change Nothing: Cheer Yourself with Fun Fact

These weirdest inventions are not recommended to ordinary people, only extraordinary people can understand the logic behind them. Without further delay, let's have a look at some mind-boggling inventions 

Zero-Theft Lunch Bag:

This ideas for inventions might be inspired by Ross in Friends. "You threw my sandwich away? My Sandwich?! MY SANDWICH?" When Ross screamed this at his boss for stealing his sandwich we all felt it. With this Zero-theft lunch, nobody would dare eat or steal anybody's lunch. Even you would think twice eating your lunch. So, isn't this funny inventions a more useful one?


Abs-olute Enhancer Bizarre Invention

Do you want six packs and you are stuck with just a large one? This ideas for inventions gives you not 6, not 8 but 9 PACKS! And you thought you needed to lose fat! Get this Abs-olute enhancer and get 9 packs in 6 seconds. Trust us, Chicks will dig it! (Recommended – Not to show off on your first date.)


Weirdest Invention – Forget-Me-Not Child Mittens

This is the most fun ideas for inventions. You take your kid to places only to leave him there "By-mistake", trust us, we want to believe you! With this invention, somebody cares about your kid more than you. The Forget-Me-Not child mittens will be a relief to all the responsible parents out there. Interesting right?


Treasure Detector Sandals

What can be more amusing ideas for inventions? Whoever felt this is a genius. Because he/she definitely thought finding the lost pirate's hidden treasure is a difficult task. We all agree on that! But with this crazy invention, you can at least find a penny or a nickel while you randomly take a walk on a beach.  And just in case with these bizarre inventions, someday if you are lucky you might end up finding gold. JUST IN CASE.


Mop for Active baby

When it came to funny inventions, we all came to a point when we realized that our 8-month-old baby is lazy and doesn't help with any chores. This is for all those hyper-active parents who want to inculcate working habits in babies as soon as they are born. So, here's introducing the Mop for baby ideas for inventions that makes your kid learn the importance of work.


Ventilation for Noodles

With this one of the ideas for inventions,now you can save your energy by blowing on super hot Noodles. Get this fan for chopstick and say no to a runny nose due to this hot food. Furthermore with this crazy inventions you can add extra spice on your coolness with this savage fan.


Toilet Roll Crown

AIl we can say about our next ideas for inventions is if you feel embarrassed tending to your runny nose and wiping your face with the same small handkerchief or a tissue. Don't worry, now you can save yourself from embarrassment by wearing the crown of toilet roll or should we can say Hat. Save all your 'Aaaachuuus' with a Toilet roll crown.



Water Collection Umbrella

We don't know who thought about this new invention ideas but it is something more interesting.This invention is much like an umbrella but it is not. Rather we'd say it's an inverted umbrella that collects rain water in a small can that you can actually carry anytime, anywhere. It is one of the bizarre inventions that is an umbrella for saving water but not saving you from water.


Perfect-Aim Dropper for Eyes New Invention Ideas

It's a famous quote 'an eye for an eye makes the whole world blind' But with this crazy inventions you can aim your eye directly with the eye drops. Phew! gone are the days when you couldn't put a few drops in your eyes properly. RIght?


Finger Mill – Treadmill for fingers

Our next idea for inventions is a revolutionised machine built for slimming your fat fingers. With this invention you can keep your lethargic fingers active by walking it on the treadmill. If you feel extra motivated you may sweat it out by jogging your fingers. Well with this funny inventions, it's okay if you can't keep track of step count you always have a middle finger for that.

Cuisine Drape Weirdest Invention – A Curtain For Eating In Public

Are you an etiquette eater because if you are, this is a new invention ideas that actually exists for you. Pull your curtain to save you from the embarrassment of eating, because obviously who eats with an open mouth. Those who are thinking you can use it as a mask! We agree because you can easily breath while this curtain hangs by your nose.