Best Green Shirt Matching Pant Combination Ideas 2023
Looking to add a new shirt to your wardrobe? Then a stylish green shirt is a perfect option! Whether you are going for the office, date, night out, or a casual gathering, a green shirt can be a versatile and classic addition to your closet. Here we provide the best green shirt matching pant combinations for men that stand you out in the crowd.
Green shirt matching pant is the most loved combination by men so look no further we've added a list of green shirt combination pant list to elevate your style and class.
Best Way To Wear Green Shirt Combination Pants:
Green Shirt matching Grey Pant
Green Shirt with Being Pant
Light Green Shirt Matching Cream Pant
Olive Green Shirt with White Pant
Green Shirt with Navy Blue Pant
Dark Green Shirt Combination with Black Pant
Green Shirt And Blue Jeans Combination
Green Shirt with Grey Pant Combination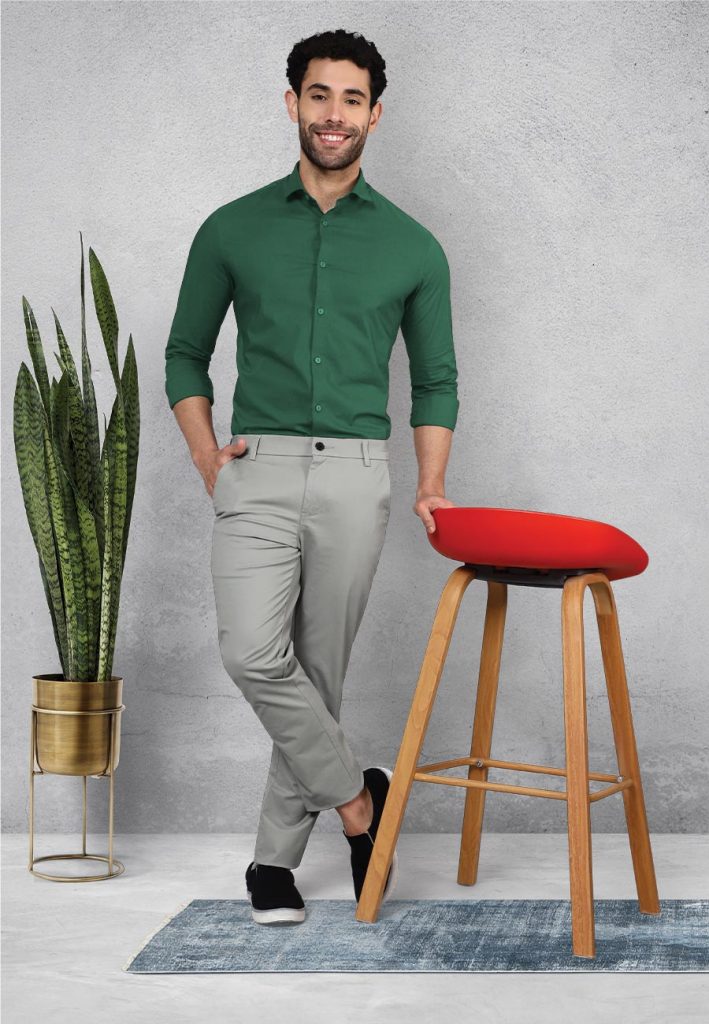 Try out this green shirt combination for a subtle and understated look. A dark green shirt combination with grey pants is perfect for a business casual setting or a lunch date. The neutral tone of the grey pants also allows the green shirt to stand out without being too overpowering.
Green Shirt and Beige Pants Combination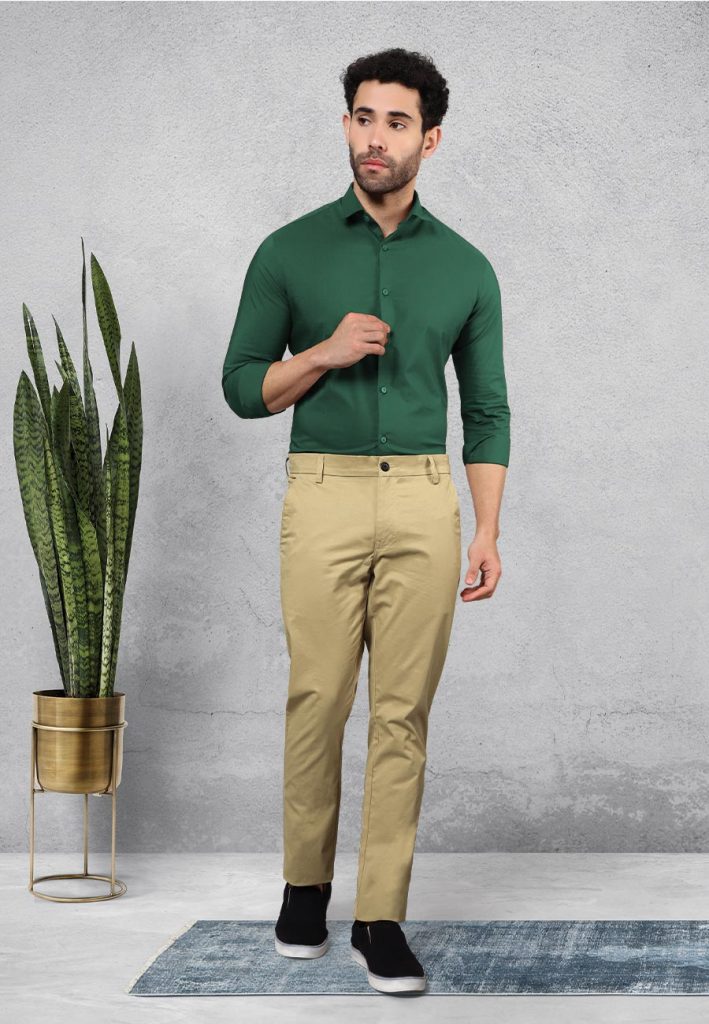 For a more casual look, pair your green shirt with beige pants. This combination is perfect for a relaxed day out or a weekend brunch with friends. Beige pants are also versatile enough to be dressed up with a blazer or dressed down with a pair of sneakers. You can try many variations of green such as Dark, Light, Sage, Pista, and Regent green with matching beige color pants to become the star of the show.
Green Shirt and Cream Pant Combination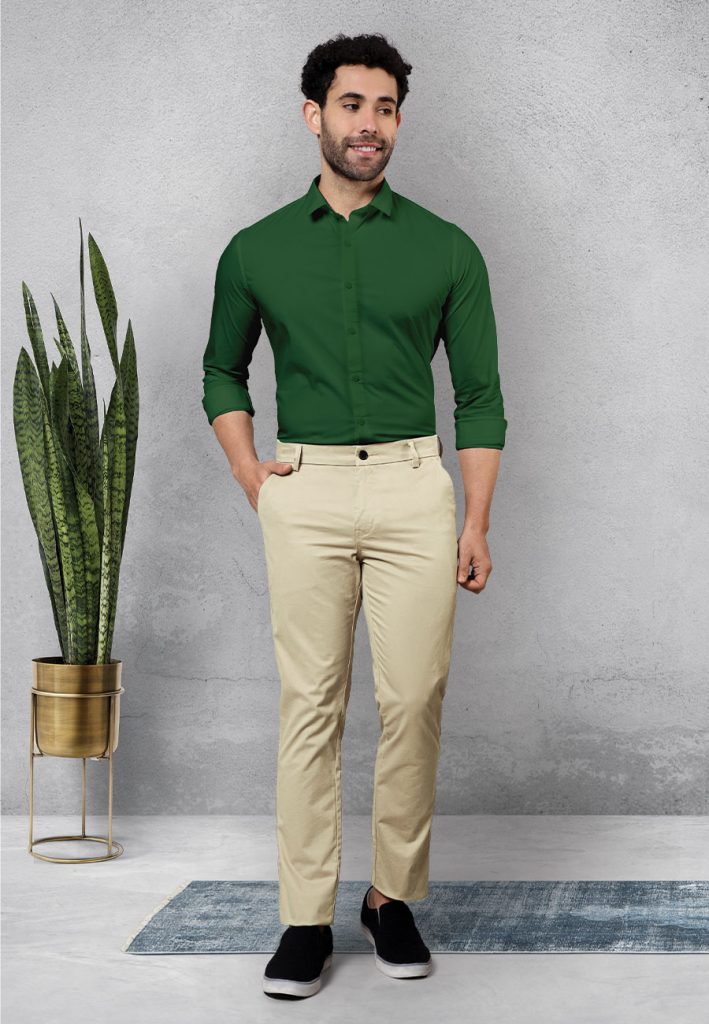 For a more rugged and outdoorsy look, pair your green shirt with Cream pants. This combination is perfect for a hike or a day spent exploring the great outdoors. Cream-colored pants are also comfortable and versatile enough to be worn in a variety of settings on various occasions. Try this amazing light green shirt matching pant combination for meetings and formal occasions to spark your look because this cool color combination matches the same vibes.
Green Shirt and White pant Combination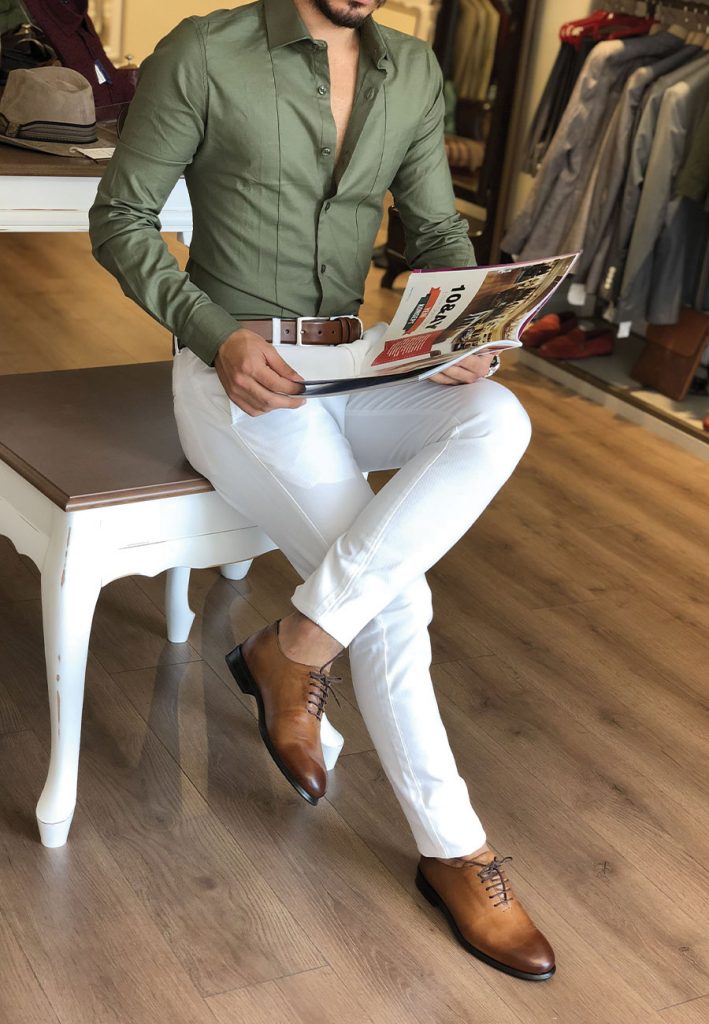 Get a perfectly unique and attractive look with an olive green shirt white pant combination. The green shirt with matching white pant combination looks trendy as well as classy. This combination is the best semi-formal outfit style for traveling, fashion walks, and occasions. White sneakers and a classic wristwatch will give a perfectly complimenting look.
Green Shirt and Navy Blue Pant Combination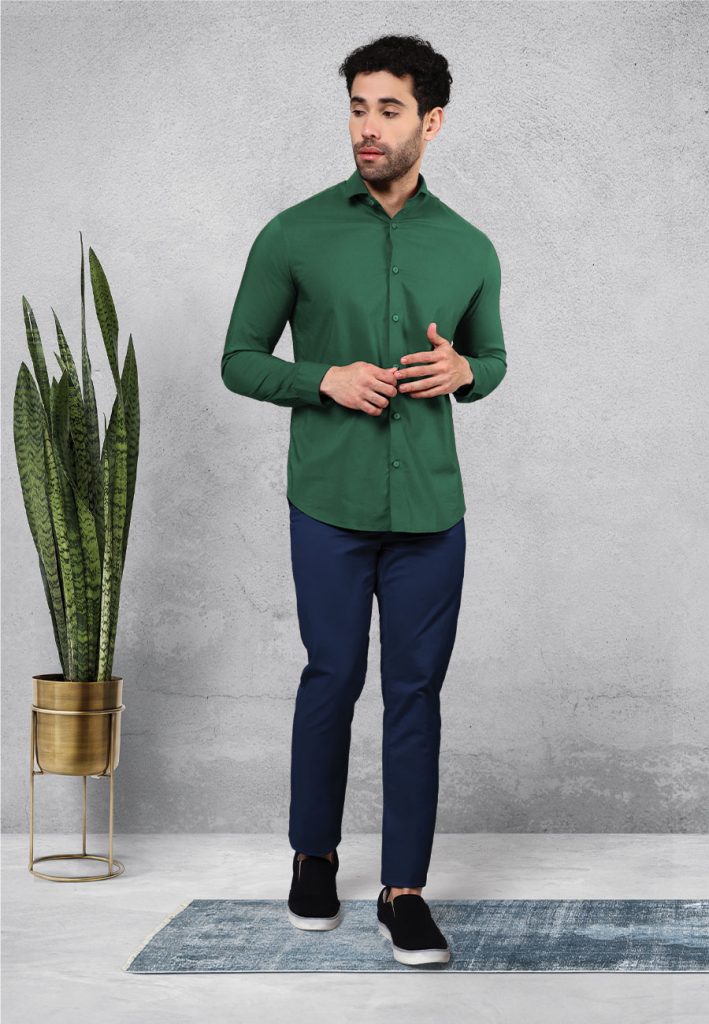 This green shirt matching pant combination is a classic and sophisticated pairing that is perfect for any occasion. The navy blue pants add a touch of formality, while the green shirt provides a pop of color that keeps the outfit interesting. This is the best green shirt combination pants for dates, parties, and attending social events.
Green Shirt and Black Pant Combination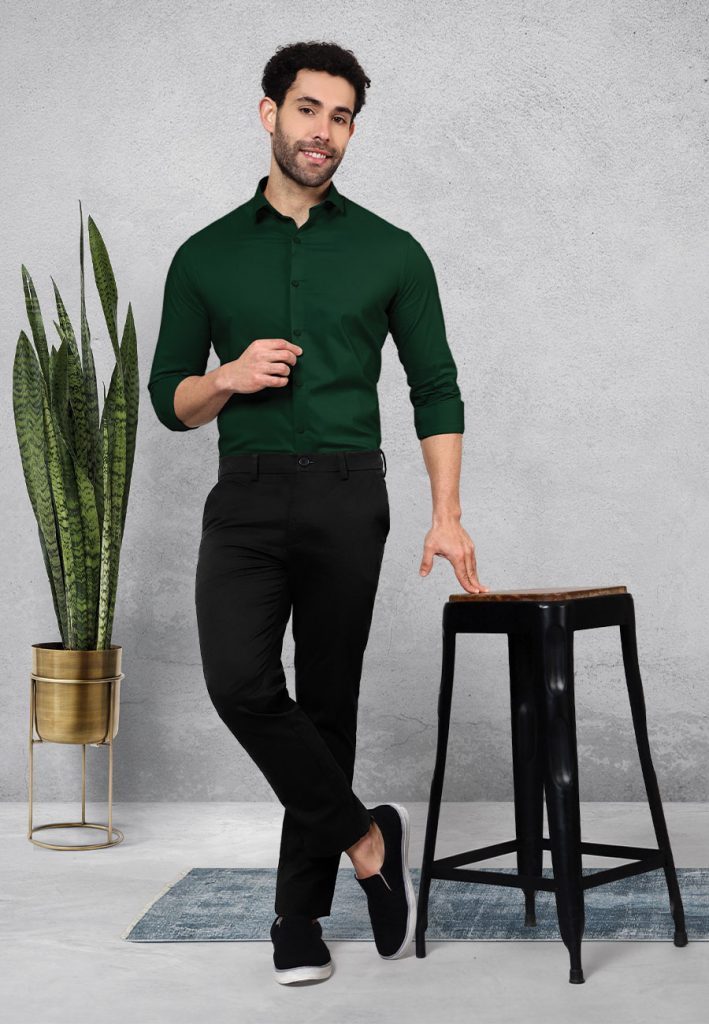 If you are looking for a bold and edgy look, pair your dark green shirt with black pants. This combination is perfect for a night out in the town or a concert or a date with GF. Black pants also help to balance out the brightness of the green shirt and keep the outfit grounded.
Green Shirt Matching Blue Jeans Combination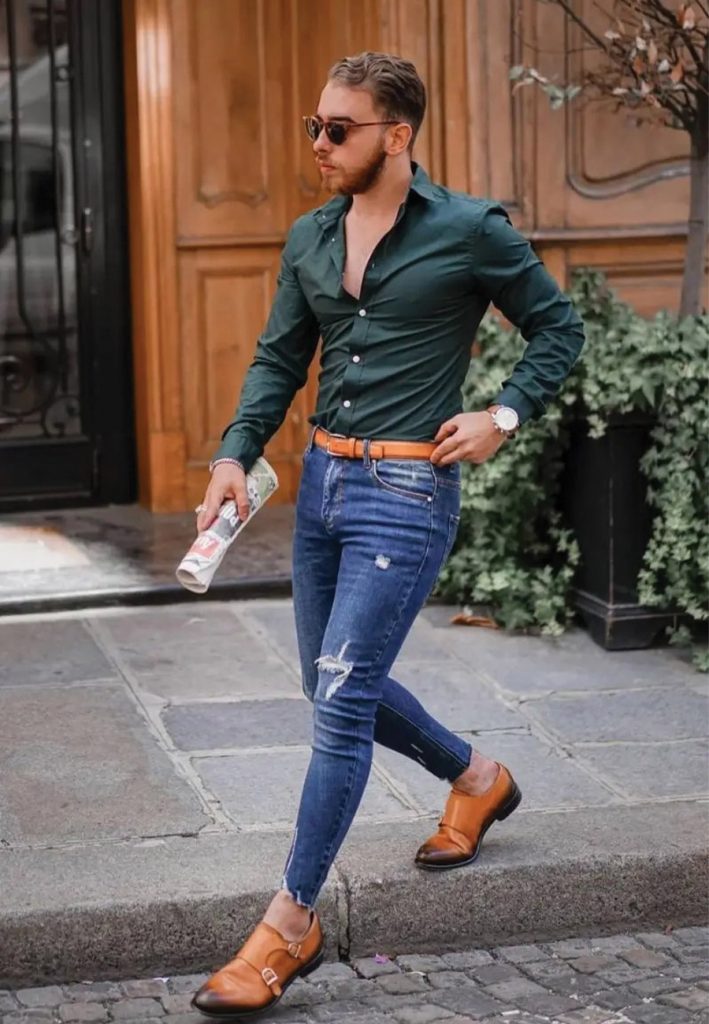 The combination of a regent green shirt and blue jeans not only reflects your fashion sense but also shows your stylish side. This combination is the perfect outfit for both formal and casual occasions. Wear blue jeans with green shirt and walk out like you are the focal point of the crowd. Accessorise with sneakers or army shoes and the digital watch can add charm to your overall look. You can try this outfit for parties, outings with fellows, dates, and other casual occasions.
There are plenty of options when it comes to green shirt matching pants for men. Whether you prefer a classic and sophisticated look or something more edgy and bold, there is a combination that will work for you. So go ahead and experiment with different combinations of green shirts matching pants to find your perfect pair.
Check out other fashion blogs for more styling, grooming and to be trendy. Blogs like: Haircut for Women, South Indian Bridal Look, Type of Earrings, White Blazer Combination, Met Gala Dresses , low budget wedding stage decoration, Grey Blazer Combination, Engagement Couple Dress, white shirt matching pant, Plain T shirts Colors, Best Travel Accessories, College Outfit Ideas, Diwali Office Decoration Ideas, black shirt combination pant, Famous Bollywood Dialogues, Beard styles for men, t shirt style, how to wear chinos, types of sunglasses, how to wear suspenders, new haircut cutting style, best hairstyles for men, etc.