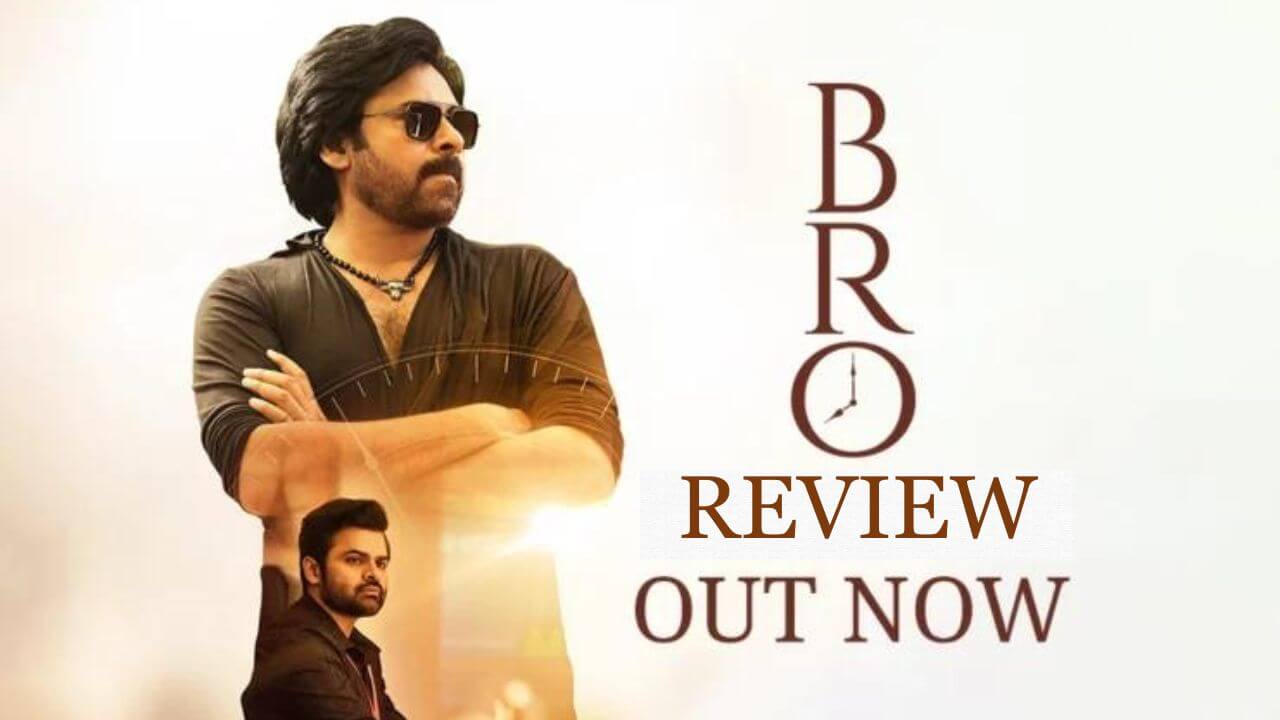 BRO Telugu Movie Review: A Thought-Provoking Tale of Redemption and Time
BRO Movie Review – Pawan Kalyan's much-awaited Telugu film "Bro" has finally released in your nearby cinemas on 28 July 2023. Read first Bro telugu movie review to decide if it's worth booking your ticket!
"Bro" is Telugu movie remake of 2021 tamil film "Vinodhaya Sitham". Bro movie is directed by Samuthirakani and produced by TG Vishwa Prasad and Zee Studios, is a thought-provoking fantasy thriller comedy Telugu film. Sai Dharam Tej and Pawan Kalyan as Time lead the cast, with notable supporting performances by Priya Prkash Warrior, Ketika, Subbaraju and Vinnela Kishore. Scroll down to read full honest Bro movie review and highlight points of the BRO film.
Overall Rating: 3.5/5
The story follows Markande Yulu (Sai Dharam Tej), a controlling individual who tragically meets with an accident and encounters Time (Pawan Kalyan) after his passing. Time grants him 90 days to fulfill his unfulfilled dreams and correct his mistakes. The film effectively delivers social messages, but the overtly spelled-out screenplay limits surprises and engagement. Telugu movie "Bro" story start after the death of Markande Yulu (Dharam Tej), The God of Time (Pawan Kalyan) resurrects him for three months to mend his family and work life, drastically altering his responsible yet egoistic existence.
BRO Review and Movie Rating – Direction, Screenplay, Music, Acting, and Cinematography
Direction: P. Samuthirakani's direction in "BRO" film is noteworthy. He adeptly crafts a fantasy universe where social messages seamlessly blend with the storyline. However, the overtly spelled-out screenplay hampers the film's potential for twists and turns. Read movie review of Today released Telugu Movie BRO here.
Plot & Screenplay: The plot revolves around Sai Dharam Tej resurrection after death, granted by The God of Time. While the concept is intriguing, the execution lacks surprises. The film effectively portrays the protagonist's journey to mend his family and work life, but a more nuanced storyline would have added depth.
BGM & Songs: Music works moderately well in certain portions, but it often serves as cues rather than complementing the scenes. A more immersive and emotionally resonant score could have enhanced the movie's impact.
Cinematography: Some visuals are a highlight in this movie, adding aesthetic value to the film. The cinematography captures the essence of the fantasy universe and provides a solid production quality.
Nonetheless, the performances and a concise runtime of just over an hour and a half contribute to the movie's overall appeal. Bro" will particularly resonate with fans of Samuthirakani's unique brand of films, making it worth watching for its thought-provoking message and unique storyline of fantasy comedy and thriller genre. So if you are Pawan Kalyan or Sai Dharam Tej Acting fan then you must watch this fantasy film. Share this Bro movie review with your friend who's a Pawan Kalyan die hard fans.
Check out other blogs for more movies, dialogues, memes, and entertainment. Blogs like: 1920 Movie Review, Ahimsa Movie Review, Movies for Dumb Charades, Malli Pelli Movie Review, Mem Famous Movie Review, Bichagadu 2 Movie Review, SRK Upcoming Movies, Chengiz Review, Popular Telugu Actors, Hollywood Actress, Allu Arjun Movies, Kabzaa Review, South Indian Actress, Shahrukh Khan Movies, Upcoming Bollywood Movies, Suspense Thriller Movies, South Indian Actors, KGF Dialogue, Bollywood Actors, Bollywood Actress and Old Songs.