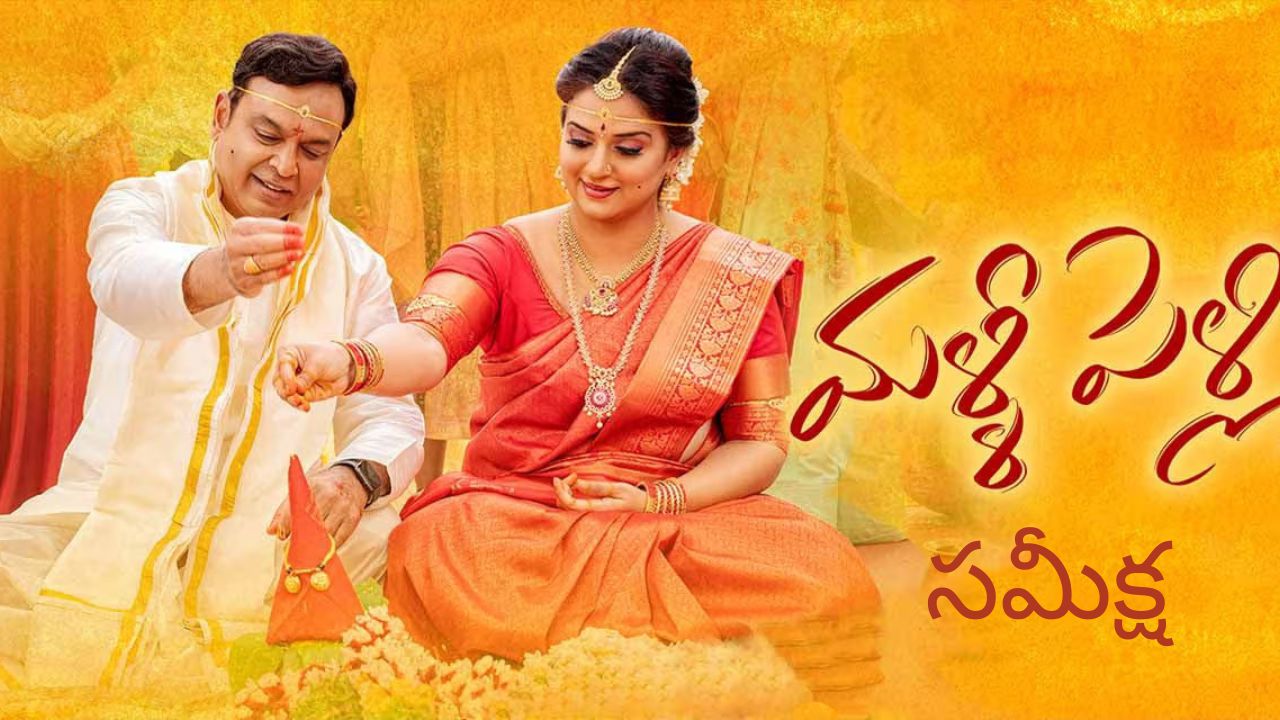 Malli Pelli Movie Review: A Story of Married Women's Love-Affair
Read the full Malli Pelli Movie Review before booking your ticket. We try to give you a spoiler-free review and discussed all the factors that make a movie masterpiece. So you can decide whether Malli Pelli's movie is worth watching or not to you. Scroll down to read the first honest Malli Melli Telugu Review.
Malli Pelli Movie Rating: 8/10
Storyline: "Malli Pelli" is a heartfelt and thought-provoking film that revolves around the complexities of love and societal expectations. The story follows Narendra, a renowned actor from a prominent family, who finds himself deeply enamored with Parvathi, his co-actor and a married woman. As their connection strengthens, they face numerous challenges that put their love to the ultimate test.
Full Malli Pelli Movie Review: Speculate an Unusual Love Story
The film excels in portraying the internal struggle of Narendra as he navigates his feelings and confronts the societal norms that dictate his actions. The performances by the lead actors are outstanding, adding depth and authenticity to their characters and intensifying the impact of their predicament. However, there are instances in Malli Pelli where the over-the-top drama becomes apparent, which can be somewhat irritating to audiences. On the positive side, the director and writer have done an impressive job, and the narration is enjoyable. However, there is scope for improvement in tightening the screenplay to enhance the overall experience.
"Malli Pelli" raises thought-provoking questions about the boundaries of love and the sacrifices one may have to make in the pursuit of happiness. It skillfully explores the delicate balance between passion and responsibility, challenging societal conventions. The film prompts viewers to reflect on the moral dilemmas associated with forbidden love, compelling them to consider their own beliefs and values.
Visually, the Malli Pelli film is a treat for the eyes. The cinematography effectively captures the characters' emotions and the conflicts they face. The aesthetics are enhanced by the mesmerizing music that accompanies the narrative, further immersing the audience in the emotional journey.
While the film successfully explores the complexities of forbidden love, some aspects of the story may feel predictable to specific viewers. Additionally, there are moments where the pacing could have been improved to maintain a consistent momentum. Share this Malli Pelli Telugu Movie Review with your love and watch this unique love story with him/her.
For whom: People who looking for new stories and thought-provoking movies diffidently watch Malli Pelli in the theatre. Love story fans can watch it in the cinema or wait for the OTT release as it's an average storyline with regular social issues lifted by other love stories.
Malli Pelli Movie Release Date | Cast | Budget | Box Office Prediction
Malli Pelli Release Date: 26 May 2023
Genre: Drama, Romantic
Duration: 2h 11m
Director: M S Raju
Cast: Naresh Vijay Krishna, Pavithra Lokesh, Jayasudha, Ananya Nagala, Sarath Babu
Budget: 4 Cr
Box Office Prediction: 8 Cr
Check out other blogs for more movies, dialogues, memes, and entertainment. Blogs like: Mem Famous Movie Review, Bichagadu 2 Movie Review, SRK Upcoming Movies, Custody Movie Review, PS 2 Review, Chengiz Review, Virupaksha Review, Allu Arjun Movies, Kabzaa Review, South Indian Actress, Shahrukh Khan Movies, Upcoming Bollywood Movies, Suspense Thriller Movies, South Indian Actors, KGF Dialogue, Yeh Jawaani Hai Deewani Dialogue, Bollywood Actors, Bollywood Actress and Old Songs.