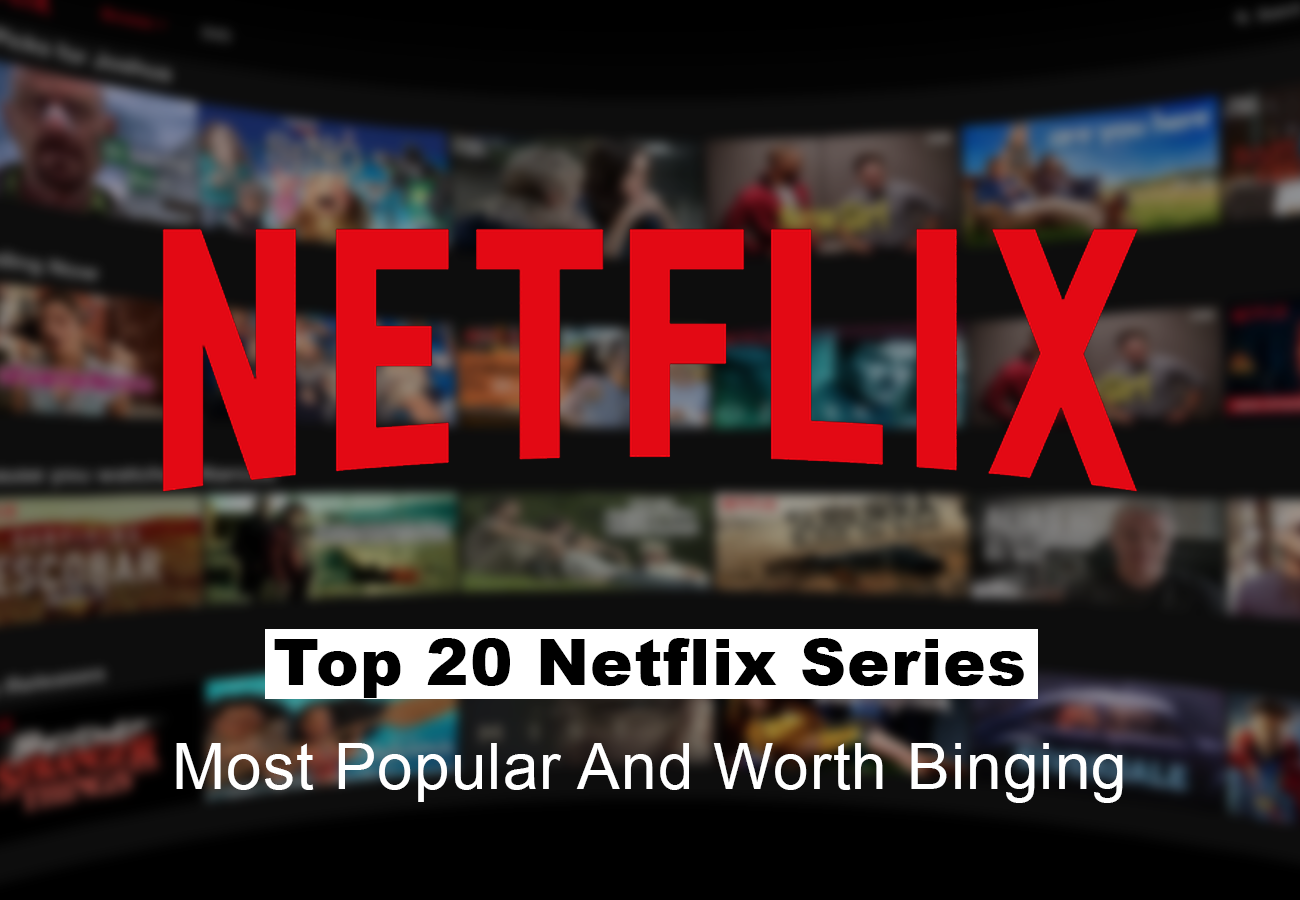 Top 20 Netflix Series: Most Popular And Worth Binging
Are you looking for the best Netflix series to watch this weekend? We've compiled a list of the greatest top 20 Netflix series to assist you. Read further and pick your favorite show.
When you're on lockdown, you have two options for watching TV. You may watch rolling news from sunrise to dark night until you are completely depressed. You might look at the bright side: you now have time to watch those worth streaming Netflix series that your pals have been begging you to watch.
Do you remember there was a time when people were drooling over the movies? Who knows that this could be replaced with a series. People love the mechanism of long shows. They love suspense and that's what attracts them the most. It's a fact that the Netflix interface makes it easy to search by title, keyword, star, or genre, the one category you're most interested in, but which are the best ones are not included. So, to help you out, we've uncovered the actual, rare jewels among the thousands of classic Netflix series in this blog.
These top 20 Netflix series, which start with the most popular and end with a few true classics, cover a wide spectrum of genres but are all connected by one thing: they're all absolutely top-notch.
Squid Game

This Korean thriller and drama series by Netflix is winning everyone's hearts. In just a few days after the launch, this has become a massive success for creators. The series revolves around the lead character Seong Gi-hun who is broke and looking for some kind of miracle in life. It is amazing not only because of its unique storyline but also because of flawless casting. This is the main reason why this is on the lead of our list of top 20 Netflix series.
Money Heist

If you are looking for an action-packed crime series with a twist of great climaxes, then you should definitely watch the Money Heist series. The professor, who is the mastermind behind the robbery of Great Mint of Spain and The Bank of Spain, is the lead character. Peer pressure makes most people watch this wonderful series.
Sex Education

This may sound awkward, but yes, this series is somehow the reality of every teen. It is brutally honest and the best humor ever. All three seasons of Sex Education revolve around Otis's character who helped his schoolmates related to issues like sex or emotional behaviors.
Dark

This is the mind-boggling show that runs in 3 different periods of the same lead characters. You may have to watch it more than one time to completely understand the storyline and concept of this unique series. This German thriller Netflix series is famous for its jaw-dropping twists.
Stranger Things

Who said children can't do anything apart from only playing and not doing homework? This Netflix show is the perfect reply for all. Filled with adventure, drama, action, emotion, and, romance, this is far by the best sci-fi series on Netflix. Millie Bobby Brown has done a great job as Eleven in Stranger Things.
Lucifer

"I am the devil of my world" You may have heard this famous dialogue through the Instagram trend. Yes, this is the dialogue of Lord of Hell from the Lucifer series. In this popular show, the devil got bored with his duty so he decides to relocate to LA and run his own nightclub. How interesting is sound, right?
Arcane

Arcane is the first gaming animated series that is based on League of Legends by Riot Games. This is an ideal Netflix series for those who love PC and mobile gaming. The story revolves around fictional gaming characters.
The Witcher

This is far by one of the best FAN-tasy series of all time. Henry Cavil has done a great job in his first series. The mass success of this popular series leads to the creation of The Witcher PC game as well. This Netflix show is the next level of Game of Thrones. So, if you are disappointed with GOT's end, this is definitely a treat for you.
You

YOU are one of the most freakingly amazing series on Netflix. Filled with so many unique plotlines and irritating characters, this show still manages to win the hearts of viewers. The show revolves around the Joe character who is a bookstore manager.
Breaking Bad

With IMDb rating of 9.5, this show is far by the best of all. We personally like to recommend you to watch this brilliantly framed Netflix series. In this show, a chemistry teacher involves in the drug market and becomes the mastermind. Jesse and Heisenberg have done great roles.
Better Call Saul

Remember the Saul – A lawyer from Breaking Bad. Well, this show runs around him as the lead character. This series is not filled with so many action-packed scenes like Breaking Bad is much more subtle and sophisticated. If you enjoy slow movies or series, this is the one for you.
Sherlock

This is an entertaining show which makes you bite your nails with the mysteries solved by Sherlock and his partner Dr. Watson. The show evolves from the great Sherlock Holmes detective comic character. Apart from being Dr. Strange in Marvel movies, Benedict Cumberbatch plays a brilliant role in the Sherlock Netflix series. A must-watch series for those who love mysteries and thrillers.
Our Planet

If you love the beauty of nature then this documentary is created for you. You can experience the planet's beauty. Animals, plants, climatic change, all things related to nature are showcased in this. The show is filled with amazing cinematic scenes of various crucial phases of atmosphere.
The Good Place

Who knows what will happen after a person's death? This show has an exact answer to this question. Eleanor, a dead woman finds herself in a heaven-like place afterlife. But to stay in a GOOD PLACE she tries to hide her past life.
Lost in Space

Are you an Astrophile (a person who loves stars and space)? Then go for Lost in Space without any second thought. In this Netflix series, the Robbinsons family crashed on an unknown planet due to unedifying circumstances. Now they must fight for the survival of the endangered aliens living on the planet. Interesting right? There are more classics on their way from our list of top 20 Netflix series.
Black Mirror

This show is actually the reality of how the future may look if going on the same high-tech pace. This sci-fi show explores a twisted near future in which humanity's greatest innovations and darkest instincts collide. According to our review, this is a must-watch show for everyone.
Lupin

If you enjoy Money Heist, then you will definitely love this thief-based series, Lupin. This French show has already become the talk of the town. The show is based on the strong thief character, Arsene Lupin. The character wants to avenge the death of his father.

Never Have I Ever

Time to relive the high-school days with a little twist this time. Yes, we are talking about Netflix's Never Have I Ever. The lead character Dev is a traumatized kid who is still fighting hard to come out of the dilemma of her dead father. This drama is generally targeted at the millennials of this generation which includes the love triangle also.
The Umbrella Academy

The first season is not that great but when the 2nd season arrived, it left us speechless. In 2020 it became the most-watched Netflix series. The unique thing about Umbrella Academy is that there are superhero siblings who are surprisingly born at the same time from mothers who were not actually pregnant. Must watch this series to know more surprises.
Narcos

We have preserved the best for the final. Yes, Narcos it is! The show is basically based on the life of Pablo Escobar who is also known as "The King of Cocaine". He is the wealthiest criminal in history. The story revolves around the starting phase of his life and how he enters this industry. A must-have Netflix series for you.
Our top 20 Netflix series list ends now. We hope our suggestions helped you and made you the movie-freak of your friend's circle. We'll come up with more entertaining and informative blogs so buckle up because the best is yet to come.
Also Read About: Top 10 Netflix Movies