Different Types of Chokers Necklace Designs You Need to Know About
Choker Necklace are back in style now, and if you are looking for something different to look fashionable then you must play your bet on chokers.
To look fashionable we keep on experimenting on different things, whether it be clothing or fashion accessories. If you are done experimenting with accessories and want something different to try, then Chokers will come as a reliable option for you. Many different types of chokers necklaces designs are back in fashion, you have a chance to look seamlessly fashionable.
What Is A Choker Necklace?
As the new fashion trend is here, many people are questioning what is Choker Necklace? Answer to this question is: Choker is nothing but a neck tight Necklace. In other words, Choker can be defined as a close-fitting  Necklace made up of different materials like cloth and metal worn around the neck by women. Choker Necklace is a very simple yet stylish accessory worn in the neck by women across the globe. Many Hollywood and Bollywood celebrities donned Choker necklaces to look the fashionable best at famous events.
Over time, Chokers have evolved drastically, different countries and cultures have molded them according to their requirement. Even after hundreds of years, the popularity of chokers necklaces has remained intact.
Different types of Choker Necklaces and How to Wear Chokers Effortlessly?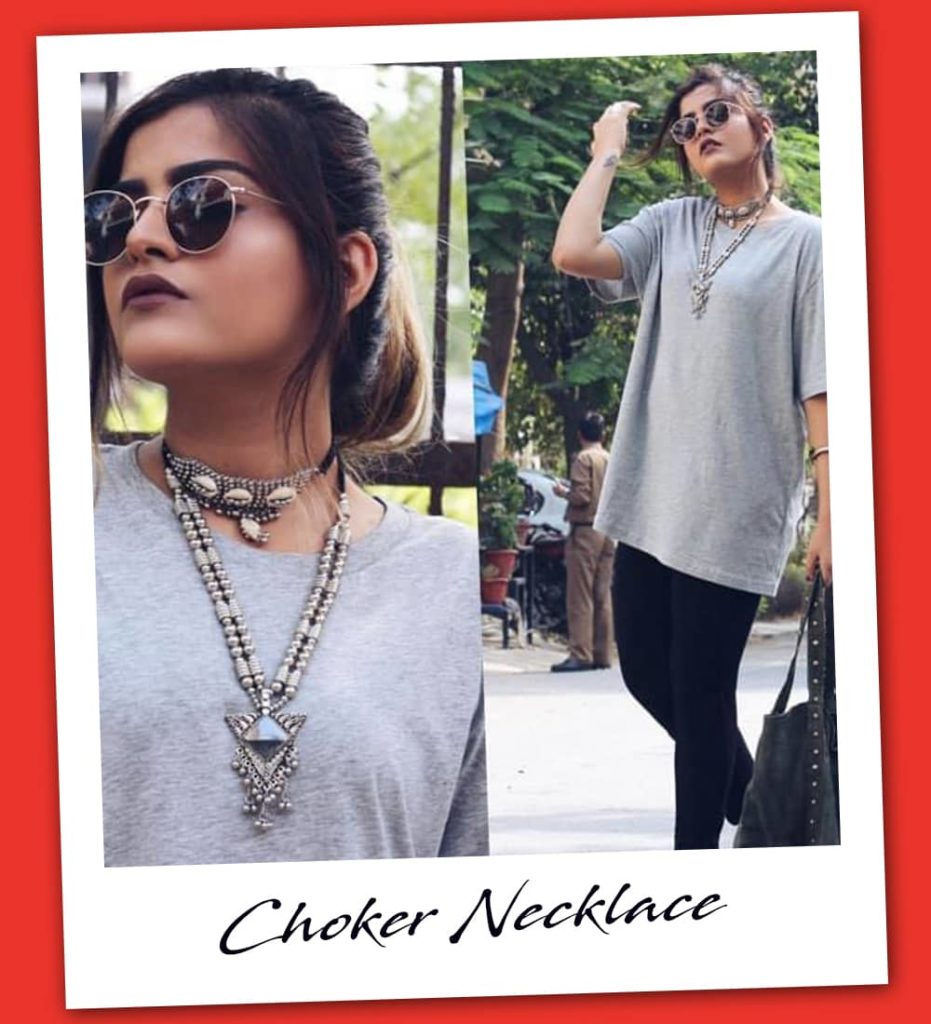 Chokers Necklace Design are back in fashion and of course with a bang. Beautiful Choker necklaces are something which girls are preferring to easily look high in fashion. There are different types of Chokers Necklace available around, and you will never run out of options while choosing the best Chokers. There are many varieties of Chokers necklace which are in fashion like Cloth Choker, Metal Choker, and Pearl Choker. You can try any of the Choker styles to make a unique fashion statement.
Many people get clueless about how to wear choker necklace? But we think that there is absolutely no reason to get worried about the styles of wearing chokers.
There are different types of chokers necklaces available in the market which can be paired easily with different outfits and can be easily styled. You will never run out of the styling options for beautiful chokers necklaces.
Gold Choker Necklace Designs : For Royal Looks and Queeny Feels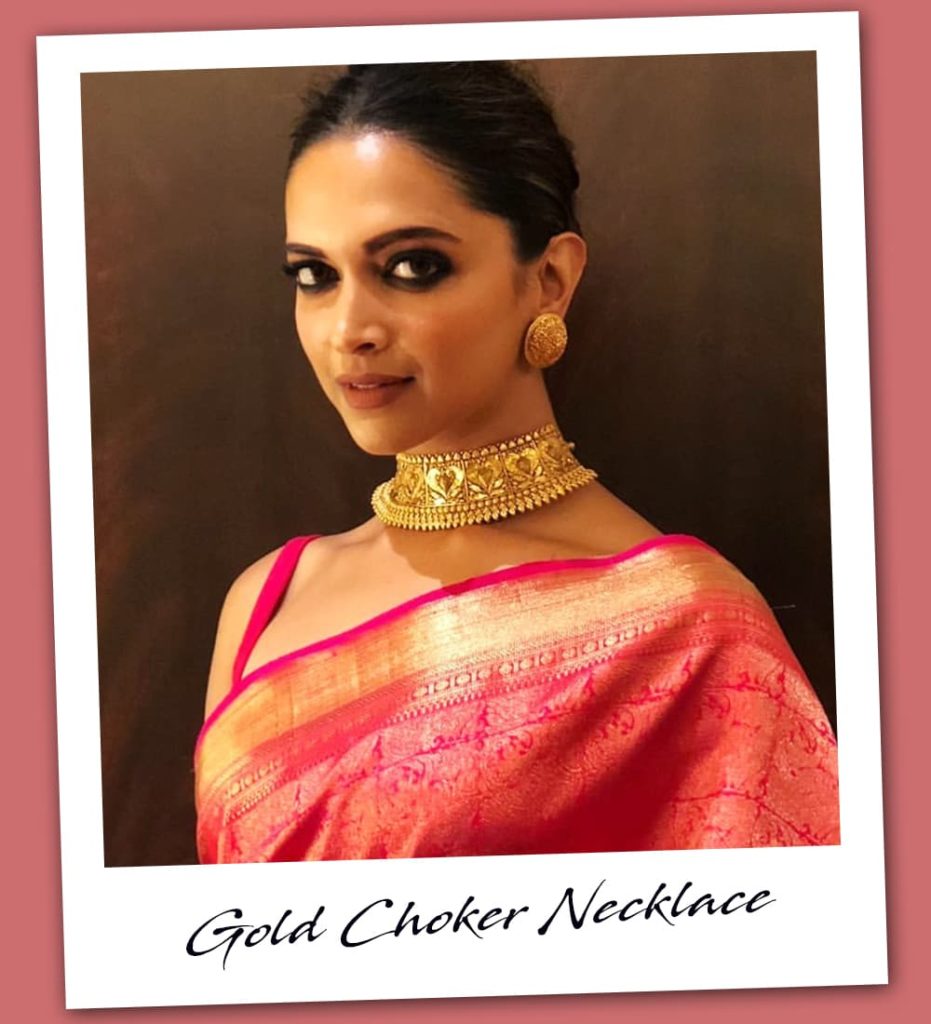 If you are looking for a modern option in traditional jewelry, then you can opt for a beautiful Choker necklace. Gold Choker Necklace style gives a very rich look and is perfect for weddings and parties.
Styling Tip: Gold Choker Necklaces will look the best on Bright colored party wear sarees. To make your look worth remembering, we recommend you to not shy away from good eye makeup and a pair of good earrings.
Indian Choker Necklaces Designs and Ways to Style Them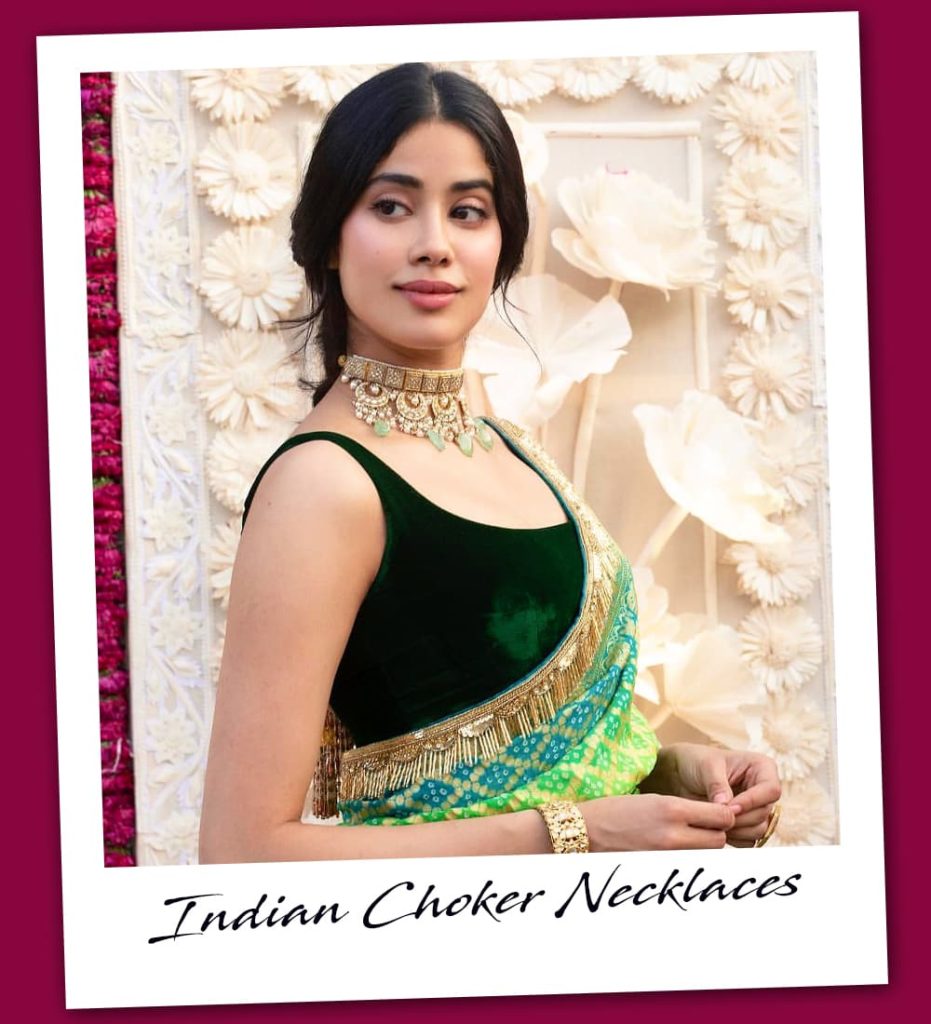 Chokers might have come from the west, but Indians have beautifully molded them so that they can fit with their traditional and ethnic culture. Indian style Choker Necklaces are creatively made exquisite pieces of jewelry studded in colorful and valuable gems. Big gold Choker Necklace is one of the very popular as an Indian Style Choker Necklaces and is an essential part of Indian jewelry fashion.
Styling Tip: You can pair Indian style choker Necklaces traditional Sarees and deep cut velvet blouses. All you have to do to look fab in the next wedding you are attending is to dress up in a pretty Saree, tie your hair in a low bun, keep the makeup minimal, and wear an Indian Choker Necklace.
Simple Black Choker Necklace: Dark is Deeper, Black is Better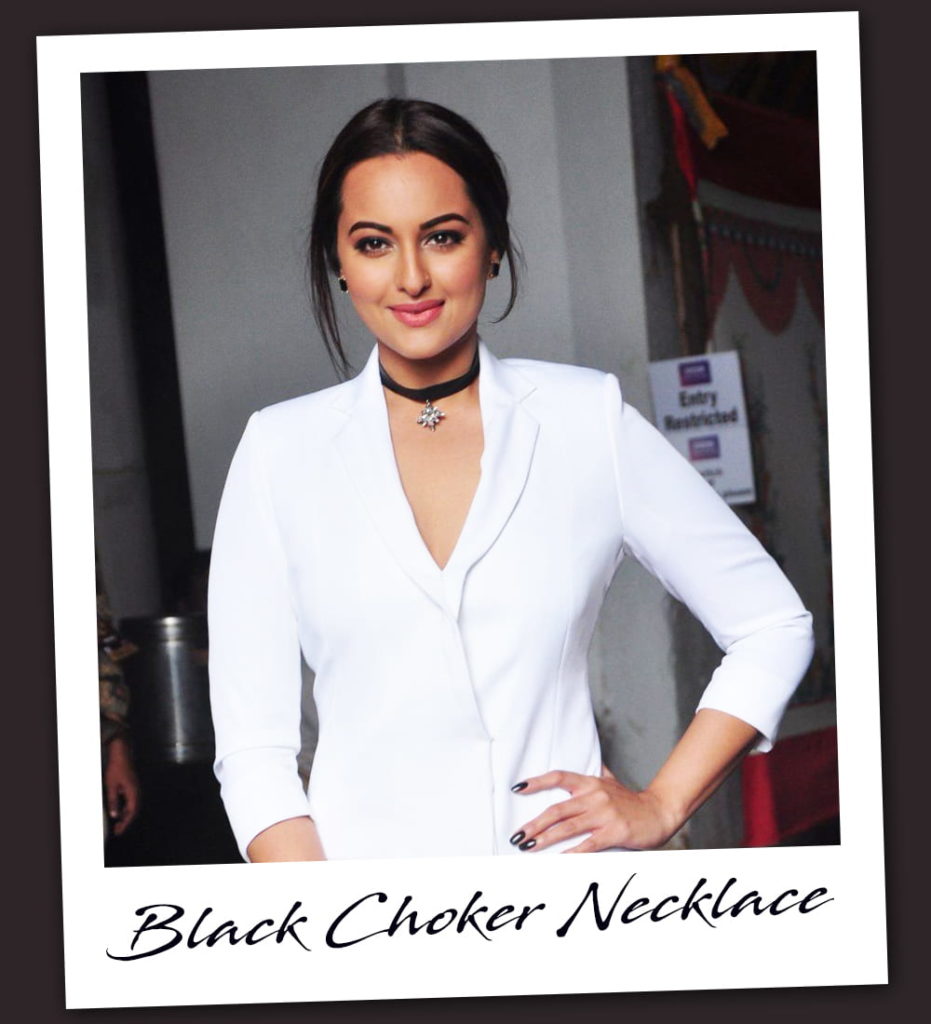 Chokers necklaces might be available in a variety of colors and patterns, but none got the beauty of simple Black Choker Necklace style, they have always been in the trend, no matter what period or fashion era it is. The reason why Black Choker Necklaces are preferred over others is that they are very simple, and can be carried with a variety of outfit styles without putting in any extra efforts. One of the very popular in this variety is the black leather Choker necklace.
Styling Tip: To glam up your look in the best possible ways, you can pair simple Black choker necklace with Tops and light-colored Tuxedos without any shirt underneath.
Leather Choker Necklace: Let The Fearless Queen In You Be Loud And Clear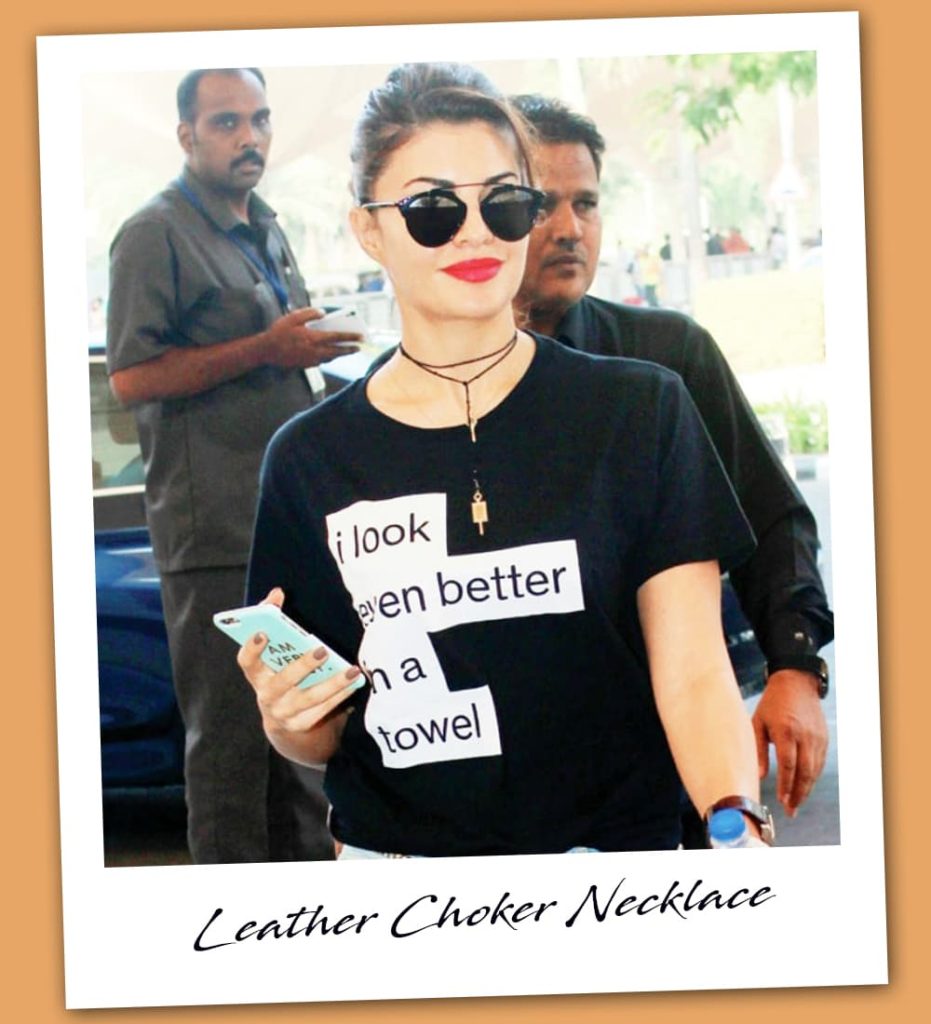 Leather Choker Necklace is one of the finest Choker designs that has ever been incorporated by fashion enthusiasts. If you are thinking of purchasing a good neck accessory, then you must go for a leather Choker necklace. 
Styling Tip: You can pair leather choker necklaces that are easiest to style, you can team them up with cool tops and loose t-shirts paired with Shorts and Skirts.
White Choker Necklace: Redefine The Simplicity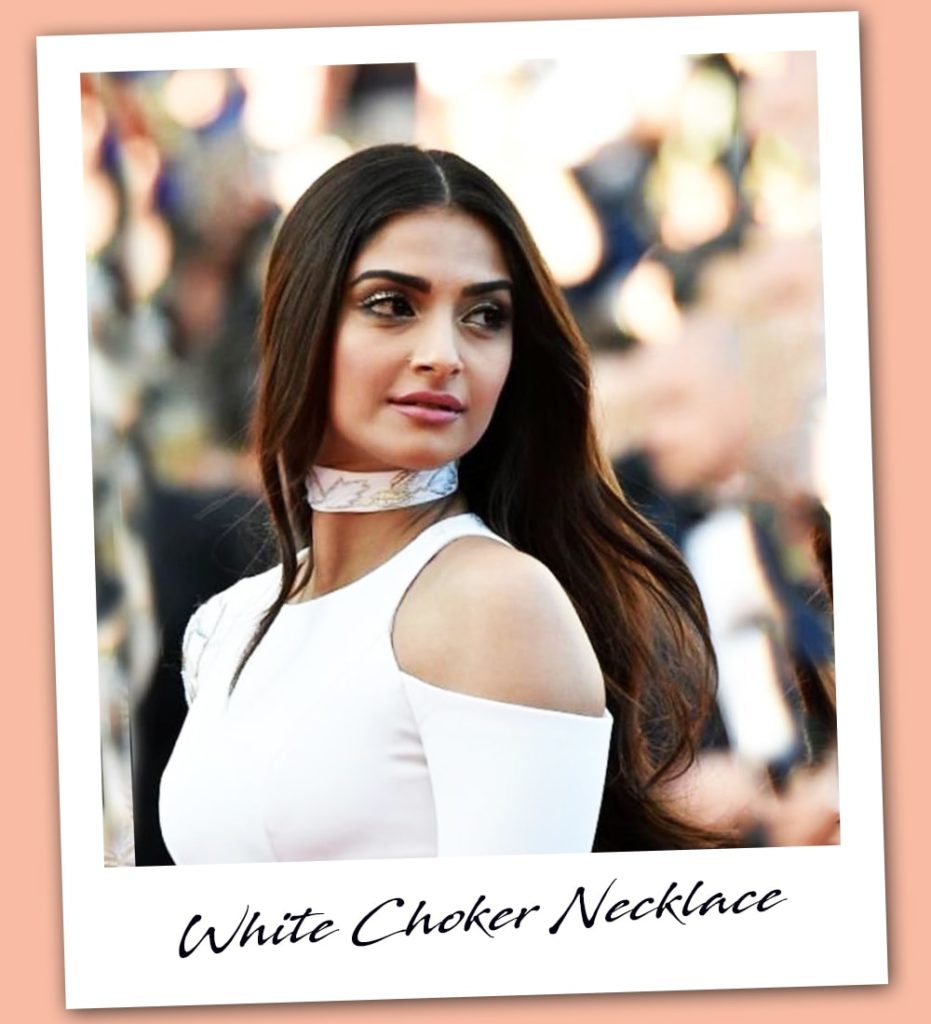 White Choker Necklace design is one of the finest inventions of the Choker world. Chokers in white color look very elegant and can be effortlessly paired with many outfit varieties.
Styling Tips: White Chokers look the best with plain white outfits, you can pair them with White Gowns, Tops, or Sarees.
Small Choker Necklace: Small Is The New Big In The Fashion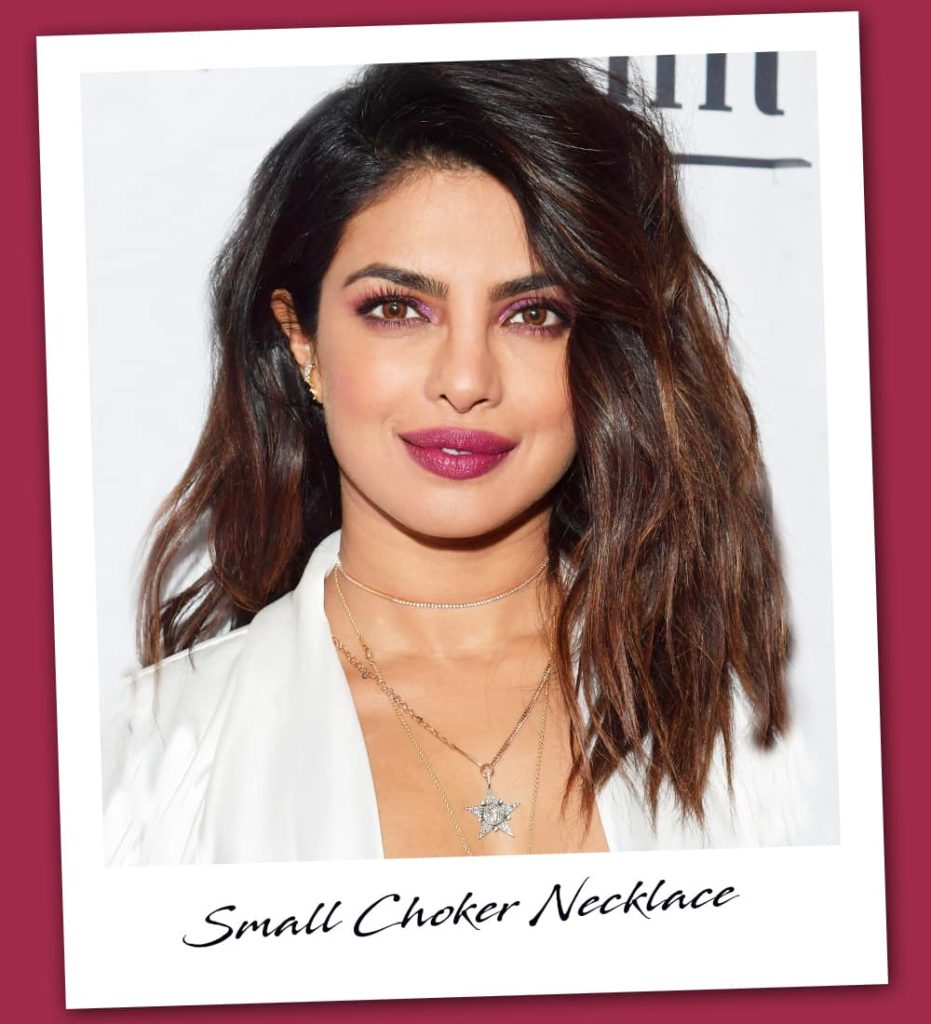 Small Chokers Necklaces are one of the finest neck jewelry pieces, if you are looking for something simple and unique then you must go for it. Small Choker Necklace is considered as one of the most beautiful chokers necklaces
Styling Tip: The best way to style Small Choker Necklaces is to pair them with western outfits having deep neck cuts.
Velvet Choker Necklace: Because Vintage Is Beautiful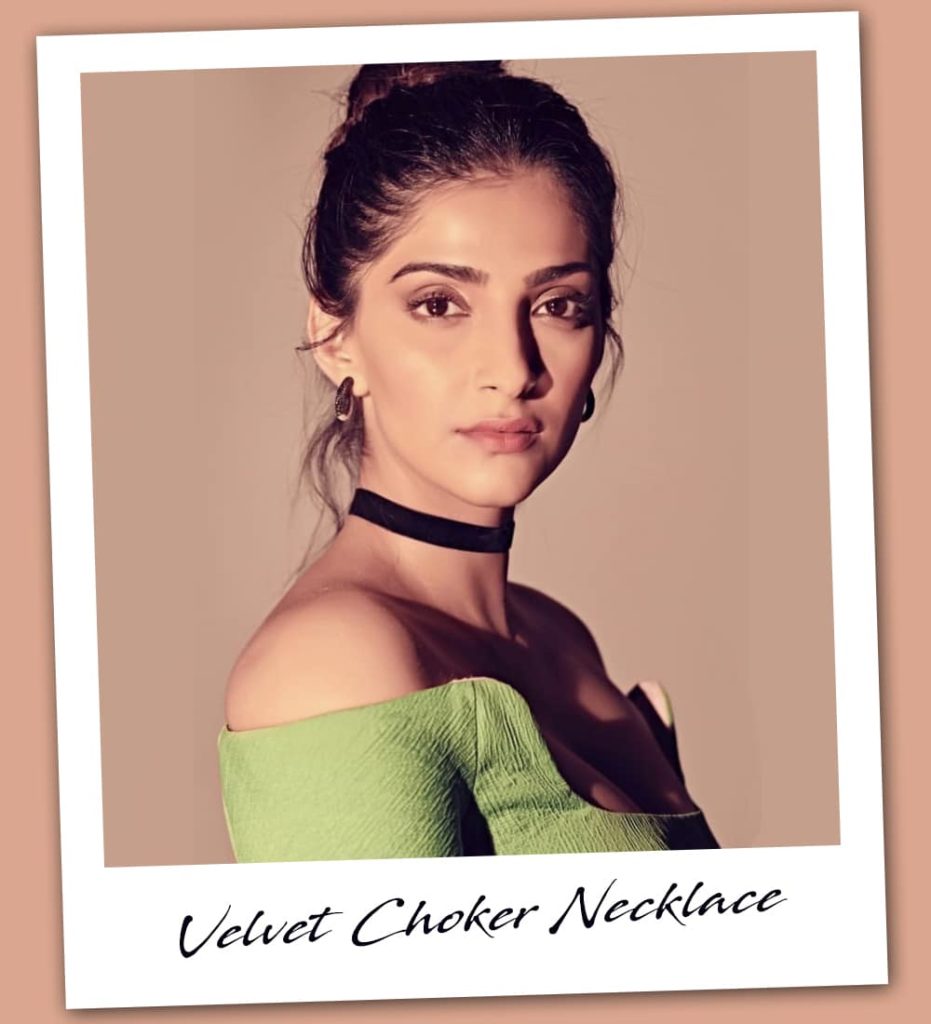 When it comes to trying something exceptionally beautiful in neck tight necklaces, we will suggest you try the Velvet Choker Necklace style. If you are looking for the best Choker designs then velvet choker necklace design is something where your search will end.
Styling Tip: Velvet Choker Necklaces are meant for glamorous looks. You can pair them with Off-shoulder dresses, Party wears outfits and Prom Dresses. To add more charm to the look, we suggest you tie your hair in a high bun.
Tattoo Choker Necklace: Its Okay To Be Little Cool Sometimes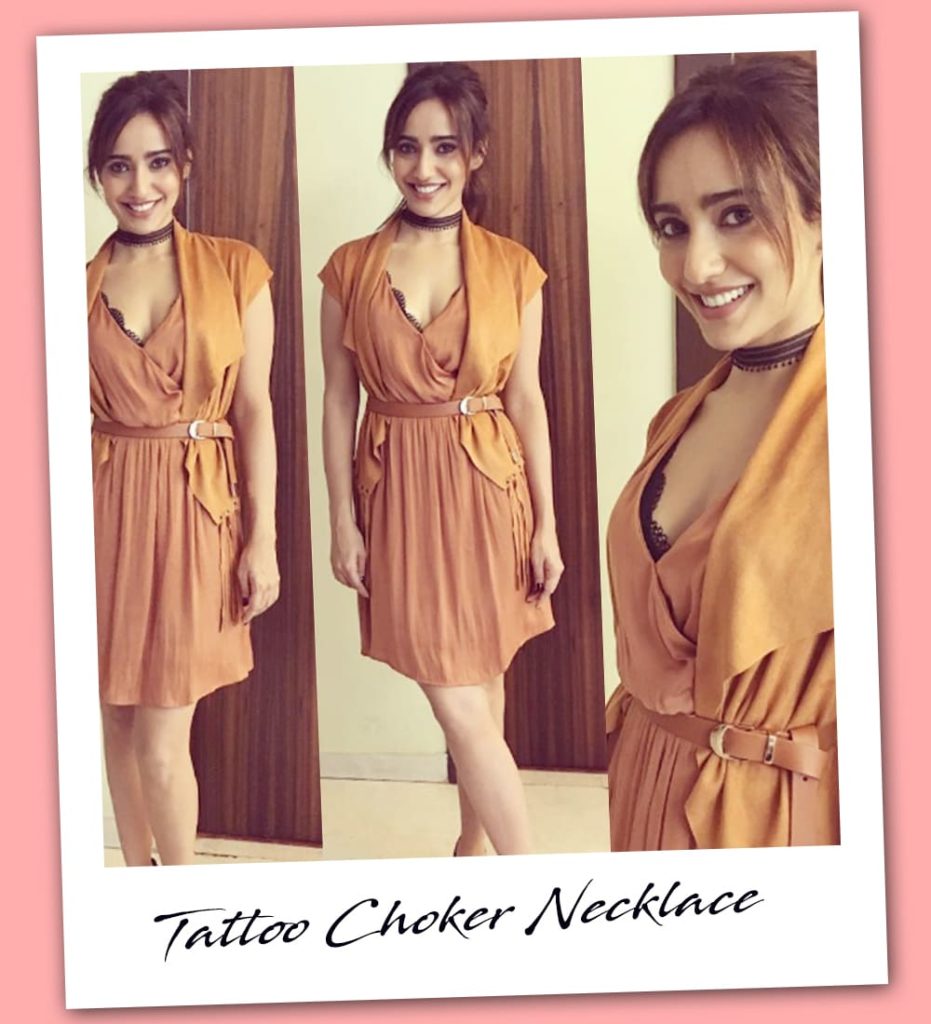 Tattoo Choker Necklace design a synonym of a quintessential fashion statement. If you are one of those who love trying something unique in beautiful Choker necklaces then you must go for the Tattoo Chokers. These are very beautiful and elegant neck tight necklaces.
Styling Tip: You can pair Tattoo Choker Necklace with any of your casual outfits like Tops, Short dresses, Plain Shirts, T-shirts, and Kurtis.
Silver Choker Necklace: Because It Is As Iconic As You Are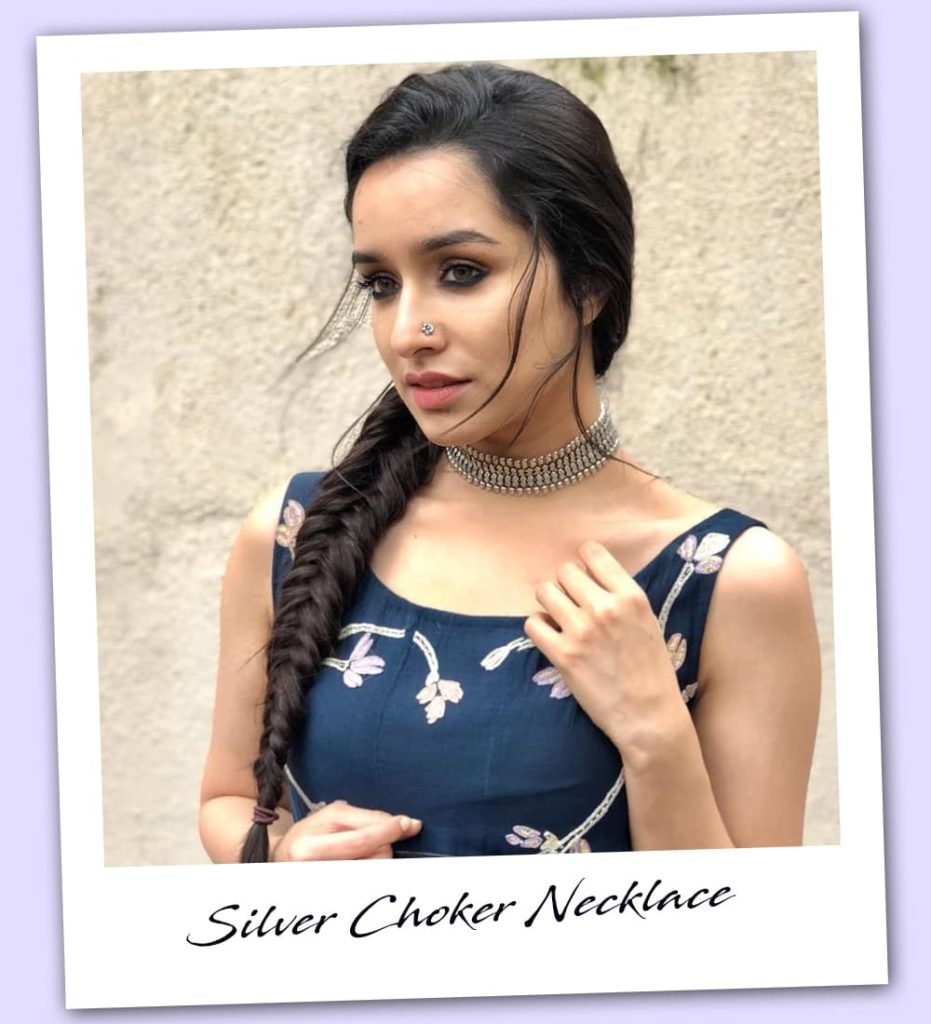 Silver Choker Necklace design looks very fine and can be worn with white Kurtis and other ethnic outfits. Beautiful Choker necklaces made in silver are preferred globally because of their charming looks. Many heroines of Bollywood and other industries have been seen donning the Silver Chokers.
Styling Tip: You can carry Silver Choker Necklace with simple casual outfits like kurtis and skirts that have traditional prints on them, you can complete the look with a braided hairstyle.
Pearl Choker Necklace: Slay With Queen of Gems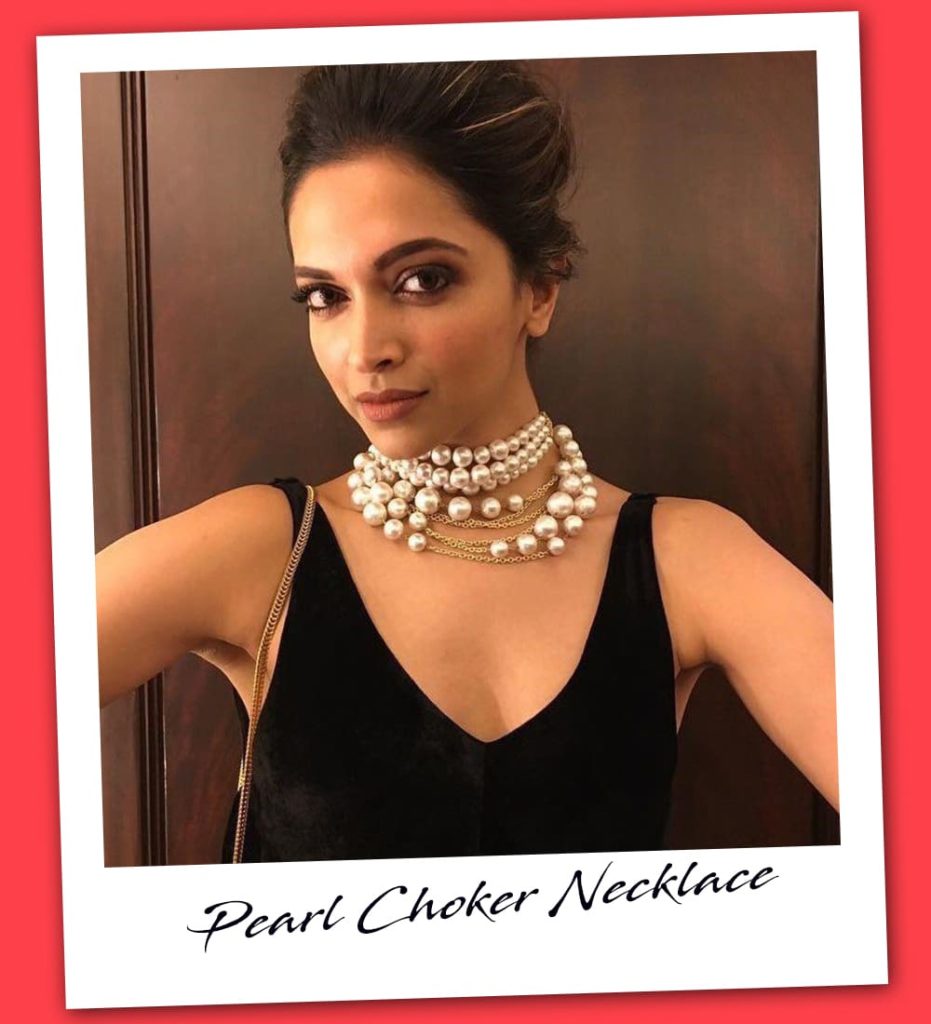 The best thing about pearl Choker necklaces is the elegance. If you are fond of pearl Jewellery then the Pearl Choker style necklace can be an ideal option.
Styling Tip: You can pair Pearl Choker Necklace with plain colored dresses. You can tie your hair in a bun or a high pony to get an appealing and elegant look.
Diamond Choker Necklace: Bright and Beautiful Just Like You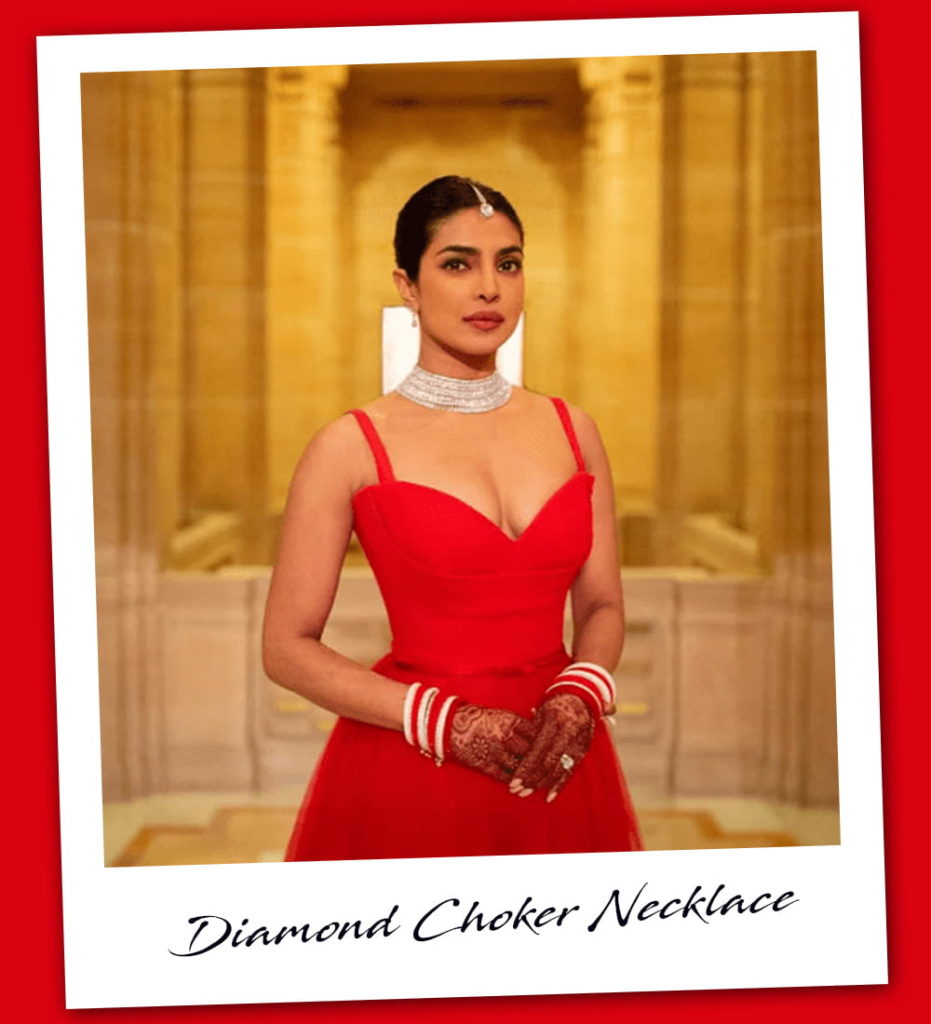 Gone are the days when diamonds were only used for making rings. It's 2023 and you can see diamonds studded in Choker style necklaces.  Diamond Choker Necklace designs are new in trend and we suggest you buy one for yourself too.
Styling Tip: Diamond Choker Necklaces can be paired with an elegant party wear gowns for evening functions. Make sure you pair them with bright colored outfits like Red and Black.
This is all you need to know about different types of choker necklace and how to wear chokers. You can wear any of the above-listed Chokers and use the given styling tips to look high on fashion.
Explore our more fashion & lifestyle blogs such as how to wear saree in different saree in different style, what to wear with palazzo, Kurti with jeans, summer outfits for women, how to wear dungarees, beach outfits, types of shrugs, pre wedding shoot locations, types of shorts, pencil skirt dress, Types of Jeans for girls and types of sunglasses, work from home tips,
Best T shirt Brands etc.