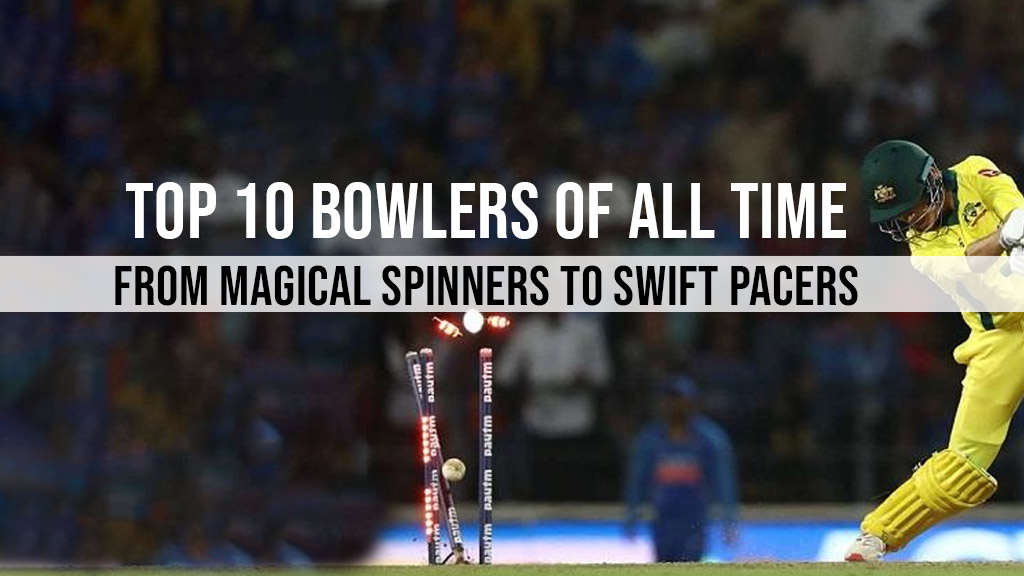 Top 10 Bowlers Of All Time: From Magical Spinners To Swift Pacers
Batsmen must be your favorite but bowlers win the impossible games for team. Here's a throwback to the top 10 bowlers of all time. Read further and let us know who your favorite is.
The batsmen draw the audience, the all-rounders assist the team combinations, but the bowlers, they say, are the ones who win the games. The visual picture of a batsman fighting a well-bowled delivery with all of his footwork is only comparable to the visual image of a fast bowler uprooting his opponent's stump with precise accuracy.
An aggressive fast bowler who can threaten with his raw pace in any situation is a captain's joy and a batsman's nightmare. Over the years, the world of cricket has witnessed not just some irreplaceable batters, but also a slew of fast bowlers who, with their reverse swing and pinpoint beamers, have sent shiver down the spines of the top cricketers.
Teams win limited-overs formats (ODIs and T20Is) based on the number of runs they score. Although taking wickets may shift the course of a game, bowlers who restrict batters by limiting the flow of runs are as useful. Because pitches have become more batting-friendly and bats have grown in size, the game now benefits hitters. Even though, the finest bowlers seem to find a solution. They bring new deliveries, change the speed, and bowl yorkers and bouncers that are jaw-dropping.
These are the greatest match-winners and top 10 bowlers of all time in the history of cricket.
Zaheer Khan – India

For a long time, Zaheer Khan was India's best bowler. His ability to agitate left-handed pitchers was unrivalled. Greame Smith, one of the finest southpaws of his generation, struggled against Zaheer.
The left-arm fast bowler played a key role in India's 2011 World Cup victory, taking 21 wickets to become the tournament's leading wicket-taker. In that competition, he always supplied wickets anytime his skipper Mahendra Singh Dhoni summoned him into the attack, whether with a new ball or an old ball.
In the 2003 World Cup, he was India's best wicket-taker, with 18 wickets at an average of 20.77 in a runner-up finish.
Harbhajan Singh – India

In the 2001 home series against Australia, Harbhajan Singh made headlines by taking 32 wickets in three tests, including a hat trick. Back then, Australia was the best team in the world, and their batters had no idea how to deal with Harbhajan.
The Punjabi off-spinner was the ideal foil for leg-spinner Anil Kumble, who was one of the finest bowlers of his day. Singh's ODI heroics helped him dethrone Anil Kumble as India's No. 1 spinner in one-day internationals.
During India's 2011 World Cup victory, Singh assisted Zaheer Khan and Yuvraj Singh.
Anil Kumble – India

Anil Kumble has the potential to be India's greatest match-winner. He is, without a doubt, the best Indian bowler to ever grace a cricket pitch. He concluded his career as the third-highest Test wicket-taker, behind Shane Warne and Muttiah Muralitharan, with 619 wickets.
Kumble, although being a leg spinner, didn't spin the ball much and instead relied on line and length. In addition, his deliveries bounced at an uncomfortably high height, making the batsmen tough to play.
Ravichandran Ashwin – India

Ravichandran Ashwin's IPL success helped him get a national call-up, and he quickly established himself as a regular in limited-overs squads. In 2011, he was a key member of India's World Cup-winning team.
Even though he is now off the radar in ODIs, Ashwin is a staple for India in Tests and holds the record for being the fastest to 300 wickets.
In Tests, the off-spinner has won seven Man of the Series awards, tying for the most in India and ranking fourth in the world.
Shane Warne – Australia

Sachin Tendulkar, Brian Lara, Ricky Ponting, Glenn McGrath, and even Muttiah Muralitharan didn't make Wisden's best five cricketers of the twentieth century list. Shane Warne, like Sir Donald Bradman, Sir Jack Hobbs, and Sir Vivian Richards, was a member of the elite cricketing group.
Warne was a magician who could do his acts even on pitches with minimal assistance. His talent is demonstrated by his 1001 international wickets. His "Ball of the Century" to remove Mike Gatting in the 1993 Ashes series, as well as his delivery to pick out Andrew Strauss in the 2005 Ashes series, are both right up there.
Dale Steyn – South Africa

Dale Steyn is the most dangerous fast bowler of the modern age and South Africa's best match-winner. His bowling is a unique blend of speed, swing, and accuracy.
In his 80th Test, he became the quickest speed bowler in history to reach 400 wickets. His 42.3 percent strike rate is the highest among batsmen with 200 or more Test wickets.
Muttiah Muralitharan – Sri Lanka

Muttiah Muralitharan is the most successful bowler of all time, having taken 345 more wickets than Shane Warne. Muralitharan is also the fastest bowler to rack up 350, 400, 450, 500, 600, and 700 Test wickets, having taken 800 in Tests and 534 in ODIs. He is the only player in history to have taken 800 test wickets.
Murali was a real match-winner, having been chosen Man of the Series 11 times in Tests, a world record. In Tests, he was named Man of the Match 19 times, second only to Jacques Kallis.
Glenn McGrath – Australia

Glenn McGrath is the best bowler of all time. He didn't have blazing speed, but his precision was razor-sharp, and he consistently bowled in the same line.
He has the second-highest number of Test wickets of any fast bowler, with 563, and an excellent average of 21.64. He was also the leading wicket-taker in One-Day Internationals, with 381 wickets at an average of 22.04, the best among the top ten wicket-takers.
Mitchell Johnson – Australia

Mitchell Johnson's speed and bounce frightened the opposition batsmen. His professional life was a roller-coaster journey with many ups and downs.
Mitchell Johnson's speed and bounce frightened the opposition batsmen. His professional life was a roller-coaster journey with many ups and downs.
His best performance came in the 2013-14 Ashes, when he took 37 wickets at an average of 13.97 and led Australia to a 5-0 victory. He backed it up with another outstanding performance in an away series against South Africa, when he took 22 wickets at an average of 17.36.
James Anderson – England

James Anderson has the most Test wickets (575) of any speed bowler, and he's still going strong. He has taken all of these wickets in an age when batsmen outnumber bowlers, which adds to the numbers' significance.
He bowls both outswingers and inswingers, and does it with equal ease, even when the ball is brand new. Most bowlers can only swing the ball both ways when they are old, so it's a remarkable ability.
These are the top 10 bowlers of all time who created history with just a ball. Can you imagine there are more such fantastic bowlers also. Stay updated to know more about the top 10 batsmen of all time only at Beyoungistan.
Also Read About: Top 10 Innovative Cricket Shots