How to Wear Denim Shirt in 2020 – Mens Denim Shirt Style
Raise your hand if you are the denim lover too. It's time for the reality check that no matter how many types of shirts are introduced by the fashion industry or you have but the eye-catching look that the denim shirt has cannot be overcome. The man's wardrobe is said to be incomplete if he or she does not have a vivid collection of mens denim shirt. The best part about the denim shirt is it does not create an age bar and force people to give you a compliment. Wear denim shirt as casual, layer it as informal, dress up like formal…..all such possibilities you have in the denim shirt style and to know more about it, check out ideas for how to wear denim shirt.
Ways of How to Wear Mens Denim Shirt
A Denim Shirt is versatile clothing and is a must-have in every mens closet. Here are a few different and interesting ways of how to wear denim shirt in 2020. 
Best Denim Shirt and Blazer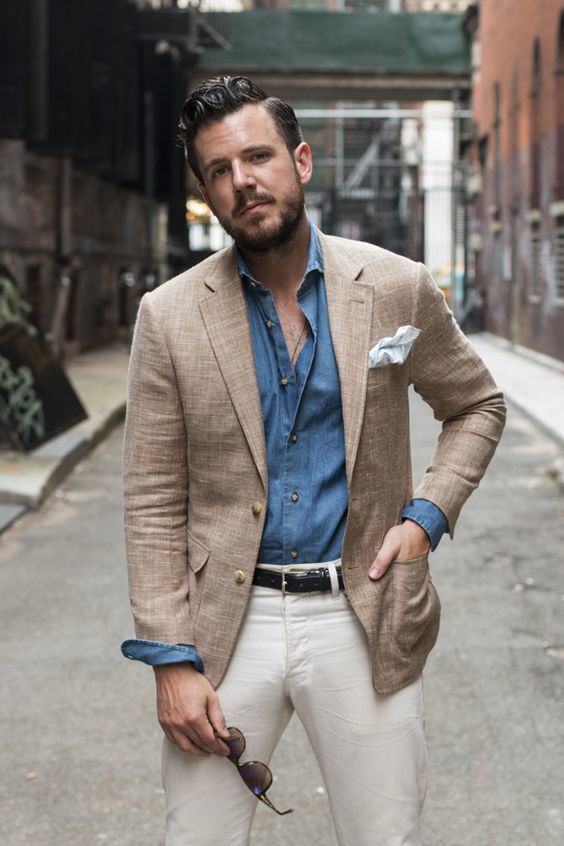 For all the casual late night parties, blend the denim shirt style by layering a blazer is perfect attire to style. Combine with the jeans or chinos to spruce up your mens denim shirt. Make sure the blazer you choose is cotton or linen to attain the utmost comfort during the summer.
Denim Shirt Style With Short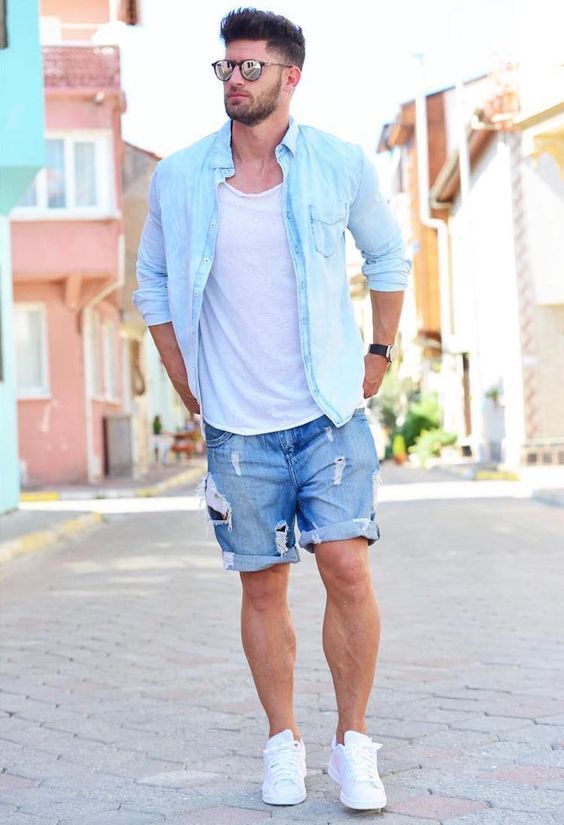 This season you have the window of getting flattering compliments from the near ones by pairing mens denim shirt with shorts on the vacation. However, if you have a query that How to Wear Denim Shirt by tucking in or out? Then I will suggest to either half tuck-in or no tuck-in.
Open Denim Shirt Style With A Plain Solid T-Shirt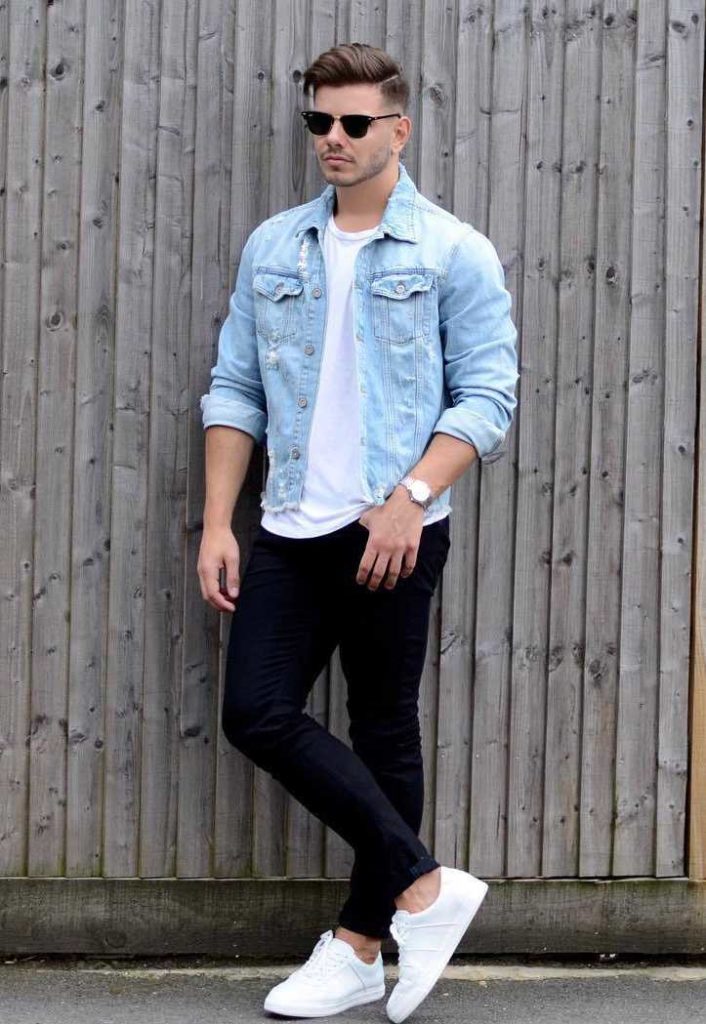 Make a note that instead of having a printed t-shirt you can opt for the solid plain t-shirt that is available at a wide range at Beyoung. Basically, the plain men's t-shirt opens more options in the styling where you can layer an open denim shirt over this mens t shirt.
Who is Up For The Biker Look And Slay the Ride With Cool Appearance?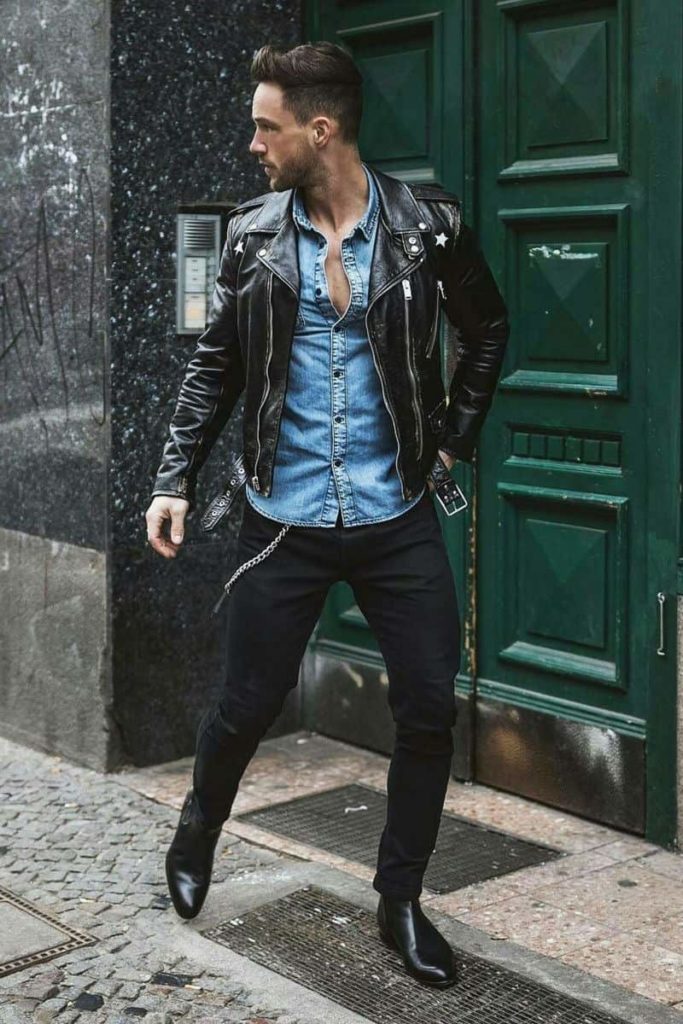 Another layering flavor of the mens denim shirt is to add a leather jacket that can be a slim bomber jacket as well. Consider the temperature and hit the road with a cool jacket that enhances the overall appearance. also, give your hairs best look with top hairstyles for men.
What Footwear is Best To Choose?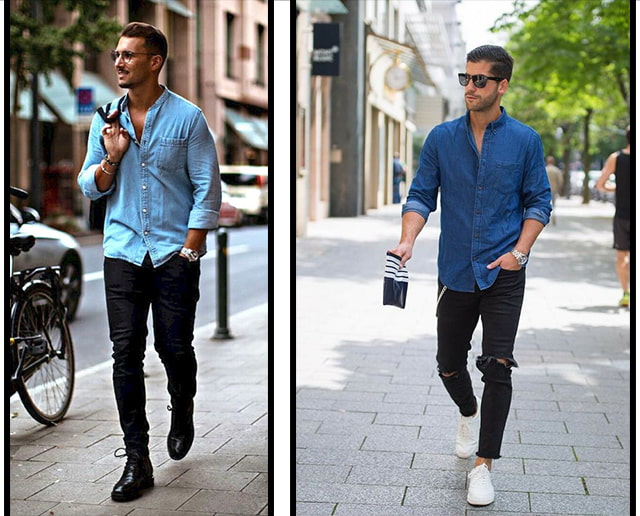 Now, what about footwear? Because after coming across various styling options and notion of how to wear denim shirt in diverse attire it has become quite evident to discuss the footwear also. The two footwear that steals the thunder of the near-ones is Chelsea boots and sneakers.
Such mens denim shirt style will always avail more options to create a style statement and be the apple of the eye for others. So what are you waiting for? Beyoung has got all the gears mentioned in the blog as it will be a one-stop destination to get all the prerequisites in just a few clicks.
Stay tuned for more fashion tips! Checkout some popular Beyoung Blogs of 2020: Indian Wedding Hairstyles, Haldi Dress for Bride, Simple Lehenga Design, Latest Blouse Designs, pencil skirt dress, party wear dress for mens in summer, types of shorts, types of shrugs , New Mehndi Designs, Latest Beard Style, Haircut for Men, Types of Jeans for Men and many more.
Kudos Folks!