Top 11+ Raksha Bandhan Special Dress Ideas Trending In 2023
Here comes the most awaited occasion, the occasion to celebrate the bond of brother and sister. This blog is the Raksha bandhan special to felicitate a day when sisters are rich with gifts and brothers are rich with love. To make this auspicious festive count, here are the Raksha bandhan outfits that are running the trend of today.
Ethnic Suit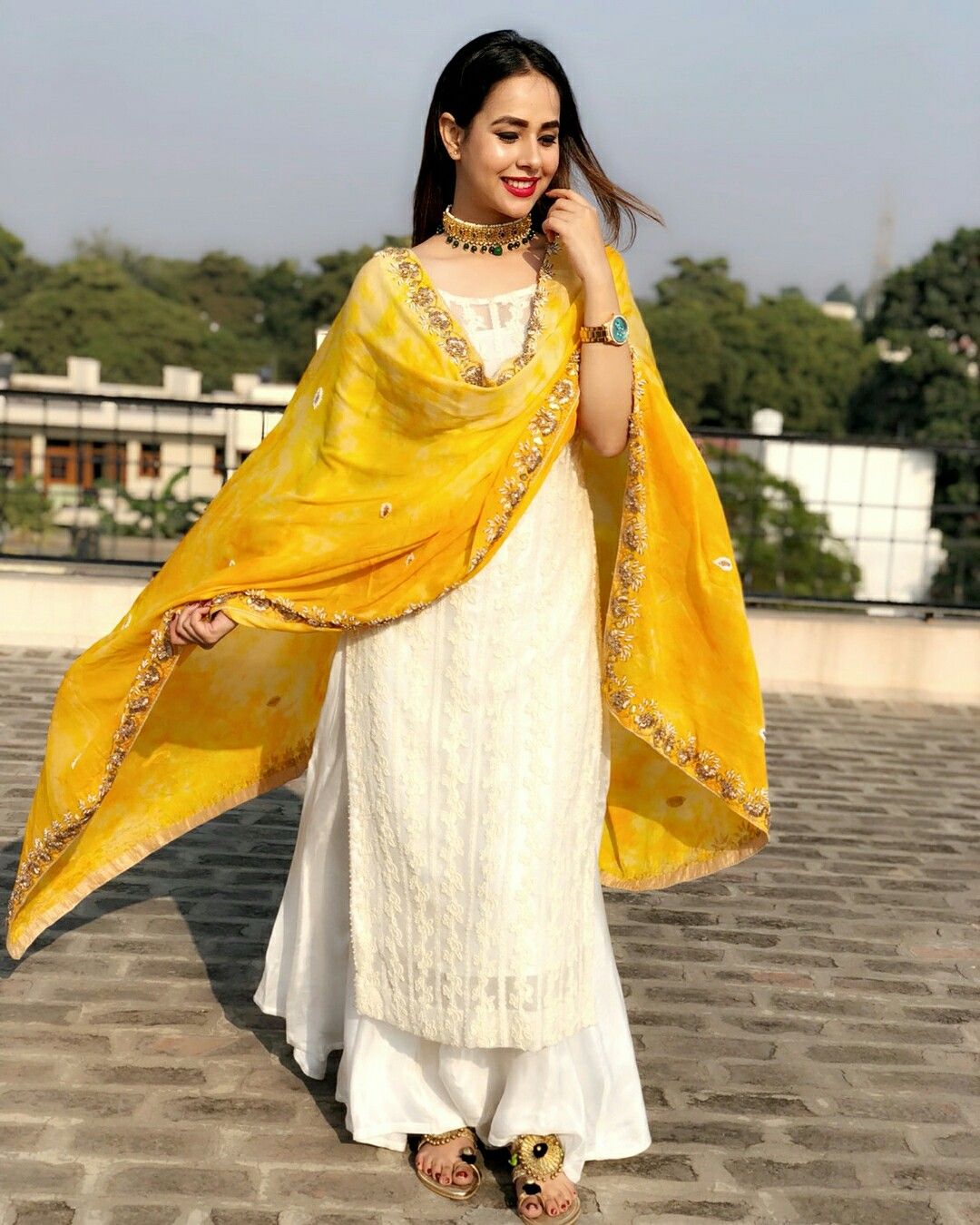 Source – Pinterest
The girls are much concerned about the dressing style on the Raksha Bandhan. Moreover, the ethnic suit is the foremost choice that gives a decent and beautiful appearance. The suit enables to give fuse the apparels in the most possible ways for instance with the semi-casual look and likewise. Give an add-on to the personality with statement jewellery.
Saree
Source – Pinimg
She is no more a girl when she is in an Indian saree. This appearance of hers is one of the most emotional yet beautiful moment for her brother. This traditional dress for Raksha Bandhan is going to be remembered for years.
Indo Western
Source – Pinterest
Indo western is surely one of the best escapes when you have to be comfortable yet stand with the pretty traditional feel. Wear ethnic indo-western kurti with the right kind of lower, be it a long skirt, silk cigarette pants or denims. This rakhi special dress is truly special.   
Kurta Pajama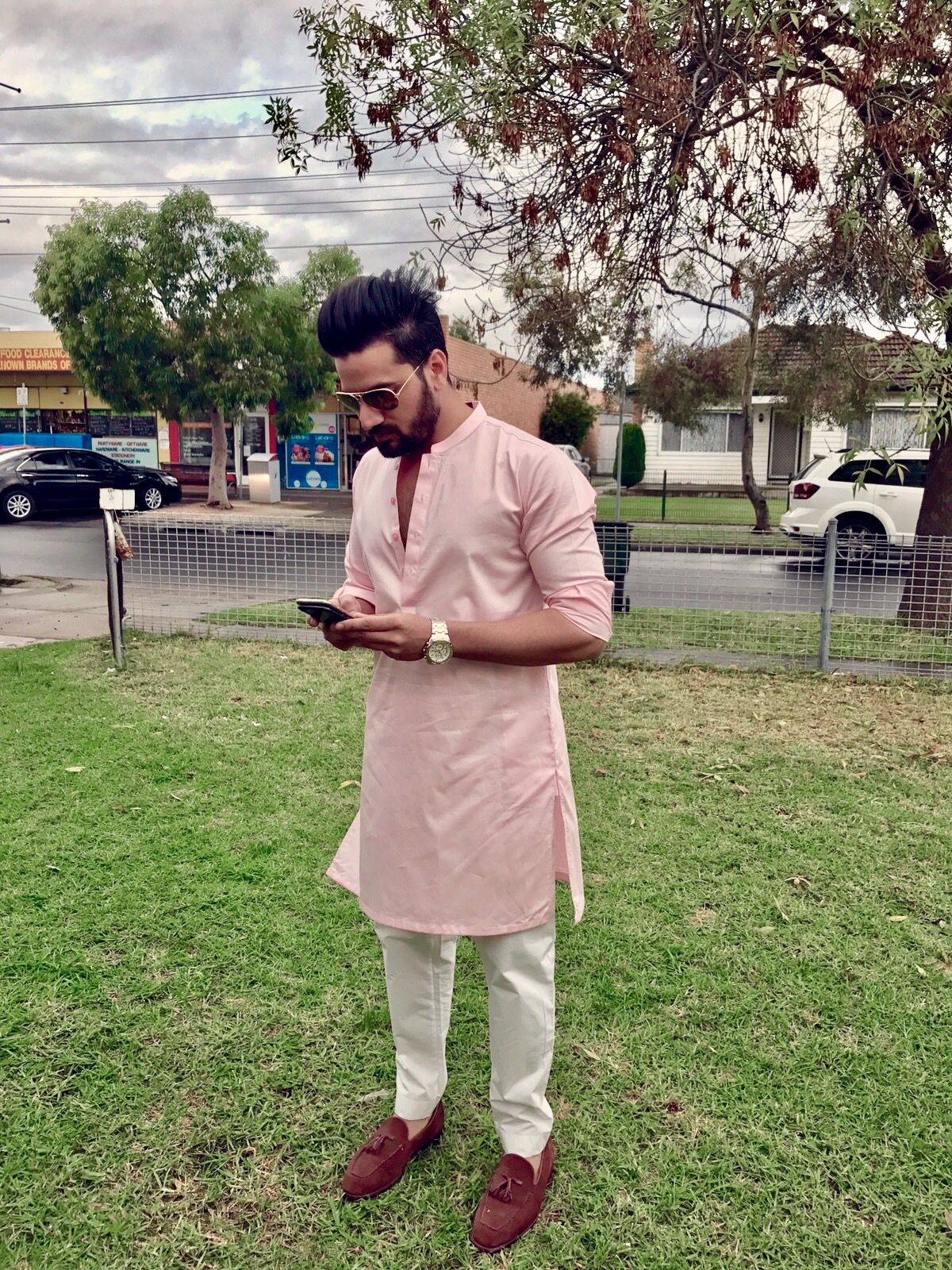 Source – Pinterest
Men are too effortless to be dressed. Well it is a myth because men do need to know about the right kind of combinations for kurta and pyjama for them. So yes, go ahead with a simple yet stylish pyjama and kurta that is sure to be a perfect theme for the lovely Indian event. 
Trendy Kurta With Waistcoat
Source – Trends Buzzer
This is one of the trendiest combinations which is gaining much light today. Not just for men but kurta pyjama with jacket is equally stunning for the women. We only use a different term for it, like kurta and palazzo pants, that are accompanied with the jacket. Men can choose amazing color combinations on it, say pastel combination, vibrant combination or one full of shimmers. The bhai behn can also twin in it for a rather better combination.
Rakhi T Shirts Special
We have always heard about couple t shirts, best friends twinning, and the colors which look the same. This time lets create a special bond with Rakhi T shirts that shows that Tom is incomplete without Jerry.
The Stunning Sharara Suit
The song Sharara back then created a vibe in the ladies and they simply wanted to know what is so good about this outfit. Unless the trend of sharara suit simply got into limelight. This is becoming one of the prominent rakhi outfit among ladies for being decent yet one of the most staggering dresses of today. This time even sisters will be complemented by their brothers.
Comfy Ethnic Tops With Jeans
Nowadays ethnic tops with jeans are being more in trend than anything else. This is because the beautiful block prints, mirror work and bandhej are popular all across the world. So, get this traditional Indian outfit and get the festive vibes even in your jeans.
Those Pretty Ethnic Gowns
A woman surely feels like a queen when she is in an ethnic Indian gown. The right color, the right makeup, and you. This is all it takes. Your brother is going to show you unsaid adornment when you are in that traditional gown.
Beautiful Ethnic Crop Top With Skirt
Oh yes! Ethnic crop tops and skirts are being all set to make the style flaunt the most. Wear a stunning crop top and pair it right with the long skirt that will enhance the combination to the most. An ethnic crop top can be of any color but you only have to make sure that the lower is no less. Pin the right hairstyle or just open up your hair nicely, because rakhi is just a reason to get dressed and click pictures. 
Newest Indo-Western Kurti With Pants:
Indo western kurti with pants is one of the combinations that is sure to look impressive on this cute occasion. Indo western kurti is one such escape as you do not have to necessarily wear salwar with it. Pants, jeans and denims would look no less when you are wearing these Kurtis.
Stylish Silk Cigarette Pants
Silk cigarette pants are being the must-have apparel in the wardrobe of ladies today. Keeping Indian fashion alive and making it comfortable, this can surely be a wonderful Raksha bandhan special dress. Also, if not much then have a golden silk cigarette pant, which can be a fair contrast with almost every other color of kurti.
These are some of the Raksha bandhan outfits that can make your day more special. Be it with Indian, western, ethnic and modern, you can cherish every moment. So, get your attire for this Raksha bandhan special done before 22nd August arrives. 
How to style sharara suit?
You need to be completely ethnic when you are in sharara suit. So, wear heavy and long earrings or jhumkas. Put the dupatta in the neck or at one side to make the sharara look more stunning.
What do you mean by "Indo-Western kurti?
An indo-western Kurti has the touch of both Indian and western outfits at the same time. Be it with colors or patterns like straight fit kurta with pants, long skirt with kurta, long skirt with crop top etc.
what footwear to wear with Kurta Pajama?
The best footwear can be Rajasthani mojri with kurta pajama, or formal boots in contemporary colors. This is how your kurta pajama is going to pair well with the shoes you wear.

Check out other fashion blogs for more styling, grooming and to be trendy. Blogs like: Bomber jacket men style, Famous Bollywood Dialogues, Beard styles for men, t shirt style, how to wear chinos, types of sunglasses, fashion for skinny tall guys, how to wear suspenders, new haircut cutting style, best hairstyles for men, party wear dress for mens in summer, types of shorts, smart casual for men, pre wedding shoot locations, types of jeans, what to wear at home, work from home tips, etc.